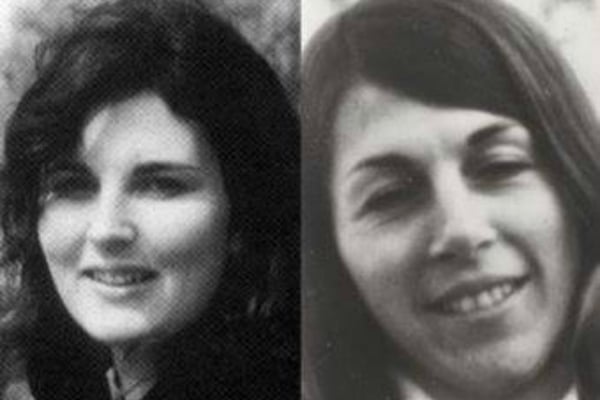 In January 1977, the bodies of 28-year-old Suzanne Armstrong and 27-year-old Susan Bartlett were found, three days after they were brutally murdered in their three-bedroom home.
Suzanne's son, 16-month-old Gregory, was still in his cot, unharmed but dehydrated.
A neighbour had walked in to the cottage, from the back, after noticing a peculiar lack of activity from next door as well as their dog's seemingly unsettled behaviour.
Three days prior, on the night of January 10, the housemates had been visited by Susan Bartlett's brother, Martin, and his girlfriend, Vicki. They had dinner at the Easey Street house, in the Melbourne suburb of Collingwood, before leaving at around 9pm.
What happened next in the rental home has never been solved.
Gladys Coventry, who was in her late 70s and lived across the road from the women, remembers seeing a man carrying a knife step out of the kitchen, past the gate and into the back lane on the night of the murders.
Another neighbour, who says he was up until the early hours of the next morning, recalls hearing a door slam, followed by two car door slams, followed by a car driving off.
On January 13, the next-door neighbour walked down the narrow blood-stained corridor to see one of the women's feet were black. She called the police immediately, as she looked at the two dead women who had suffered a collective 82 stab wounds.
Listen: Mamamia's podcast True Crime Conversations talks to Helen Thomas, author of 'Murder on Easey Street', who walks us through the case of Suzanne Armstrong and Susan Bartlett. Post continues after audio.
A swarm of emergency services arrived with the sound of sirens filling the usually-quiet neighbourhood.
The police did not ask for an official statement from Coventry, who explained she had seen a man with a knife on the night of the killings. When they went back to her a couple of days later, it is reported she was not cooperative with the detectives.
To this day what happened to the "two Sues" has never been solved.
Officials believe that Suzanne was reading in her bed when she heard a knock on the door and let a person(s) in, suggesting she may have known him.
The women were then killed, and Suzanne was raped after she was murdered.
It is also known that friends of the women had entered the house between the time of the murder and the police arriving on January 13.
Suzanne had recently been dating a man named Barry Woodard, who she last saw on the Sunday night, January 9.