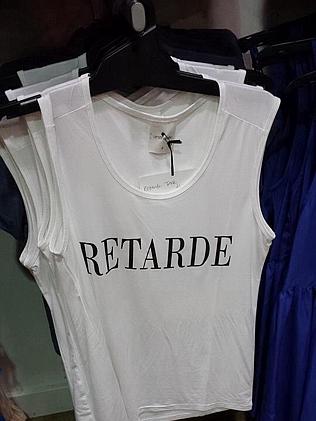 You want the bad news or the good news first?
The bad news? All right.
Over the last couple of weeks, shop in Adelaide thought it was a great idea to sell t-shirts emblazoned with the word 'RETARDE'. Not 'RETARD', mind you, it has an 'E' on the end which makes it not cruel, but hilarious, right?
Actually, WRONG. The wrongest kind of wrong. Even though the shirts sold well, and even though some were apparently bought by  people with disabilities – WRONG.
The good news is yesterday the shop bowed to people-pressure and took the shirts off the shelves, but not before the management of the shop said people – kids, particularly, who feel hurt by the joke should 'toughen up.'
'We're mollycoddling them to death,' Golbalize retail chain director Clayton Cross said on the Sunrise program after disability advocates said the shirts were demeaning and humiliating.
Yesterday, Mr Cross apologised, kind of, when he announced remaining shirts would be removed from the shelves. He was annoyed that the designers refused to buy back remaining stock but said the company will, 'put a bit more thought' into clothing orders in future. He ruled out 'censoring the designers and  fashion going forward.'
That's positive… I think. Thought is good.
Now, I need to be very careful from this point, for two reasons.
One is that I'm often the one leading the 'toughen up' choir. My song is loud and clear:
You are 12; you don't need an iPhone.

I don't care if you've decided you don't like sausages – eat your dinner.

Go play outside and don't come back in unless you're bleeding or it's raining, and even then …
So maybe I'm opening myself up to accusations of hypocrisy.
Secondly, I wrote a post last January about the time a friend brought his son to stay at the beach with us. This boy lives with autism. Stupidly, ignorantly, I described him as 'being autistic'. Lots of people were upset by my post for all sorts of reasons – some I accept, some I reject, but if people feel hurt I'll always have a good hard think.