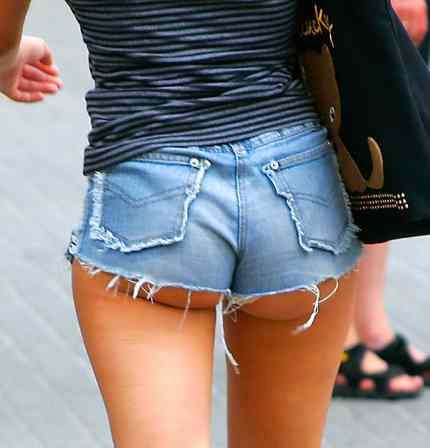 Dear Cheeky Denim Shorts,
We've got a bone to pick with you. When I say "we've," I of course mean the women of Australia, the sisterhood – those of us who thoroughly enjoy a bottle of wine and buying Wendy's Flake Shakes when we go grocery shopping on a Saturday.
And when I say "bone", I of course mean a juicy chicken drumstick.
Our reason is pretty simple: we don't like you.
We don't like how short you are or how you flash us with a variety of behinds when we've just eaten our breakfast.
We don't like how you're really masquerading as denim nappies, and frankly, we don't like how you come with a 'MANDATORY BOXGAP' clause because I like eating brownies and don't have one of those.
Don't get me wrong; I'm not that jealous troll, stuffing my face with iced donuts, secretly wishing I could wear you and accusing others they're too skinny. I'm a healthy size 8-10, have a very balanced diet and frequent the gym more than I'd like to.
I also love shorts more than anyone on this planet. Sequined, printed, denim, coloured, leather, linen – you name it, I own it. But the problem here lies within the cheeks.
What happened to the days where a good pair of denim shorts didn't come with a nudity warning? When legs were left to frolic without the worry that everyone now knows you're wearing blue knickers today. Or worse off, none at all. It was a simpler time then. Petrol was $1.40 per litre and we were eagerly awaiting the first installment of the Hunger Games. And we enjoyed wearing our cut-offs with just a little less cut off.