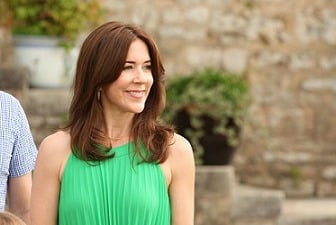 Nothing says Danish summer like a royal garden party.
The Danish royals were spotted at Graasten Palace for their annual summer visit. Our Australian Crown Princess Mary was seen being just like any other mum, playing with her 4 children (Christian (8), Isabella (7), and twins Vincent (3) and Josephine (3)) in the palace gardens. Crown Prince Frederik was on hand to carry young Vincent when he got tired of walking.
It wasn't only our favourite Danish royals, the rest of the family were there with many cousins for Mary's kids to play with and Queen Margrethe and Prince Henrik making an appearance.
And while royals usually dress pretty formally, all the royals went royal-casual for the outing, with Mary wearing a sheer floral Ganni tiered maxi dress with a green slip underneath. While Frederik went with a white shirt and beige shorts to bring out his salt and pepper beard.
The family posed for the media and took an adorable family portrait. Which just shows, that even if you are from a royal family, getting everyone to look "nicely" at the camera is an impossible feat – just like the rest of us: