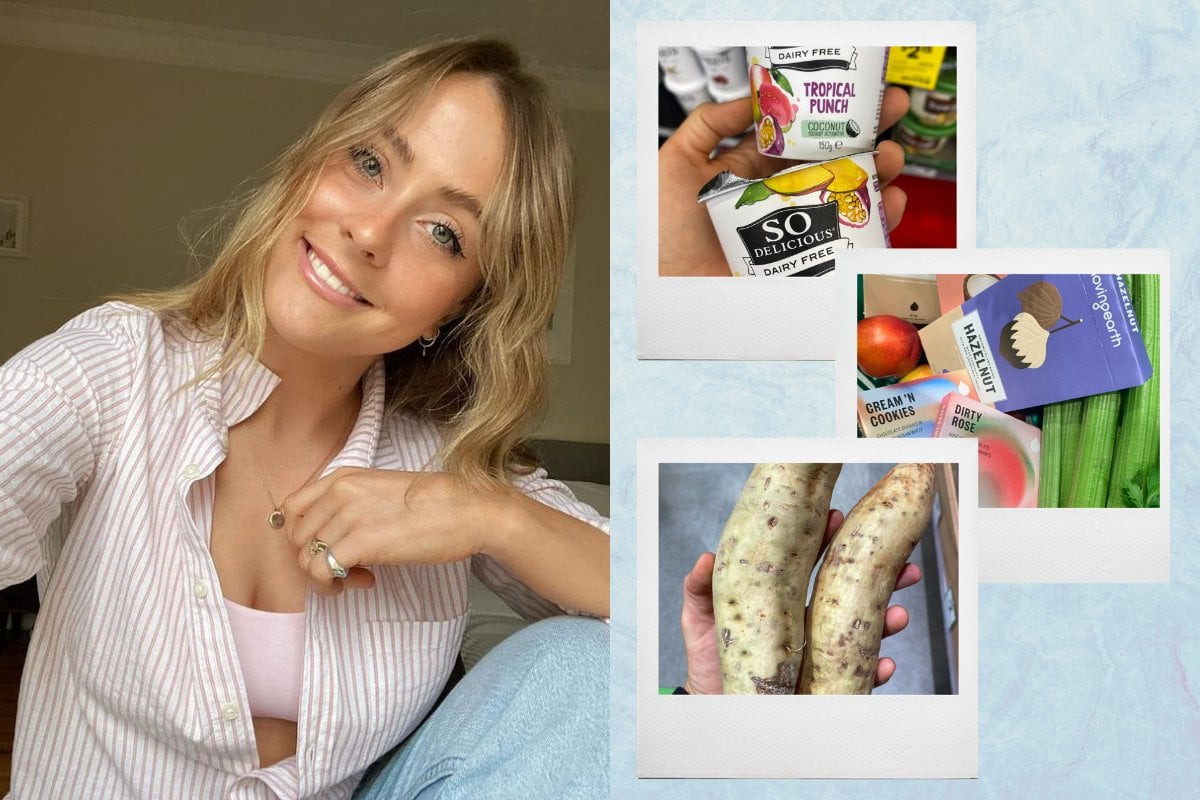 What's in my trolley is Mamamia's look into the weekly grocery shop of Australian women. From food to everyday essentials, here's a peek at what different people are putting in their trolleys. This week, podcast host Lucy Neville shares her latest grocery shop, including her meals and snacks.
I'm a 25-year-old dairy-intolerant woman, living alone in the heart of the city, who LOVES food... particularly snacks (and I know I'm certainly not the only one). I snack constantly. 
Though I have to be honest — I'm not the best meal-prepper you've ever met, but that's the best part of living in the city. The options are endless.
But naturally, there are some downsides. Not enough to deter me, but enough for it to be more than a slight inconvenience.
Exhibit A: The fridge will rarely be big enough to be completely stocked, and as a result, my grocery shops are more bi or tri-weekly than I'd like them to be, but entirely necessary to accommodate said tiny fridge.
Not only does it impact my grocery shop, but it also means that I cook what I feel in the moment. No meals can be planned past my almost daily grocery shops, which was certainly an adjustment when moving out of home.
Though, after three years now, I feel like I've pretty much got it covered.
I don't eat much takeaway food, maybe once a week with a friend, and I deleted Uber Eats off my phone after spending four figures on delivery food in 2020. (I don't want to talk about it.) 
So, I am a frequent visitor to Woolies to make sure I've got something to fill me up.
I've also been dairy free for nearly a decade now. It just doesn't agree with me — I have an autoimmune disease and part of my individual management is to keep my inflammation as low as possible and dairy is something that raises those levels in my body, so it's just a no-go zone. 
I've been navigating the grocery aisles for 10 years, reading the back of packets, scanning for the sneaky 'skim-milk powder' on an item that would otherwise be dairy free. 
The good news is that over that decade, the options for dairy-free friends have dramatically improved, and I'm a pro at finding the goods. Especially snacks. I've got you covered for that.
This particular shop was a bit of a snack-stock up. I also grabbed some key ingredients for my everyday life and some yummy dinners I have planned. 
First, my go-to breaky at the moment: Yoghurt and berries.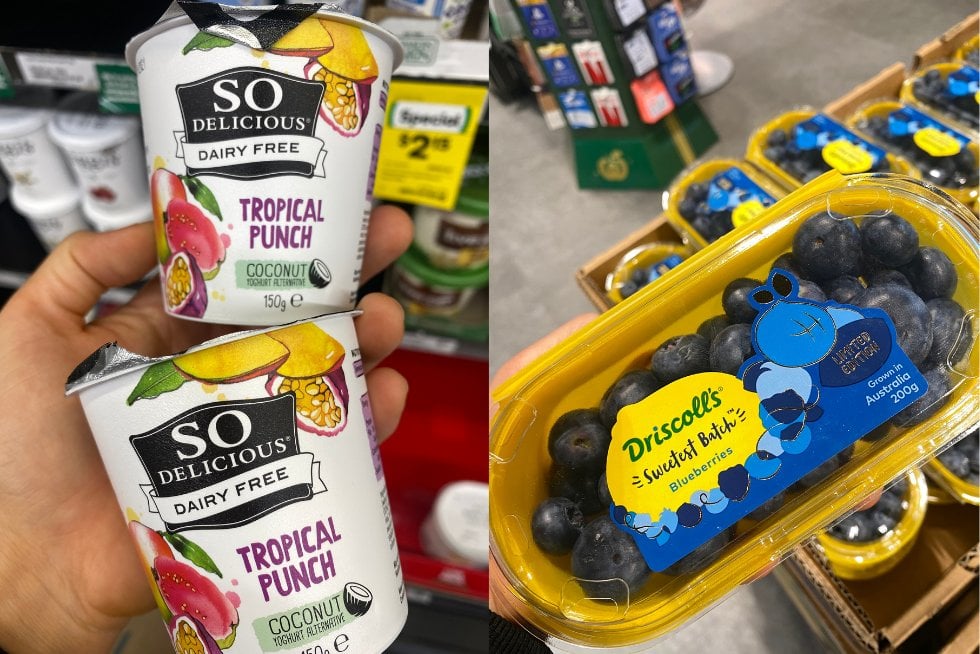 Image: Supplied.