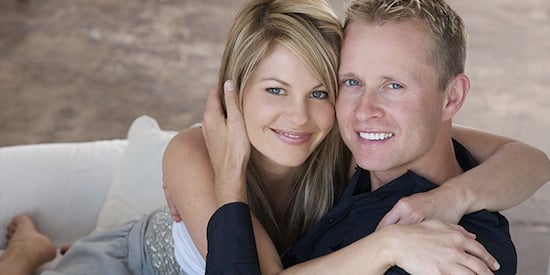 I love faith. I believe in it, and I fiercely defend a persons right to have it.
I pick and choose the parts of Christianity and Catholicism I like and I try to live by them. I am not sure if there is a God or not. I find those people who completely write religion off as "fairytales" or make-believe as offensive as those who tell my kids they will burn in hell because they were born out of wedlock. If you practice what you believe, find comfort in it, and don't force it on others, then you and I will get along just fine.
Having written that lengthy disclaimer. Let's get into this, shall we?
I need you to sing the Full House theme song right now. Do it. "Everywhere you look, everywhere you look, there's a heart, there's a heart…" (Note if you are under 30 this will prove difficult so I have popped a video in for your edu-tainment.)
Why have I taken you back to late-'80s-early-'90s sitcom heaven? Well, it seems one of the stars of that show has been quietly making a name for herself as an author, weight loss guru… and champion of Christian submissive wives everywhere.
Good times!
Candace Cameron-Bure A.K.A. DJ Tanner (remember DJ? Remember the crimped hair, the dimples, and Kimmy Gibbler?) believes that a woman should submit to the will of her husband, even if she disagrees with him, and even if she thinks it is to the detriment of her family. Her husband's word is law, in all situations.
The oldest Tanner daughter has openly stated that she is a Christian submissive wife, a trait that she attributes to the happiness of her marriage.
You may or may not remember another amazing '80s sitcom called Growing Pains in which Candace's older brother, Kirk Cameron, played loveable trouble maker Mike Ceever. (Swoon.)
But what you almost definitely do not know is that Kirk grew up to become a right wing Evangelical Fundamentalist Christian, who condemned same sex marriage on CNN, believes that bananas disprove evolution and publicly compared Charles Darwin to Hitler. (I'm taking my swoon back.)
It would appear Kirk has been involved in helping Candace see the "error" of her ways and she has been reborn as a friendly Evangelical Christian. On her website she thanks her bro for rejuvenating her faith by giving her the apocalyptic Left Behind series and a book called The Way of the Master.
She writes on her website, "I saw that I was a horribly bad person by God's standards". Candace wrote a book in 2011 called Reshaping it All which was a faith-based guide to weight loss. Yes you read that correctly, a faith-based guide to weight loss.
It is not as simple as asking the Heavenly Father for a flatter stomach and cranking out 10 Hail Marys instead of 10 sit-ups. In the book Candace offers a biblical perspective to appetite and self control. Basically, if you commit your physical issues to God then you are beholden to him, if you cheat on your diet or exercise regime then you need to answer to God.