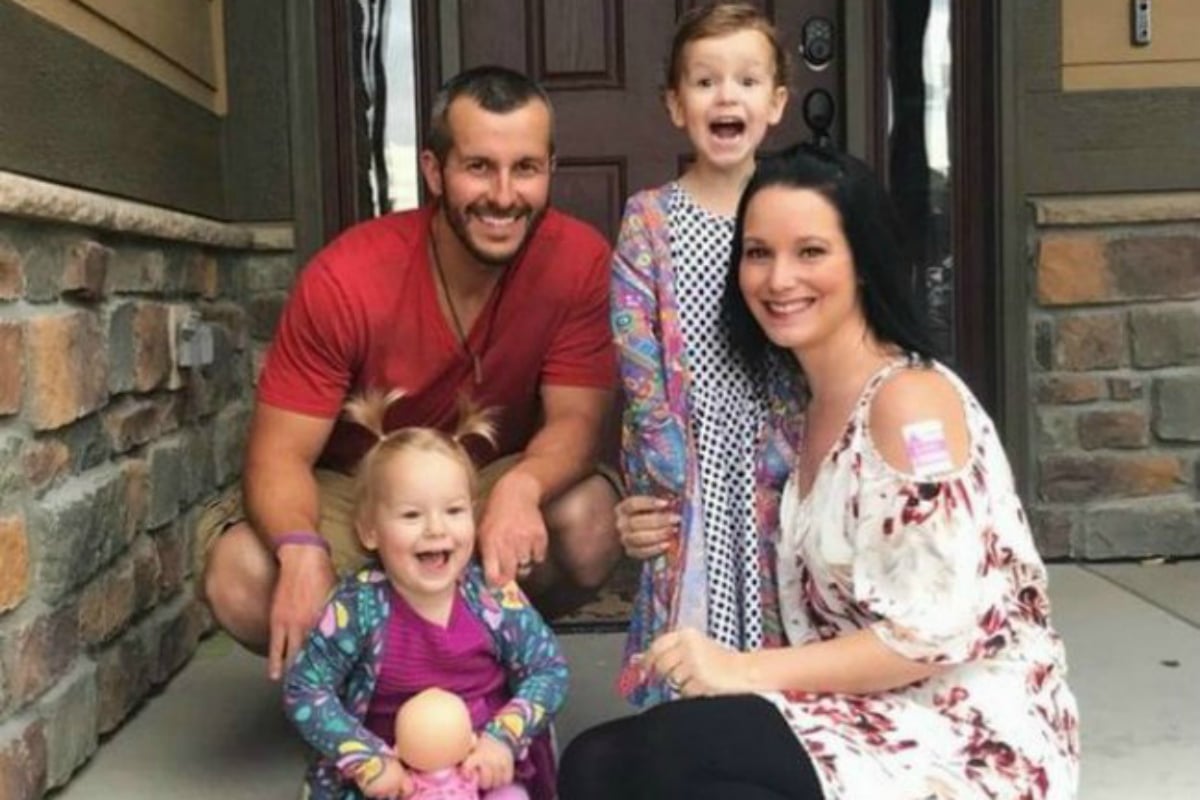 If you or a loved one is experiencing domestic abuse, help is available. Please call 1800 RESPECT or visit the website. If you are in immediate danger, phone 000.
This post deals with graphic descriptions of violence and will not be suitable for all readers. 
Convicted murderer Chris Watts has written a harrowing letter detailing the horrifying way he murdered his wife and their two children.
Watts, 33, is currently serving three consecutive life sentences for the murder of his 34-year-old pregnant wife Shanann, and their daughters Bella, four, and Celeste, three, in Colorado last August.
Although Watts originally fronted the cameras with a desperate appeal for help when his wife and two young daughters were reported missing, the truth soon emerged when the bodies of Shanann, Bella and Celeste were recovered from an oil field owned by the petroleum company for which Chris worked for.
His wife and his unborn son had been buried in a shallow grave, and his daughters submerged in crude oil vats.
Watch: This is the moment Chris Watts' neighbour showed him footage of him leaving his house after murdering his wife. Post continues below.
Now, in a letter to author Cheryln Cadle ahead of her upcoming book about the murders, which was obtained by the Daily Mail, Watts has confessed to the full extent of his crimes, sharing how he murdered his daughters "twice".
A number of the details listed in the letter were not shared by Watts in interviews with police following the August 2018 murders.
In the letter, Watts wrote: "August 13th, morning of, I went to the girls' room first, before Shanann and I had our argument. I went to Bella's room, then Cece's room and used a pillow from their bed [to kill them]. That's why the cause of death was smothering. After I left Cece's room, then I climbed back in bed with Shanann and our argument ensued."
"After Shanann had passed, Bella and Cece woke back up. I'm not sure how they woke back up, but they did. Bella's eyes were bruised and both girls looked like they have been through trauma. That made the act that much worse knowing I went to their rooms first and knowing that I still took their lives at the location of the batteries."
Within the letter, Watts also admitted that he had been plotting the murders for some time, so that he could be with his mistress of two months, Nichol Kessinger.