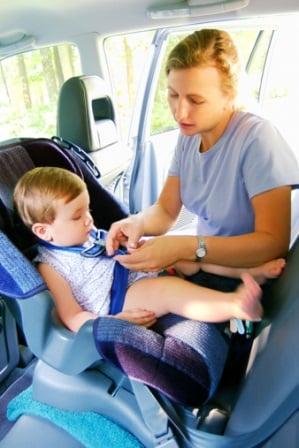 It was Boxing Day 2011 and a five-year old girl was travelling in the backseat of her grandmother's car.  The grandmother lost control of the car on a bend on the Pacific Highway near Lismore in northern NSW. The five-year old, probably still giddy with joy after Christmas, was catapulted from the car and died instantly.
She was not restrained in a car seat.
On December 6, 2011, while a tiny eight-week-old baby was carefully wrapped in a blanket and placed in a second-hand capsule, the car she was travelling in slammed into a tree near Kilcoy in Queensland.
Baby Isabella Cardwell – who was incorrectly restrained in her capsule – was thrown more than two metres from the vehicle and died, along with her 19-year old mother who was driving the car.
Just as an FYI, you should know that this post is sponsored by Nissan. But all opinions expressed by the author are 100% authentic and written in her own words.
Kidsafe and Neuroscience Research Australia recently launched new guidelines on car seats and called on the Federal Government to upgrade the laws.
They said that the current legislation is complicated and confusing, with no centralised reference point and conflicting guidelines on what car seats to install for children.
As it is so confusing we've put together a simple guide to what restraint you should use, if you're wondering 'which car seat should i buy?'