It's one of the most iconic moments in Australian sporting history. The Sydney 2000 Olympic Games. Cathy Freeman, in her green, gold and silver bodysuit, strides across the 400m finish line. She pulls off her hood, shakes her head and sits on the tartan track, unsmiling, suddenly a gold medallist.
At the time and in the nearly 17 years since, most have assumed Freeman had experienced a moment of shock, that she'd become overwhelmed by the incredible feat she'd just achieved.
But speaking to podcast The Howie Games, the now 44-year-old said that in moments after she crossed the line that September evening, what she actually felt was disappointment.
"I actually crossed the line, looked across at the time — 49.11 — I was immediately disappointed because I would have loved to have run 48," she told host Mark Howard.
"I just remember leaning over, putting my hands around my knees and just shaking my head… I was not happy. It's a mighty occasion. I don't mean to sound like a Debbie Downer, but that's just who I am."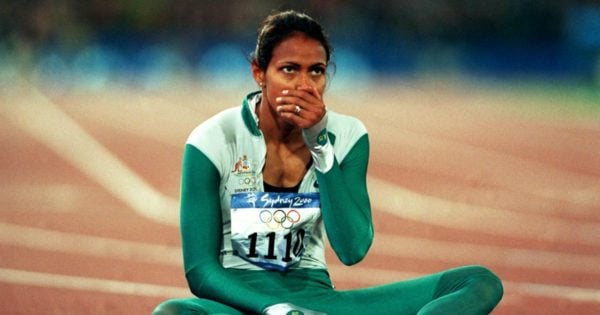 That time still "burns away" at Freeman, she still believes she could have run faster.
"I was surprised nobody forced it, pushed it a bit," she told the podcast.
"When I look back at the footage, nobody really believed that they could win and I think it shows because the pace at which I was running when I was back in the field. It shouldn't have been that way. For a real contest there should have been more of a fight earlier on for that stage of the race. That wasn't the case."
Freeman's Sydney Olympic gold medal was the second ever won by an Indigenous Australian, after Nova Peris' field hockey win in Atlanta four years earlier.
The Mackay-born athlete retired from competition in 2003 with a personal-best of 48.63 seconds, which today makes her the sixth fastest woman of all time over 400 metres.
She now focuses on The Cathy Freeman Foundation, which she established in 2007 to help foster education in remote Indigenous communities.