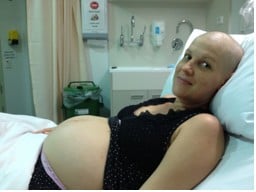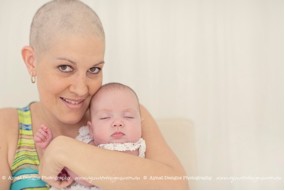 By RACHEL KERR
When we found out I was expecting, my partner Shane and I were over the moon. I sadly had a miscarriage a few months earlier and we'd been trying really hard to get pregnant again, so it was wonderful news. My son Maison was really excited as well and couldn't wait to become a big brother for the first time. It was a very exciting time for all of us and we couldn't wait to welcome a new baby into our family.
Being told I had cancer on my cervix 15 weeks into my pregnancy was devastating. Then they said I would have to terminate my pregnancy or risk not making it myself.
We'd worked so hard to get pregnant and it was probably our last chance. So I decided to keep the baby and opt for a lower dose of chemotherapy.
Things were going okay until the doctors told me the tumour had grown and I needed to go onto a stronger dose of chemo. To do this, I would have to deliver my baby at just 29 weeks.
Hannah was born via caesarean section. She was so tiny I couldn't believe it. They'd told me the chemo was safe but I'd had my moments worrying about what it was doing to her. So when she came out with hair I thought that was a good sign! I was so relieved.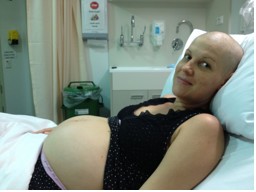 Considering what Hannah and I went through, it's incredible there's nothing wrong with her. She's perfectly healthy and such a good baby. She's my little miracle.
The new chemo started five days after Hannah was born. Two weeks after that I started the radiation, so then I was having chemo and radiation at the same time.
I think that nearly killed me. I would pretty much spend my days at hospital, having chemo, radiation and brachytherapy, and visiting Hannah in the NICU. I couldn't look after Maison, and then when Hannah came out of hospital Shane had to take time off work because I was too sick to look after her.
When the treatment finished I had a PET scan. It showed there was still some cancer left. After everything that I had been through and had done, it still hadn't killed it. I had to have a radical hysterectomy which meant a two week stay in hospital. We were just lucky it coincided with school holidays so Maison could go back to school, but I had to leave Shane at home to look after Hannah again.
These days I spend my time at home with Hannah, trying to get back to normal. I get tired a lot, but I try to be positive and not worry too much about what might happen tomorrow.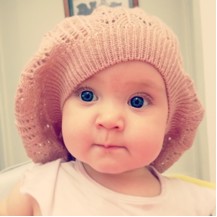 I wanted to share my story to encourage people to listen to their bodies and go and get checked if something doesn't feel right.  We're also encouraging people to donate to Cancer Council Queensland's Christmas Appeal, in the hope that funding more research will save people from going through what my family did.
I still remind myself every day that I am lucky to be here. I try not to stress over little things, and take time to smell the roses. We celebrate Hannah's first birthday today, an occasion we feel so lucky and fortunate to be celebrating given the obstacles we've all had to overcome.
By choosing to donate today in support of Cancer Council Queensland's Christmas Appeal, you'll help give people more treatment options and spare them from such heartbreaking decisions like mine.
Donate now at cancerqld.org.au/appeals.
Rachel Kerr, 32, is the face of Cancer Council Queensland's Christmas Appeal. She was diagnosed with small cell carcinoma of the cervix when 15 weeks pregnant. Faced with this extremely rare form of cancer Rachel was given the option of terminating her pregnancy in order to receive the treatment she needed or undergo a less aggressive form of treatment, but put her life in danger in doing so.

Rachel decided to keep her baby and Hannah was delivered at 29weeks and 3 days. Both Rachel and Hannah are doing well now as Hannah's first birthday, the 14th of December, approaches, however they had their fair share of difficulty along the way.
Cancer Council Queensland is Queensland's leading non-government community organisation in cancer control. We are committed to providing all Queenslanders with the best possible prospects of preventing, detecting, effectively treating and surviving a cancer diagnosis. 
Our vision is for a cancer free Queensland and this year, we will devote more than $9 million to cancer research alone.
With your support, we are creating hope for a cancer free future.