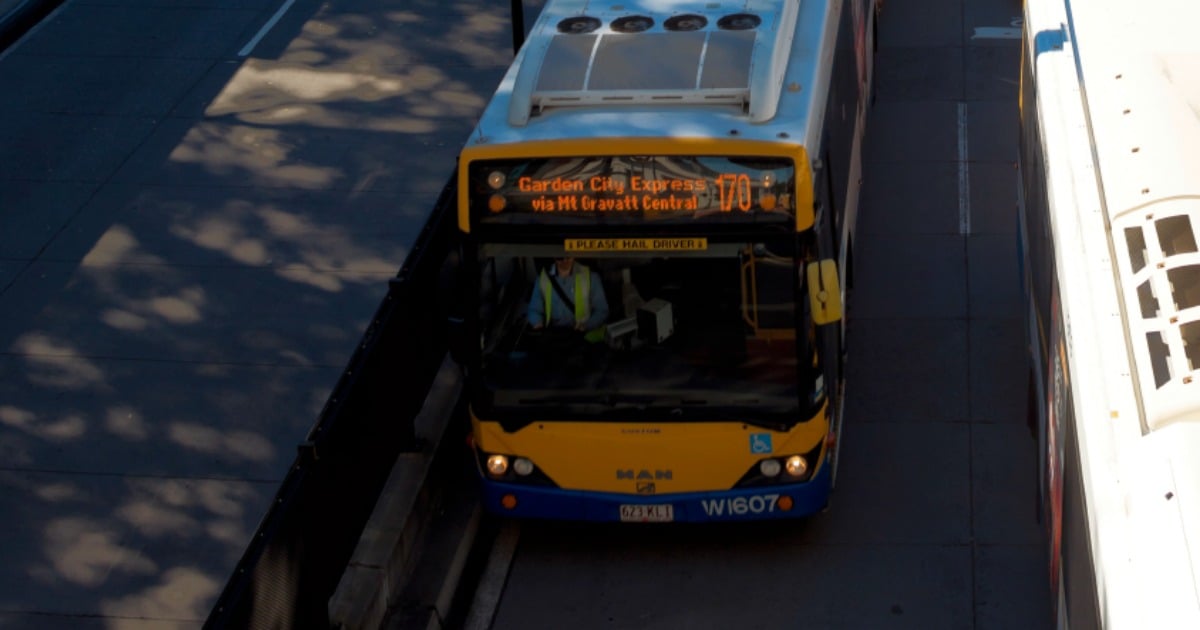 He's just a guy who met a girl on a bus, created a purpose-specific Facebook profile and is trying to go viral in the hope that he'll find his mystery lady-love.
It's a classic love story.
After a brief encounter on New Year's Eve, a Brisbane man, known only as 'Bus Guy', is searching for a woman with "dark hair", "fair skin" and "pink boots".
Bus Guy met his fair maiden on the number 200 bus, at about 8:45pm on December 31st. "From the moment we got on together at Camp Hill (we got a free ride, woo!," he posted on the Byron Bay Community Board, "until we got off at the Cultural Centre we spoke so effortlessly about all kinds of random nonsense."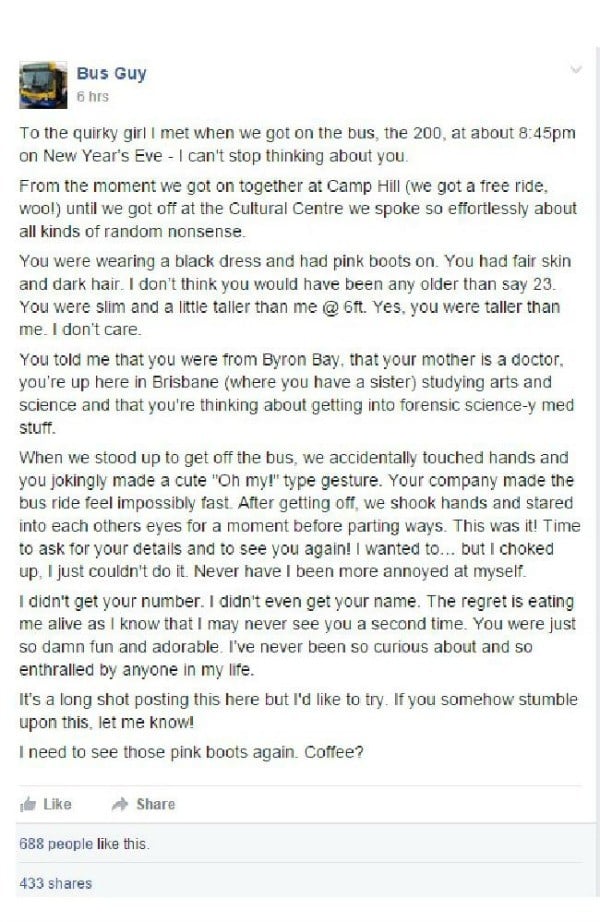 Mystery woman told Bus Guy she was from Byron Bay, but in Brisbane with her sister, studying arts and science. "You told me… that you're thinking about getting into forensic science-y med stuff," Bus Guy recalled.
The pair apparently got on like a house on fire. "When we stood up to get off the bus, we accidentally touched hands and you jokingly made a cute 'Oh my!' type gesture," wrote Bus Guy. "Your company made the bus ride feel impossibly fast."
But poor Bus Guy chocked. In the moment of truth, as they disembarked and shook hands they, "stared into each others eyes for a moment…"
… and parted ways.
"I choked up, I just couldn't do it. Never have I been more annoyed at myself," said Bus Guy, clearly disappointed in his lack of gumption.
"The regret is eating me alive as I know that I may never see you a second time," he posted.
"You were just so damn fun and adorable. I've never been so curious about and so enthralled by anyone in my life." Wow. It might have only been a short bus ride but this guy is clearly smitten.
He thought posting on Facebook would be a "long shot". Boy was he wrong. The post has been both liked and shared over 3,200 times.
"I have a four hour sleep after a night at work, wake up and find that I'm on the news? Umm, lol… I seriously did NOT expect this to gain so much traction. Wow…" he later commented.
Best of luck, Bus Guy. We're 'routing' for you. (Get it? Bus 'route'?)