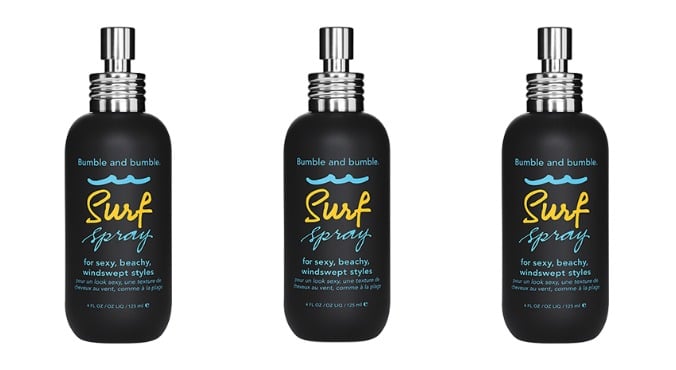 Image: supplied.
Some products come with a reputation bordering on mythical — and Bumble and Bumble's Surf Spray is part of that elite club.
Whenever a celebrity is interviewed about her hair and beauty regimen, you can almost guarantee this legendary styling mist, which was launched in 2001, will be name-dropped with gushing enthusiasm.
Lara Worthington swears by it for a "gritty" feel. Kristen Bell says it's the next best thing after post-beach hair. Apparently, the spray was even used to create Blake Lively's tumbling Gossip Girl waves.
So when the distinctive black bottle landed at The Glow HQ I was curious as to whether it actually lives up to its "sexy, beachy, windswept" promises — and whether the celebrity claims hold any (salt) water.
Looking for short hair styling ideas? Watch this. (Post continues after video.)
The claim: It adds grit and matte texture
Lara was right — Surf Spray did indeed lend some grittiness to my hair.
This was great on days when I'd washed it; conditioner leaves my hair a bit too soft and silky, so the spray helped a lot texture-wise and left it looking a bit messy (in a good way). For the record, my hair is fine, wavy and quite short, so I can't really speak to what results anyone with thicker, longer, curlier or straighter hair can expect.
Side-note: I did get a little trigger-happy some mornings and the result became a little more "crunchy" than "gritty". So you can definitely have too much of a good thing.