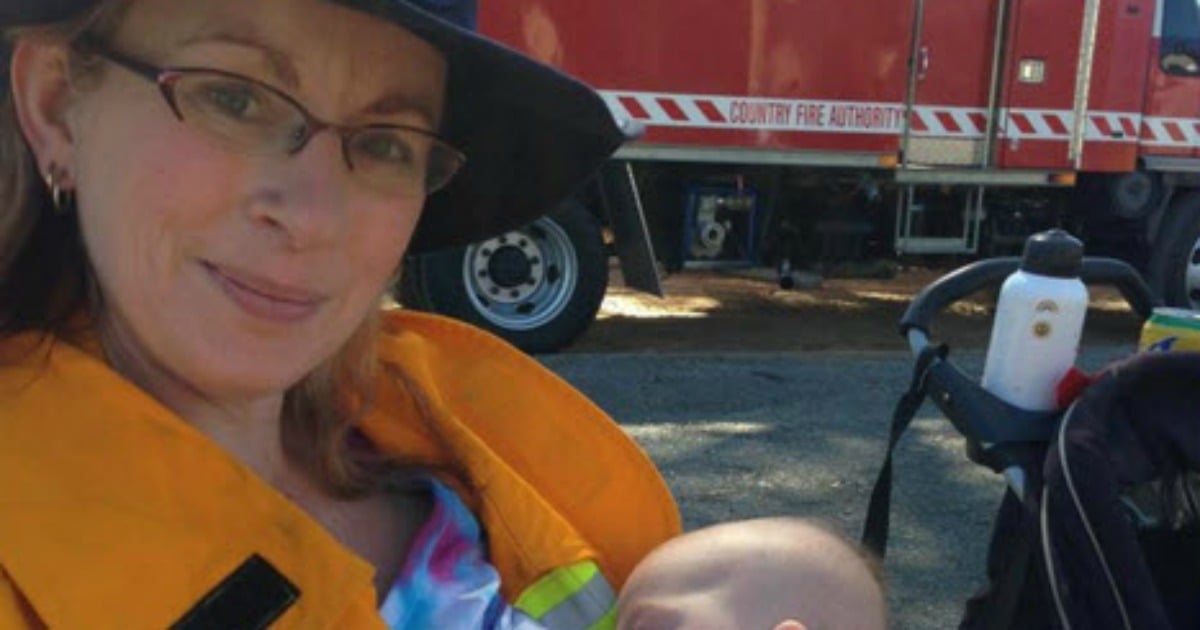 We've rounded up all the latest news from Australia and around the world – so you don't have to go searching.
1. A beautiful image of a breastfeeding firefighter is inspiring other mums to join the CFA.
A photo of a volunteer firefighter breastfeeding her baby and shared on the Country Fire Authority Facebook page is inspiring other mothers to join the organisation.
The post has received more than 28,000 likes and shared around 2500 times since being posted yesterday.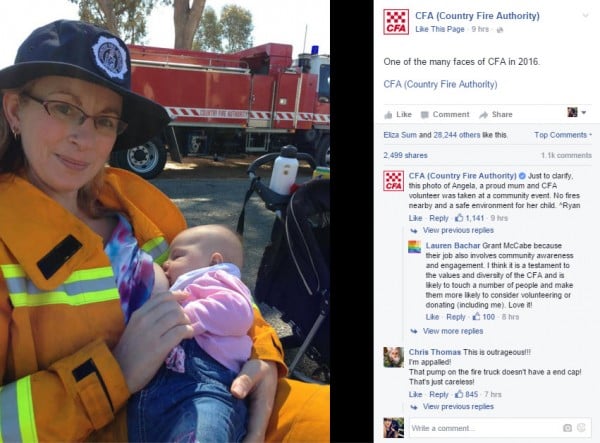 Angela Joy told the ABC her husband took the photo near the Tallygaroopna station in northern Victoria, where they are both members, after the CFA requested pictures that represented Australia.
"While this wasn't the iconic koala or gum tree firefighter image, I sent it in. To me it represented how grateful I am to be a firefighter in the CFA in a more mature Australia working for such a diverse organisation."
The mother of four said the image was not about normalising breastfeeding, but if it had that effect, it was an added bonus.
"One of the comments I saw was a young mum contemplating volunteering with the CFA but wasn't sure if they'd be supportive," Ms Joy said.
"But after seeing my photo she said she was definitely going to volunteer."
A number of mothers have expressed a desire to join the CFA in the comments on the post.
2. Australian of the Year David Morrison says he will fight to end domestic violence and the gender pay gap.
Diversity advocate and former Army Chief David Morrison AO was last night named as the 2016 Australian of the Year.
In his acceptance speech at the Canberra ceremony, Mr Morrison vowed to continue the hard work of domestic violence campaigner, 2015 Australian of the Year and "the most remarkable woman" Rosie Batty.
"She has set a benchmark for us all and the scourge of domestic violence which faces as one of our great social issues won't be solved in a year… but it is up to us in our lifetimes to do something about it and I look forward to continuing her great work," Mr Morrison said.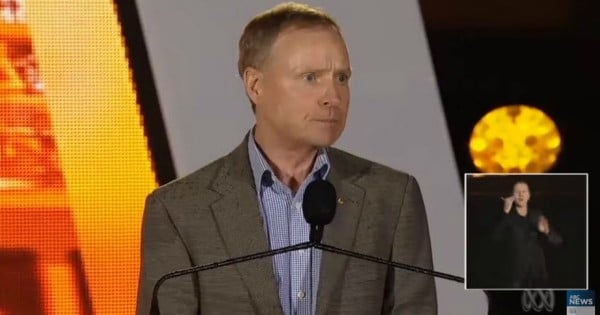 He also pledged to devote himself to diversity. He said as the chair of Diversity Council Australia, he knew what needed to be done, "but in a country that prides itself on its egalitarianism, I can't explain why there is a gender pay gap in this country between men and women across all professions of 17.8 per cent and worse in many of the professions that we are all proud to be part of".
"That needs to end," he said.
Mr Morrison said he would also lend his voice to the Republican movement: "It is time, I think, to at least revisit the question so that we can stand both free and fully independent amongst the community of nations."
3. Molly Meldrum is recovering from a fall in Thailand.
Music icon Ian 'Molly' Meldrum has declared himself a "walking disaster" after injuring himself in another fall in Thailand.
The 73-year-old Meldrum told News Limited the doctors were "trying to put everything back together" after he slipped while getting out of a taxi at a Bangkok hotel on Sunday night.
"I'm not sure what it was, but I slipped on something on the ground and fell on the footpath, but I'm OK."
The severity of his injuries were still being assessed. Meldrum injured his head and his back and was left in a critical condition in December 2011 after falling from his roof in Richmond while putting up Christmas decorations.
In Thailand to avoid the hype around new Channel 7 miniseries Molly, which will air in early February, Meldrum may need to return sooner than planned.
4. Bad news for Sydneysiders and Melburnians looking to buy a home as cities named ranked among world's least affordable.
New data shows that Sydney and Melbourne are among the least affordable cities in the world in which to buy a home, with households having to fork out up to 12 times their annual incomes.
According to the latest Annual Demographia International Housing Affordability Survey, Hong Kong takes the top gong for the least affordable city, with 19 times the median household income required to buy a median home, Domain reports.
Sydney ranked second, up 2.4 points from the previous year – the largest ever increase recorded by the survey – and Melbourne came in fourth, equal with Auckland and San Jose, with households paying 9.7 times their annual income to buy an average property.
5. A man has died attempting to cross the Antarctic alone to raise money for Prince William and Kate's foundation.
A British South Pole explorer who was attempting to become the first solo adventurer to cross the Antarctic alone and unaided has died.
Former Army officer Henry Worsley, 55, was rushed to hospital two days ago suffering exhaustion and dehydration 71 days into his venture, but has now died, The Sun reports.
His wife Joanna said: "It is with heartbroken sadness I let you know that my husband, Henry Worsley, has died following complete organ failure; despite all efforts of ALE and medical staff at the Clinica Magallanes in Punta Arenas, Chile."
He was just 30 miles from finishing the record-breaking endeavour.
Worsley was raising £100,000 for charity The Endeavour Fund, which helps injured veterans and is managed by Prince William and Kate's the Royal Foundation.
Do you have a story to share with Mamamia? Email us [email protected]