Today, the 5th of January 2017, is Jane McGrath Day, and the Sydney Cricket Ground has turned pink for the annual #PinkTest. The foundation is aiming to raise $390,000  for breast cancer support. To donate, click here.
Three things scare the pants off me:
1)     Snakes
2)     Lizards
When I spot a lizard sunning its scaly skin in its 'natural habitat' (our front yard), I'm chilled to the bone. And it was the same for me when I spotted a lumpy bump on my right breast last week in my natural habitat, Sportsgirl.
In a rare moment without a child tugging at my jeans, I'd ducked into the store for a quick browse. Half an hour later as I was trying on my 7th item, I unhooked my bra to slip on a gorgeous white, silk top. As I moved my hips and shoulders slowly from side to side in front of the mirror striking various ridiculous poses to properly check out the top (c'mon, don't tell me you don't do this too!), I saw a little bump through the silk. Almost like a tiny erect nipple, but not where a nipple should be.
I ripped off the top – sorry about the makeup stains, Sportsgirl – and started pressing on the flesh, praying there was nothing there. But there definitely was. A little lump the size of a grain of rice.
Tracy Bevan on how she has kept Jane McGrath's memory alive for her kids:
And as the colour drained from my face, I thought of my mum. Again. My mother who found a lump when she was only 25. My mother who was told it was nothing. My mother who went back to the doctor 6 months later, still concerned about that lump. My mother who had a mastectomy to try to remove the cancer. My mother who died from cancer aged 34.
The fear I felt in that fitting room blew my fear of reptiles right out of the water. But like my scaly antagonists, my blood was running cold.
It was fight or flight, and I really wanted to fly.
But, I chose the go-hard, rugby-style tackle option, and I did it fast. So within hours, I was sitting in my GP's office where she escalated my concerns by comparing the lump not to a grain of rice, but to the size of a pea (for the record, I hate peas too.) She arranged for me to get an ultrasound the next day. And then I had to wait.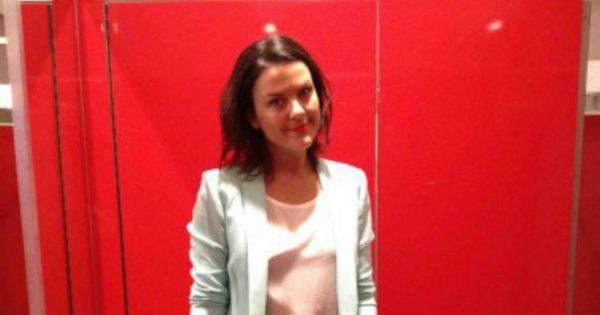 I spent the next 20 hours trying to be brave. I picked the kids up from School and Kindy as usual and nodded distractedly as they chattered about the minutiae of their day. I cooked them dinner, bathed them and tucked them in their beds, holding them tighter and longer than usual. I drank wine with my soothing husband. And I spoke to my dear girlfriends who've got my back and 'get' my boobs. All the while convincing myself that whatever the outcome, it's better to know straight away.
And the next day, as the ultrasound wand was sliding across my chest in search of that lump, I remembered the words that Christopher Robin said to Winnie the Pooh in the book I'd read to my boys the night before: "You're braver than you believe, and stronger than you seem, and smarter than you think."
The good news? I got the all clear. The bad news? It's not a happy ending like this for everyone.
Please, please, if you've noticed something unusual about your breasts, be brave and take action immediately. The McGrath Foundation has a great section on their website here outlining everything you need to know about breast health.
Because as grown-ups it's time to start facing our fears. And because early detection is vital to nail that bitch breast cancer.
Now (gulp!) to go look a lizard in the eye…
Andrea shares tips, ideas and inspiration to make it easier to navigate motherhood in style at Fox in Flats. She also faces her style fears regularly by throwing down Style Dares, where she challenges herself – and readers -  to break the back of a trend by wearing it for a week. She's on Twitter here and Facebook here.