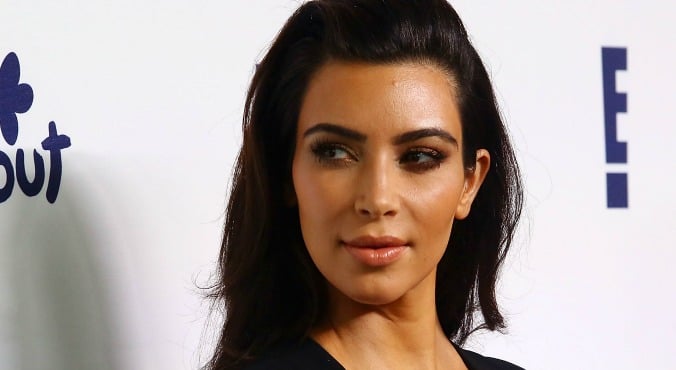 Image: Getty
UPDATE: Remember that time we all freaked out when Kim Kardashian's eyebrows went AWOL? Now we know why.
The reality TV star's solo cover of Love Magazine has just been released. Decked out in Prada, Kim helps celebrate the designer's upcoming collection. See? You don't even need eyebrows to land a magazine cover these days.
So, in conclusion, KK didn't shave her brows off in a fit; it was all for fahshun.
We previously wrote: Public service announcement: Kim Kardashian's eyebrows are missing in action.
It seems the 34-year-old misplaced her naturally dark, healthy-looking brows en route to her sister Kendall Jenner's birthday party earlier this week. Well, look, okay - technically speaking they're still on her face. They've just been obscured by a liberal application of bleach.
In her latest Instagram photos, the Keeping Up With the Kardashians star and her newly white brows are seen posing with model Cara Delevingne.
Because if there's one way to draw attention to your lack of eyebrows, it's standing right next to the Brow Queen herself.
Sensing her photos would provoke - if not an international search party - widespread fear for the welfare of missing brows, Kim considerately used the hashtags #DontBeScaredOfMyBleachedBrows and #ItsForAPhotoShoot. Well, phew. Call off the search party, we can all relax now.
The biggest eyebrow mistakes women make
Although the new look has got us all talking, Kim isn't the first celebrity to embrace the ghostly brow in recent months. Hell, she's not even the first Kardashian to do so.