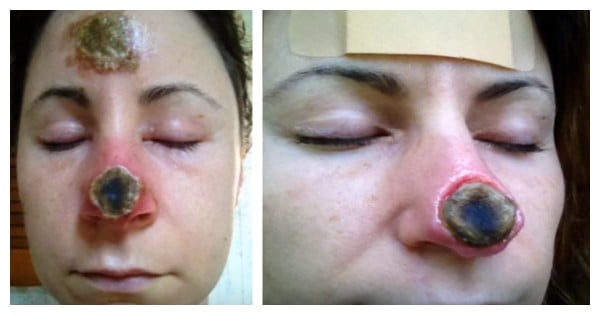 Warning: THIS POST CONTAINS EXTREME IMAGES. Seriously, you've been warned.
It's interesting, isn't it, how someone can go to uni for, oh, a gazillion years, and can quote peer-reviewed research and be involved in ongoing study into something (let's just make that something, for arguments sake, skin cancer), but will still be howled down by those who believe in unproven natural therapies.
When I say "interesting", what I actually mean is "madness".
There's a shocking image doing the rounds today that shows a woman diagnosed with basal cell carcinoma. She was advised by her doctor to have Mohs surgery – a procedure where thin layers of the tumour are removed until only healthy skin is left. Instead, she decided to apply the alternative therapy black salve to her nose.
This was the result: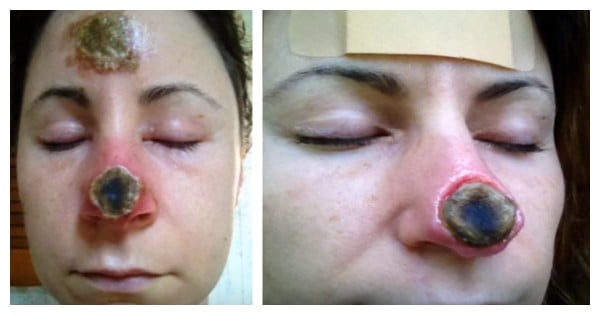 I am blessed (note extreme sarcasm) with skin like a turkey egg. I'm pale and suffered sunburn so much as a kid it's a wonder I have any skin left. My cousins actually used to fight over who was going to peel my back (repulsive, I know, but you know what kids are like).
Decades down the track, I've had a complete lip reconstruction, and skin cancers removed from my arm, ear and back. Every time - and especially with my lip because, you know, I'm as vain as the next person and it's a tricky thing to conceal - I was worried about how it would look.