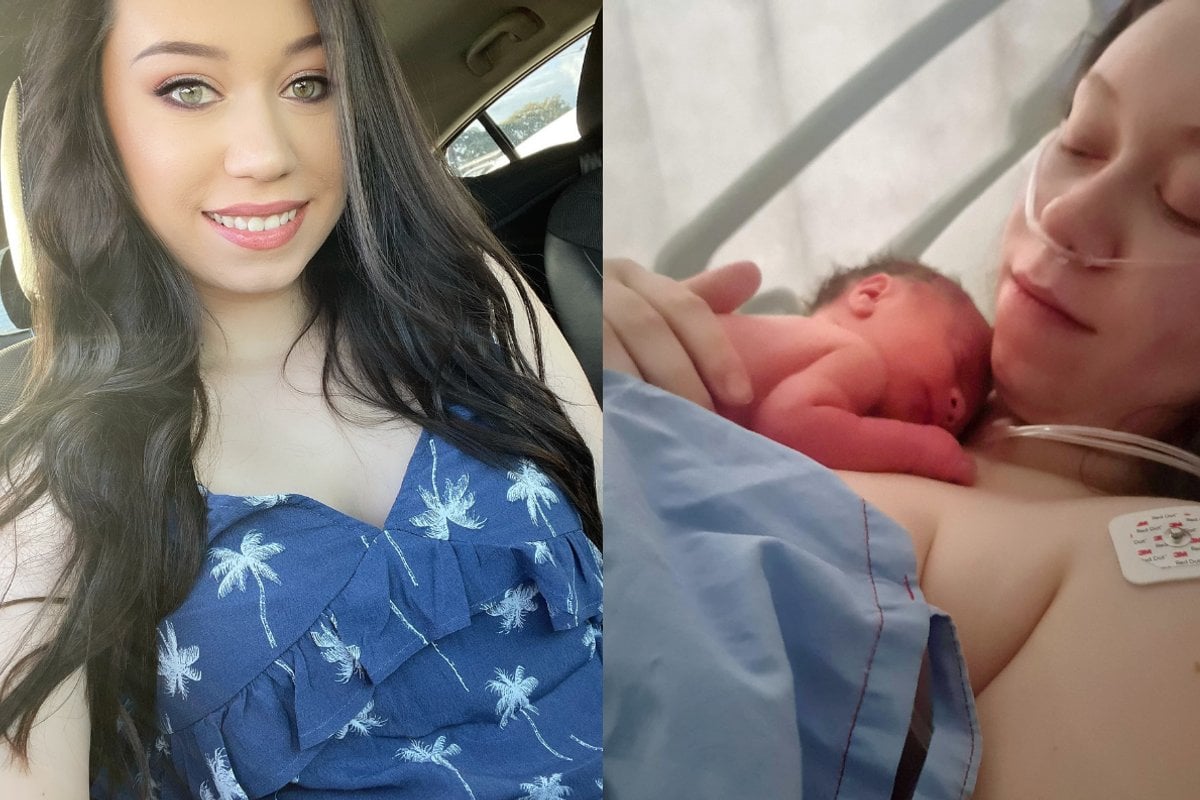 Birth: there's nothing quite like it, and it's clear no two birth stories are the same. Which is why we're asking everyday women and some of our favourite celebrity mums to share theirs, in Mamamia's My Birth Story series.
This week we profile Eilish, a twenty-six-year-old retail professional and mum of five-month-old Aluna.
Central Coast-based Eilish met her husband-to-be Brandon on Tinder. They fell in love and left Australia to get married in her home town of Chester in the UK.
"Our wedding was held on 14 March 2020 in Ludlow Castle and the very next day, everything shut and restrictions began," Eilish said.
"We already had return flights booked, so we were so lucky to get home on an empty plane after a very strange two-week 'honeymoon'. The pandemic made us question whether or not it was a good time to have a baby, but it didn't matter as in April I found out I was pregnant!"
Watch: Your questions about childbirth, answered. Post continues below.
The couple were overjoyed by the good news, but an intense period of nausea, on top of challenging lockdown arrangements, meant that Eilish didn't have the smoothest first trimester.
"I work in a small Woolworths and I felt sick every time I moved. I was also nervous about people standing too close to me. Thankfully my employers were wonderful, and after 20 weeks when the nausea lessened and we found out I was having a girl, I was able to enjoy pregnancy for a while."
A minor car accident at 29 weeks increased Eilish's stress levels, as did the lack of in-person clinic appointments.
"I had a lot of phone appointments up to 32 weeks and they were really just five-minute chats with a midwife to ask me how I was doing. 
"As this was my first baby and I had been feeling stressed, I pushed for a hospital appointment at 33 weeks. I'm so thankful that I did as when the midwife checked my blood pressure, it was extremely high. When it didn't go down, she called the doctor who requested a rapid response team come in and I was admitted to hospital.
"I remember shedding tears, I was scared, I was alone and I saw concern on all the other mums-to-be's faces. I just thought, please let my baby be okay. Please don't take her."