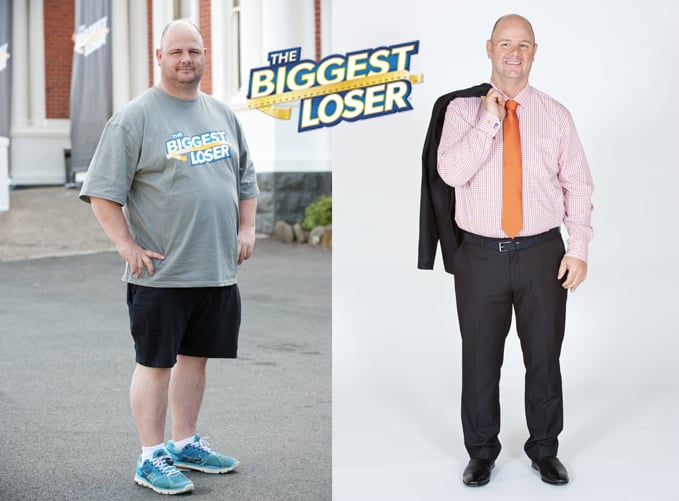 It's nothing like we're supposed to believe.
Of course it's nothing shocking that "reality" television is far from reality but the revelations from former Biggest Loser contestants about what actually goes on behind the scenes are actually horrific.
The Biggest Loser has obese contestants compete against each other to lose the most weight. Since its premiere in 2004, the show has become one of the most popular reality shows of all time with versions in countries all around the world.
One of the US show's contestants Kai Hibbard weighted 120kg at 170cm tall before her friends pushed her to do something about her weight.
But now, eight years on, Kai has spoken about the shocking treatment of the show's participants. "The whole fu**ing show is a fat-shaming disaster that I'm embarrassed to have participated in," she told the New York Post.
Although contestants are made to sign contracts giving away rights to their own storylines and forbidding them to speak ill of the show, Kai has let it rip.
While on "the ranch" where contestants "live, work out and suffer in seclusion" you were not allowed to call home, Kai says. After six weeks, contestants get to make a five-minute call, monitored by production.
And there's no faffing around, contestants are given a medical exam before immediately starting work outs for dangerous lengths of time. Sometimes they're forced to do so for five to eight hours straight.
"There was no easing into it," Kai says. "That doesn't make for good TV. My feet were bleeding through my shoes for the first three weeks."
Another Biggest Loser contestant who spoke to The New York Post on condition of anonymity agreed. "My first workout was four hours long." She came on to the show a few years ago at more than 136kg.
She says the trainers took satisfaction in bringing the participants to physical and mental break down. "They'd get a sick pleasure out of it," she says. "They'd say, 'It's because you're fat. Look at all the fat you have on you.' And that was our fault, so this was our punishment."
Kai had the same horrible experience, explaining, "They would say things to contestants like, 'You're going die before your children grow up.' 'You're going to die, just like your mother.' 'We've picked out your fat-person coffin' — that was in a text message. One production assistant told a contestant to take up smoking because it would cut her appetite in half."
Meanwhile, their calories were severely restricted to 1,000 per day. The recommended daily intake for a person of average height and weight is 1,200 to 1,600 calories per day.
The New York Post spoke to Lynn Darby, a professor of exercise science, about how dangerous the show is. "Safe weight loss is around one kilogram, and most people find that hard," she says.
"If you reduce your calories to less than 800-1,000 a day, your metabolism will shut down. Add five to eight hours of exercise a day — that's like running a marathon, in poor shape, five days a week. I'm surprised that no one's ­really been injured on the show."