Stop. Get out of your bubble bath. Peel back the shower curtain. Climb out of that warm, snuggly bed.
But don't get dressed just yet… don't find yourself overcome with dread about being cold or uncomfortable or not knowing what to wear around the house on a lazy Sunday morning.
Nay, stress not friends.
Listen: Monz is (somehow) an even happier human being with this dressing gown in her life. Post continues after audio.
Sure, you could grab a cup of tea and chuck on some RESTRICTIVE pyjamas. Or a SEPARATE pair of pants and top. That would be FINE and life would go on and mediocrity and disappointment would flood your Sunday.
There is a better way.
Discard the pyjama. Burn the tracksuit. Cast-away the oversized top that's one washing cycle away from turning into actual dust.
Ladies, I implore you… whoever you are, wherever you're at and whatever you're doing… let me draw your attention to a very special item of clothing.
The dressing gown. But not just any dressing gown. Oh no no no…
The Peter Alexander, Long Teddy Gown.
You know the gown.
That one you tie up at the front with the big ol' sleeves that is sort of made out of towel material so you can put it on while you're still a bit wet but is also made out of the softest fake fur in existence and has the potential to bring about world peace.
THIS ONE: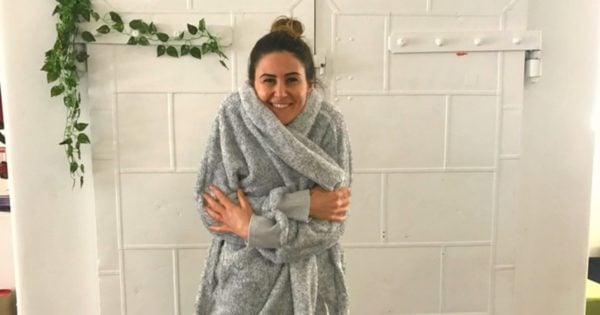 What I will do now is address all your questions and also concerns before you can ask them:
No, dressing gowns are not only for five-year-olds.
$99.95. Plus shipping.
Yes, you can get it with a hood. You probably should. That would be good.
The gown has pockets and a self-waist tie and an open-front collar which is perfect for snuggling into.
Splashing a casual hundred bucks on a dressing gown may seem a bit over the top. But it's not. Do the math.
When you consider the cost-per-wear of something like a dressing gown, it should quickly dawn on you that a purchase like this one pretty much pays FOR ITSELF.
It's going to last you years. Maybe the rest of your life.
You will probably pass this dressing gown down to your children. And they will pass it to theirs.
It's an investment in your HAPPINESS but also in your FUTURE and your CHILDREN'S FUTURE.
It'd be selfish not to buy one.
You can buy the gown on the Peter Alexander website, here.
You can listen to the full episode of Mamamia Out Loud, here:
Are you a dressing gown person? Is there a better one than this? Let us know below.