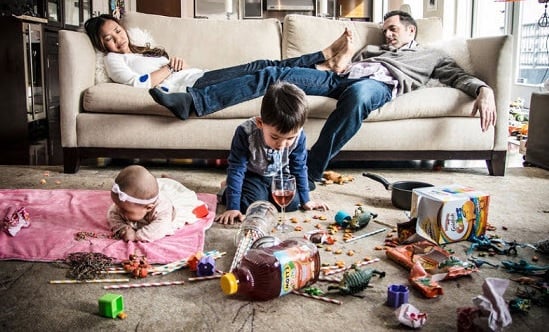 We can't stop staring at them.
We all know that parenting can be a little chaotic at the best of times. But sometimes is nice to stop and smell the roses, to truly appreciate the beauty that being a parent is.
Photographer Danielle Guenther has done just that in her series Best Case Scenario. Danielle who often photographs parents with their children stumbled across the inspiration for the collection during a long shoot with a client.
"We decided to do a funny imperfect image. It's okay to laugh at stressful moments you have as a parent, we've all been there," Danielle told Mashable.
If you've ever had a family portrait taken, you'd know that the end result can often take hours of grooming and coaxing. Danielle's series is a depiction of the more realistic side of parenting.
Danielle wants to encourage parents to remember the more cringe-worthy moments of parenting. "Put even the crazy moments into an image — those are equally as beautiful," she said.
SCROLL THROUGH the gallery for pictures of the crazy chaos of parenting…