It's been a whirlwind week for model of the moment, Bella Hadid.
Last weekend she arrived in Sydney for 24 hours to appear in Misha Collection's resort '17 show at fashion week, a gig where she pocketed a rumoured $400k. Then flew to France to make an appearance at the Cannes Film Festival.
So, you know, just your average work week.
It was her appearance at the Cannes Film Festival where the 19-year-old floored the internet. Hadid arrived to the Unknown Girl premier wearing a daring Alexandre Vauthier red silk gown, complete with a waist-high split, backless top and an impossibly-deep v neck.
Yet, like magic, there were no nip slips to be seen. And now we know why.
While the rest of the world wondered what would have happened when a breeze kicked up, Hadid knew her look  would stay PG due to a carefully-placed bodysuit hidden under the creation.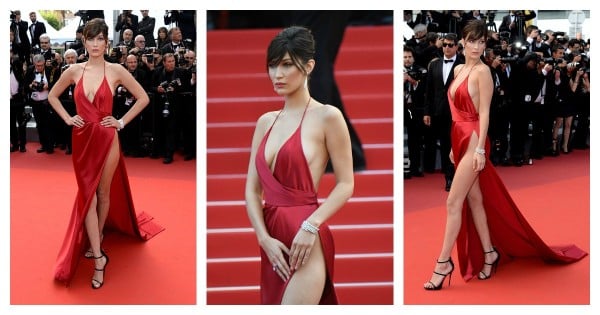 Speaking to Vanity Fair, Hadid's stylist, Elizabeth Sulcer said, "The dress has a built-in silk bodysuit. Top-stick [tape] is always a good idea. Practice makes perfect."