Everyone remembers their first Barbie.
I got mine for my seventh birthday.
We were back in Ireland at the time and after desperately coveting my cousin's collection, my mum and dad bought me my very own.
She was the iconic Doctor Barbie - and she was the first doll I had that wasn't a 'baby' doll.
Doctor Barbie was the trendiest doctor I'd ever met. She wore a cobalt blue mini dress, pink stilettos, blue earrings, and had a white doctor's coat. She carried a doctor's bag and a pink stethoscope (you could press it and hear a heartbeat) and had her beautiful long hair tied in a high ponytail on top of her head.
She also rocked a blunt fringe - and yes, I cut one for myself. Silly question. (As a beauty editor, I like to think this is where I found my calling for self-expression.)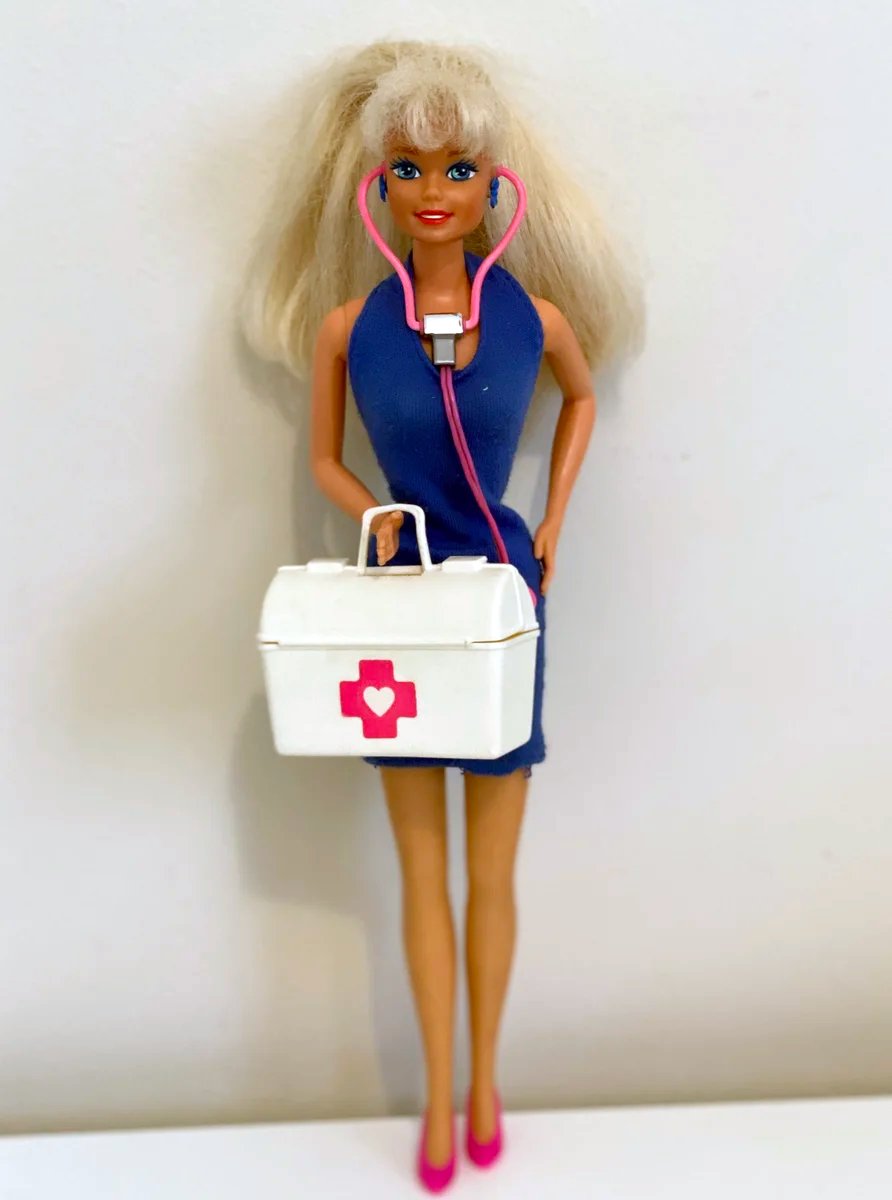 As the years went on, my Barbie collection grew.
The gang included a Slumber Party Barbie, who wore blue and white polka dot pyjamas (her eyes 'closed' over when you applied warm water), as well as an aerobics Barbie who donned pink fishnet tights, joggers, and a tiny pink Walkman.
I remember wanting aerobic Barbie's entire outfit (so colourful! So cool! So... '90s), but instead settled with a matching pink scrunchie - wearing my hair up in a high ponytail, and wanting a pair of her matching pink sneakers.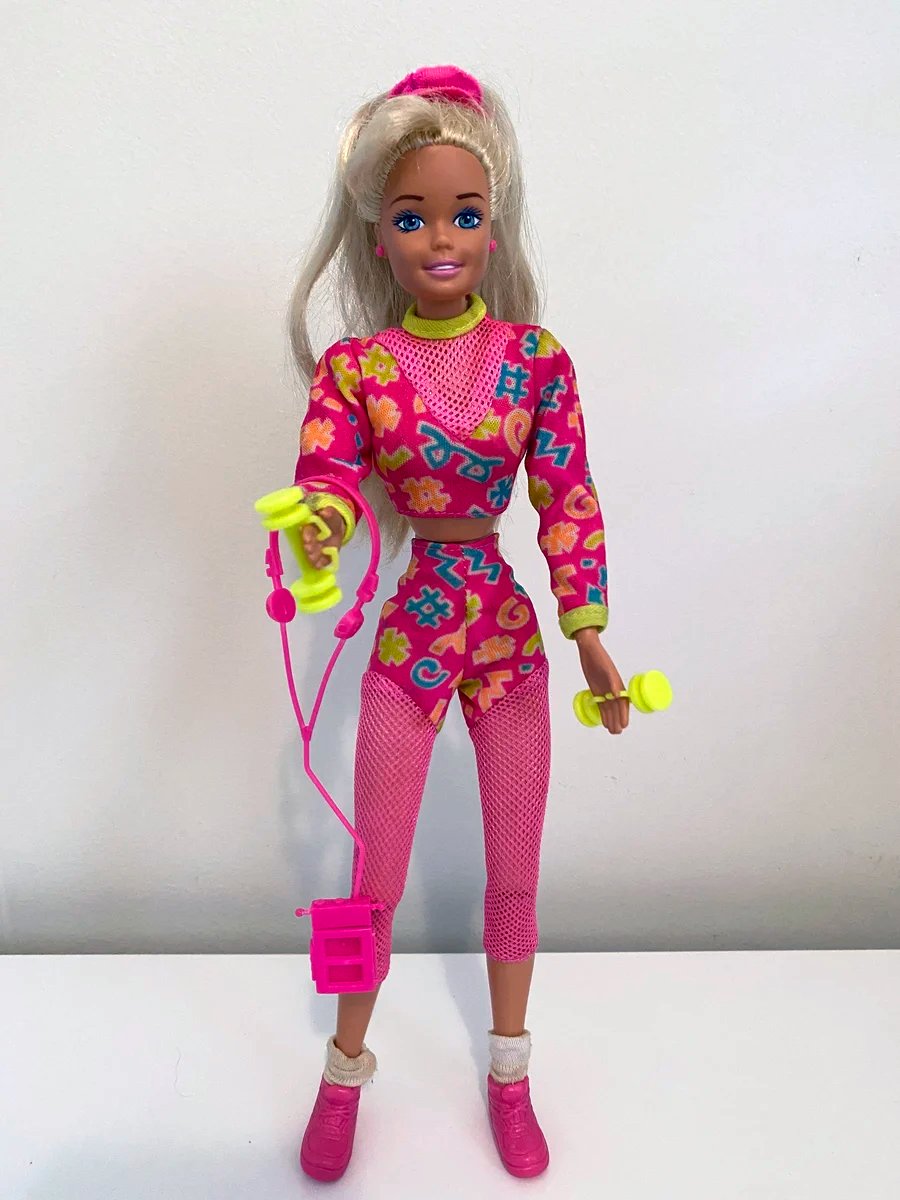 Adding to the squad, I also had a Prince Ken and a Princess Barbie, complete with crowns and silky royal 'fits. No one could play with these two, though, because I wanted to keep them 'good'.
One of my faves, though? A Sydney Olympic Barbie from 2000. I think I was nine when I got her. She was the first Barbie I had with short, cropped hair, and she could do freestyle and backstroke in the water which was pretty mind-blowing for a kid.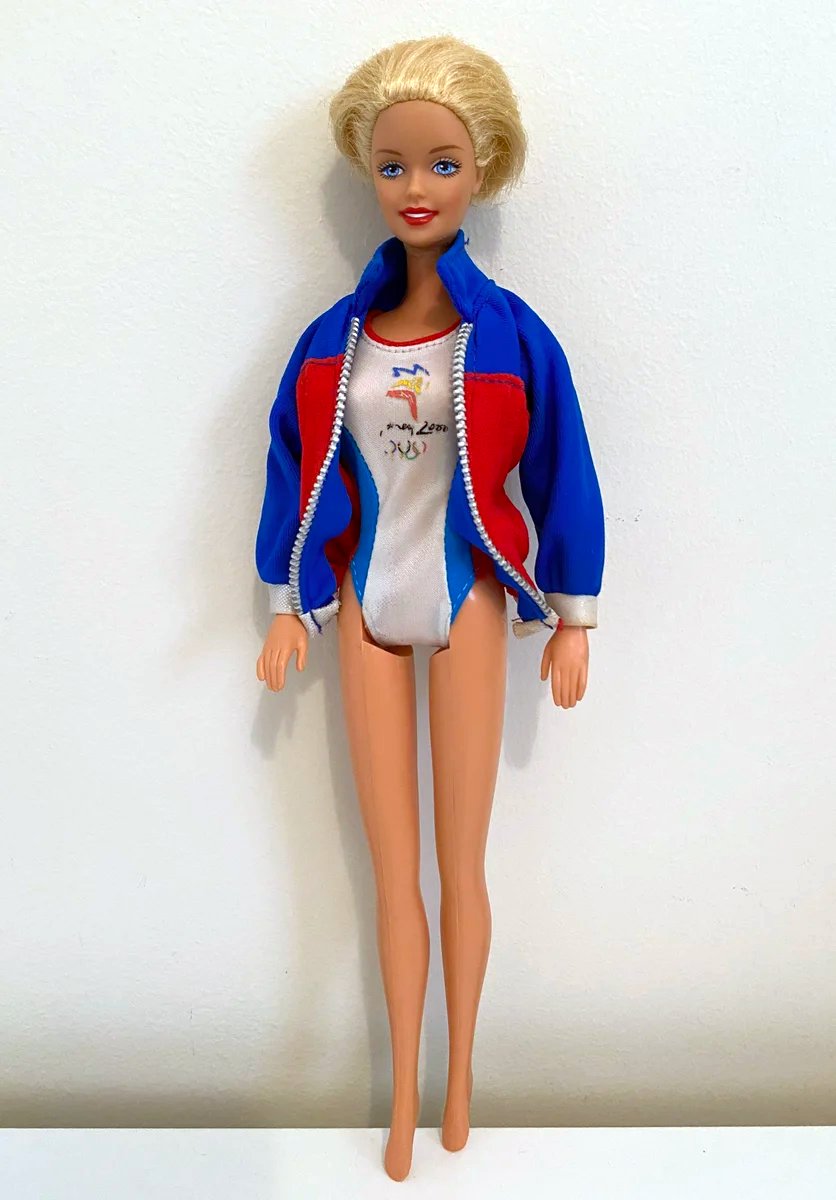 It's not hard to see why so many kids were obsessed with Barbie.
She is a style icon who could do anything she wanted - whether it was flying to the moon, being a surgeon or looking after sick animals.
I'll always remember people in my class bringing their favourite Barbie dolls to school, and we all played with them at lunch - creating all kinds of scenarios and imagining what it was like to be a grown-up (cool clothes! Careers! Nice hair!).
One of my favourite memories was how we used to open up 'shops' with our Barbie dolls, where we would swindle each other for different outfits, shoes, and accessories.
It was like a mini trunk sale, except no one had money, and the rules around what qualified as a 'fair trade' were very loose (Georgia, if you're reading this - I still want those tiny blue heels back).
As I grew up, all my Barbie dolls were passed down to my younger sister. She's seven years younger than me, and a completely different generation.
I remember thinking there'd be other cool new dolls she'd probably like instead, but after watching Barbie and the Nutcracker, she soon wanted in on my childhood obsession.
I remember going to the shops and helping my mum pick a Barbie for my sister's birthday, and - after not having played with the doll for quite some time - I couldn't get over how... different she was.
There were so many versions I hadn't ever met. More diverse, inclusive figures - different body types, skin tones, hairstyles, and personalities.
And the fashion! Goodness, the fashion. There were collaborations with real designers and celebrities - new unique clothes and styles that reflected the particular trends and moods of the time.
Barbie was evolving in order to reflect the changing ideals, styles, and opinions - and honestly, it was refreshing to see.
Of course, my experience is only one snippet into the decades of transformation Barbie has seen over the years.
To give you a better picture of how this iconic doll has inspired generations of young people to explore their own style, we're looking back at Barbie's evolution through the ages.
Ready? Hold onto your dolls!
What are your memories of Barbie? Share your experience in the comments below.