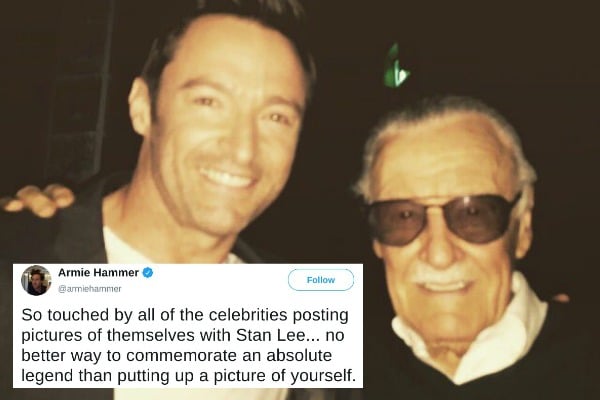 -With AAP
1. Armie Hammer criticised people for sharing photos of themselves with Stan Lee after his death, but it's backfired on him.

After news broke of Marvel chairman Stan Lee's death at age 95, tributes from celebrities began to flood social media.
Many of these tributes contained selfies or photos of the celebrities with Stan, and it was this trend that actor Armie Hammer took issue with.
So touched by all of the celebrities posting pictures of themselves with Stan Lee… no better way to commemorate an absolute legend than putting up a picture of yourself.

— Armie Hammer (@armiehammer) November 12, 2018
When called out, Hammer doubled down tweeting: "If Stan impacted your life (ie. All of our lives) with his work, post his work that touched you the most. Posting a selfie makes his death about you and how cool you felt taking a picture with him."
The Call Me By Your Name He also wrote that if posting a selfie is the best way people think there is to give tribute, "I think we need a cultural revamp across the board."
Hammer's tweets have backfired as he has received criticism from thousands of fans.
Aaaaaaaand just by telling people how to grieve, you've made this wonderful man's passing, all about you. I'm a fan of yours 100%, but this was just not right. Also some of those "celebrities" are your friends. And human beings. pic.twitter.com/FVzblhTWwK

— ⭐????⭐Trisha⭐????⭐ (@MrsAquaman187) November 12, 2018