Andrew Daddo exudes warmth.
A strikingly tall, elegant man, Daddo is the type you can't help but smile at while talking to. He's good in the soul. You can tell.
One of the four (in)famous 'Daddo boys', 50-year-old Andrew grew up in a household overflowing with testosterone.
There was much to be learnt from his older brother, Cameron. How to strip a bike; how to catch a yabby; how to line up empty beer cans so they could be smashed with rocks from a distance.
And through the bushes during a family holiday, he and his younger brother Lochie would dart around taking aim at each other with air rifles. "Playing Ned Kelly" was the clarification he offered to Mia Freedman during their recent interview, which seems to be a limp excuse for the fact he shot Lochie and got in trouble.
But it's the  fourth Daddo brother – Andrew's twin, Jamie – with whom he spent most of his time.
LISTEN: Andrew Daddo opens up about the moment he found out about Jamie's accident, and what happened next. Post continues after. 
Each Summer, he and his twin brother Jamie would strip the outer layer from Christmas baubles, using the foamy inside as a makeshift ball for indoor cricket.
"We spent a disproportionate amount of time on our knees playing games," says Andrew. "It was a highlight of my youth. Actually, he was."
The pair grew older, and things shifted – as they always do. But no one expected the tragedy that would befall the tight-knight pair once they turned 18.
His older brother, Cameron, had well and truly broken into the entertainment industry and was in Japan for work.
"It was grand final night," he tells Mia Freedman on No Filter. "Essendon had won, and there was a big party on. Jamie went to the party."
"I went to my girlfriend's house. I broke up with [her] that night, for whatever reason…"
After breaking up with his long-term girlfriend, Andrew headed back to the family home. It was an early turn-in for an 18-year-old, especially on a night when his brothers and friends were out celebrating the end of the Australian Football Rules season.
You can only imagine his surprise when, only hours after returning home, he was shaken from sleep by his father. It was still dark outside. The family fireplace was burning.
"I thought we'd won the lotto," he tells Freedman. "I thought 'something good's happened'… but obviously, it was something not so good."
Jamie Daddo was crossing a road that had two lanes running in each direction. He reached the mid-point of the road, where he spoke to someone. Then he turned to come back the way he came.
"He didn't look when he came back. The lights had turned green. Then he got hit."
"He was unconscious for… five months," says Daddo. "Then it was another year in hospital after that… it's a long, long process from a critical injury."
Jamie survived. He's an artist now. He lives with his wife, their two cats, and is confined to a wheelchair. His speech is affected; his left arm is frozen; and his legs don't work properly. He and Andrew speak on the phone regularly though perhaps, Andrew suggests, not enough.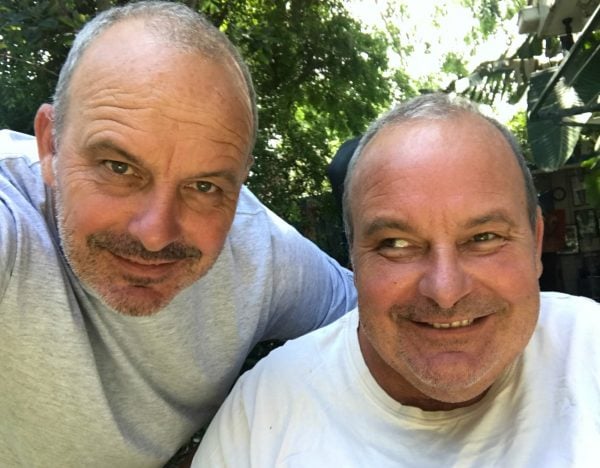 "Life just goes on," says Andrew. "Even now people say, 'You're a twin? What does your twin do? How come we never see him?'"
He goes on, "[I have to say to them] well look, he's in a wheelchair, he's got a head injury... you can see them dying inside."
The personal wounds caused by his brother's accident have healed, now. Andrew is hesitant, but comfortable, speaking about it. It's toughest, however, when unknowing people ask about Jamie in this reckless, blokey manner. Not because it's rude, but because Andrew then has to explain the backstory.
"It's fine to ask," he says. "I feel bad for making [people who ask] feel bad."
"We're lucky to have Jamie, certainly."
Listen to Andrew Daddo's full interview with Mia Freedman, below.