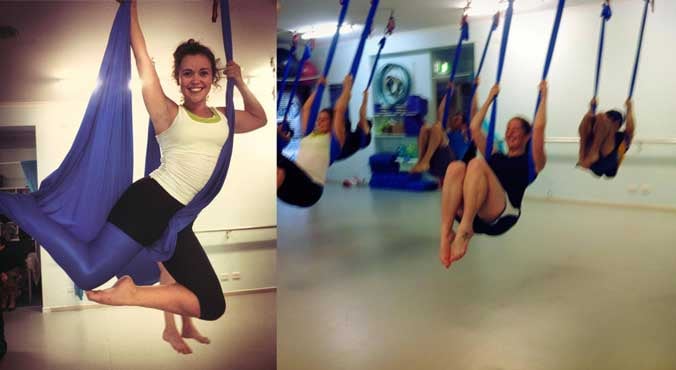 My first aerial yoga experience was completely random.
I was on a work trip in a tiny little town in regional Queensland called Woombye. Honestly, before I got there, I was expecting to be bored for the weekend. But then we stumbled across an aerial yoga studio, and saw a bunch of people hanging from silks.
And thought FUN.
Within hours, we were doing our own class. And I fell in love.

A quick run-down – aerial yoga is basically stretches and yoga poses that involve a silk hanging from the ceiling (the silk bottom is at the height of your hip). There are some that just involve holding the silk to further stretch a muscle, some that involve sitting/standing in the silk to work the core, and some that involve hanging upside-down.
Now, let me be honest – I grew up as a dancer, so I have a co-ordination advantage. But my friends who accompanied me were of varying co-ordination levels, and there were other absolute beginners in the class. In fact, every aerial class I've done since has had beginners, and I have NEVER SEEN ANYONE SLIP OUT AND HIT THE FLOOR.
I know that was your first question. It was definitely mine.
In the aerial yoga classes I have done since (I've only done about seven, so I'm still a beginner myself), I have realised that we actually learned some really advanced stuff in our first class, which was testament to the teacher and environment. I have always felt safe in the classes, and have never been pushed to do something that I'm not ready for. Don't be afraid, just try it.
This is what aerial yoga looks like