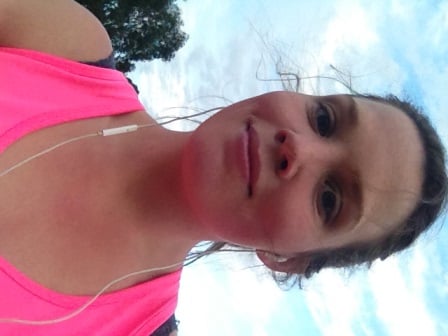 The challenge: For the past 12 weeks, four members of the Mamamia and iVillage teams have taken on Michelle Bridges' 12 Week Body Transformation. For three months (and yes, that does include the Christmas/New Year's period) we've run, we've spun and we've spent more time looking like tomatoes than we ever have before.
The challengers: Mamamia's Nicky Champ, Lucy Ormonde (hey, that's me!) and Natalia Hawk, as well as iVillage's Jo Abi.
Why I wanted to do it: I've always been pretty good at reeling off the reasons why I shouldn't exercise on a daily basis. It's always too dark, too cold, too cozy in bed. I've often said that exercise is "more of a weekend" thing, but then it's the weekend and it's "something I'll do on Monday."
I wanted to change that. Doing 12WBT was never about weight loss for me, but more about being healthy and changing my lifestyle. Too often I was substituting coffee for breakfast, and telling myself that a bowl of cereal washed down with a glass of sav blanc counted as dinner.
FYI, you should know this post is sponsored by 12WBT.  But all opinions expressed by the author are 100% authentic and written in their own words.
What I didn't expect: I didn't expect the program to be so detailed. I didn't expect a daily exercise plan and nutrition plan and I certainly didn't expect that those exercise plans would be interchangeable depending on where you're exercising (home, gym, outdoors, classes etc).
The most difficult moment: Look, saying no to cheese platters over the holidays wasn't the most fun I've ever had. Ditto those 5pm cocktails. But I'm a firm believer in everything in moderation. You know, have one not seven.
What I loved: The recipes. Oh my God, the recipes. I've always been one for trying new things but often it can be easy to come home after work and just pour some milk onto some cereal. I loved Michelle's recipes because they were new and interesting, healthy and not too difficult to create, plus anyone I made them for enjoyed them too.
Michelle's mindset videos were also a bit of a Godsend. Almost like having a personal trainer check in with you each week. Each one is only a few minutes long, but they're really enough to keep you motivated, make you feel like you're not alone and they tend to stay with you for the week.
What I've learned: I've learned that you can achieve a lot in a 45-minute work out. And that if you make those work outs non-negotiable, getting out of bed to do them gets easier every day. Do the exercise early and then it's done for the day.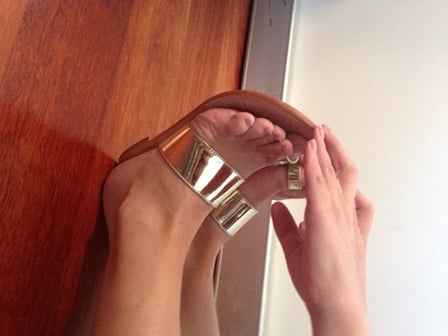 I've also learned that other people's willpower and determination is amazing. I love following the comments in the forums section of the website to see how people were able to talk to each other and help each other through if they were ever feeling weak.
The one thing I lied about: Look, there may have been occasional instances in the Mamamia office when there was chocolate staring at me and my will power may have failed.
My proudest achievement: When I started the program, I really just wanted to be able to touch my toes. I know, I know… But I am proud to report that this goal has been ACHIEVED.
All in all: I've been so impressed by the program and the people at 12WBT and it is something I'd recommend to my family and friends who are looking to change their lifestyle.  It's such a well-structured and well-tailored program and I never once felt like I was doing it on my own. I've definitely feeling more energised and better about myself since I started and I'm looking forward to keeping up those exercise routines.
And here's how the other girls are feeling after 12 weeks: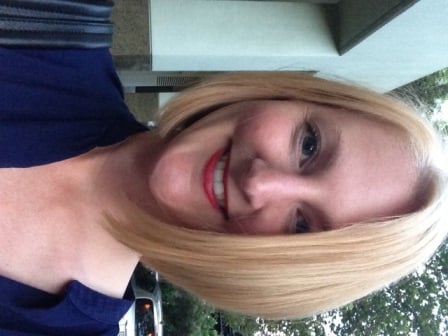 Nicky: I'm so sad that 12WBT is coming to an end! I am definitely considering doing the next round to keep my healthy journey going. In terms of what I've enjoyed the most – aside from the food and (gasp!) the workouts – is being held accountable to actually exercising. Come summer, and winter, and autumn and well, spring I can think of a thousand reasons not to exercise but 12WBT has really kept me on track. Doing the 12WBT has felt like I was exercising with friends and there's no way you want to let down Mish Bridges! If anyone is considering doing the next round of 12WBT I'd highly recommend it – and I'll see you there!
Jo: I've always expected that as I got older, I'd be less fit and put on weight. It was inevitable. I may as well accept it. 12WBT has reminded me that it's never too late to be healthy and improve my fitness. I'm fitter than some of my friends in their 20s and I've just turned 38. I feel awesome. I can jog for 30 minutes without stopping, I now exercise most days, I'm doing push ups. I rock! I'm wearing as many sleeveless tops as possible and when I'm at home, I'll drop and do an extra set of push ups. Who am I? When you feel good about yourself it improves all areas of your life. I highly recommend 12WBT. You don't have to do it perfectly, just do it.
Nat: For me, 12WBT was the perfect way to kick start a much healthier lifestyle, without the inevitable confusion about what I was and wasn't supposed to be eating, and how much exercise I was supposed to be doing. Mish (I feel like we're on first-name terms now) breaks everything down for you and makes it so incredibly easy to follow the program. My favourite parts? The workout videos, and the food plans. The workout videos meant that I could do some cardio without even leaving my house or having to put pants on. And the food was just SO. DAMN. GOOD – and expanded my healthy-eating repertoire significantly.
Just some of my favourite recipes:
The next 12WBT kicks off February 3, so this weekend is your last chance to sign up! Head to 12wbt.com to join the team!

Michelle Bridges 12 Week Body Transformation (12WBT) is an online 12-week exercise, nutrition and mindset training program designed to transform your body and, most importantly, your way of thinking. Whether it be weight loss, running, shaping and toning, or simply a motivational boost, this program is designed for you! Over 12 weeks you'll receive Exercise Plans, nutritious and delicious Menus, Mindset Videos and Expert Support to help you achieve your health and fitness goals.