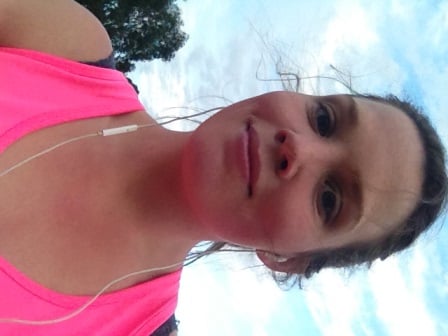 The challenge: For the past 12 weeks, four members of the Mamamia and iVillage teams have taken on Michelle Bridges' 12 Week Body Transformation. For three months (and yes, that does include the Christmas/New Year's period) we've run, we've spun and we've spent more time looking like tomatoes than we ever have before.
The challengers: Mamamia's Nicky Champ, Lucy Ormonde (hey, that's me!) and Natalia Hawk, as well as iVillage's Jo Abi.
Why I wanted to do it: I've always been pretty good at reeling off the reasons why I shouldn't exercise on a daily basis. It's always too dark, too cold, too cozy in bed. I've often said that exercise is "more of a weekend" thing, but then it's the weekend and it's "something I'll do on Monday."
I wanted to change that. Doing 12WBT was never about weight loss for me, but more about being healthy and changing my lifestyle. Too often I was substituting coffee for breakfast, and telling myself that a bowl of cereal washed down with a glass of sav blanc counted as dinner.
FYI, you should know this post is sponsored by 12WBT.  But all opinions expressed by the author are 100% authentic and written in their own words.
What I didn't expect: I didn't expect the program to be so detailed. I didn't expect a daily exercise plan and nutrition plan and I certainly didn't expect that those exercise plans would be interchangeable depending on where you're exercising (home, gym, outdoors, classes etc).
The most difficult moment: Look, saying no to cheese platters over the holidays wasn't the most fun I've ever had. Ditto those 5pm cocktails. But I'm a firm believer in everything in moderation. You know, have one not seven.
What I loved: The recipes. Oh my God, the recipes. I've always been one for trying new things but often it can be easy to come home after work and just pour some milk onto some cereal. I loved Michelle's recipes because they were new and interesting, healthy and not too difficult to create, plus anyone I made them for enjoyed them too.