This is unity. This is 'Charlie'.
This is how the world will move forward with hundreds of thousands of people from all walks of life, all religions, all individual histories coming together united.
This is how we will defeat terrorism.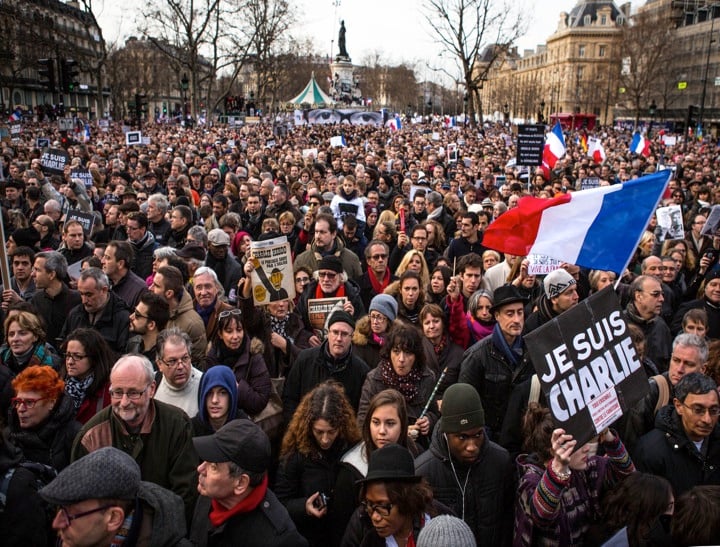 More than 1.5 million people in Paris and 40 world leaders have joined together to show the world that in the face of violence and terror we will not be afraid or divided. We will be united.
The city of Paris has come to standstill overnight with AFP reporting the crowd  at the Unity Rally was unlike anything the country had seen since the 1944 Liberation of Paris from Nazi occupation.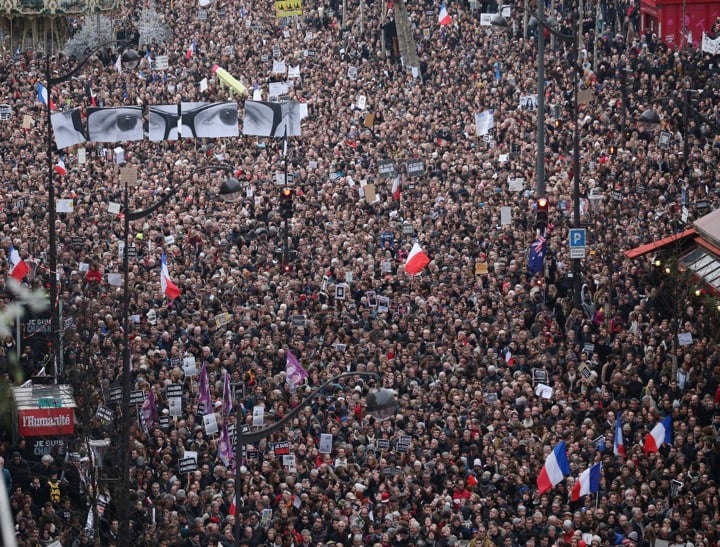 As social media lit up one catchphrase in particular said it all "They wanted to bring France to its knees. They brought Europe to its feet."
Hundreds of thousands marched together holding giant pencils, placards declaring "Je Suis Charlie" and signs depicting the eyes of slain Charlie Hebdo editor Stephane Charbonnier.
The 1.5 million people crept slowly towards the Place de la Nation. The crowd sang renditions of the Marseillaise national anthem, interspersed with chants of "Liberté, Liberté" and bursting into spontaneous applause.
Here are a few of the images from the march. Post continues after gallery:
The rally was led by relatives of the 17 victims of last week's attacks as well as those survivors of the Charlie Hebdo attack.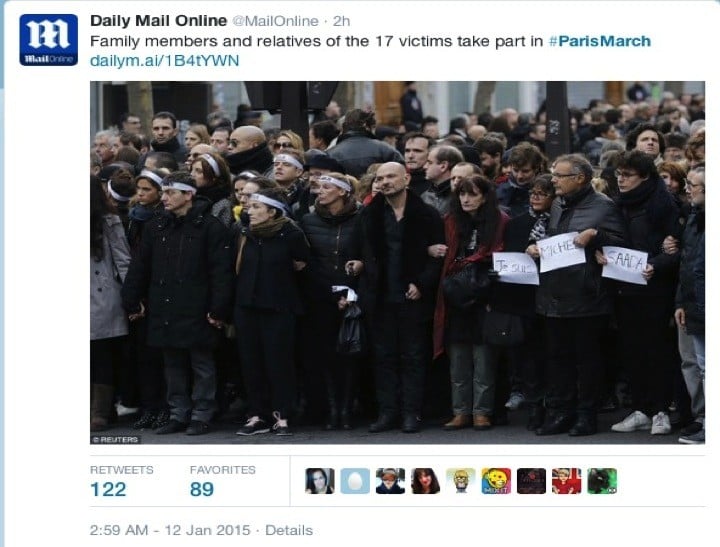 The mood was described as somber and yet uplifting with a minutes' silence observed before the march began.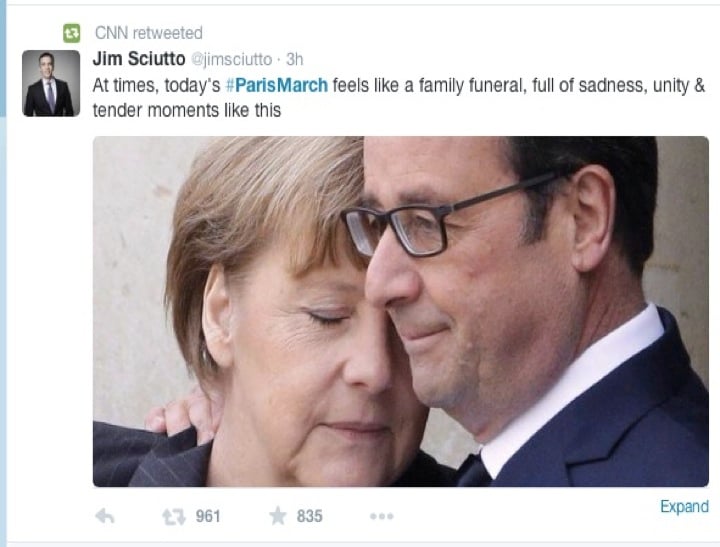 One of the most gripping images is that of 40 world leaders arm in arm walking with the crowd.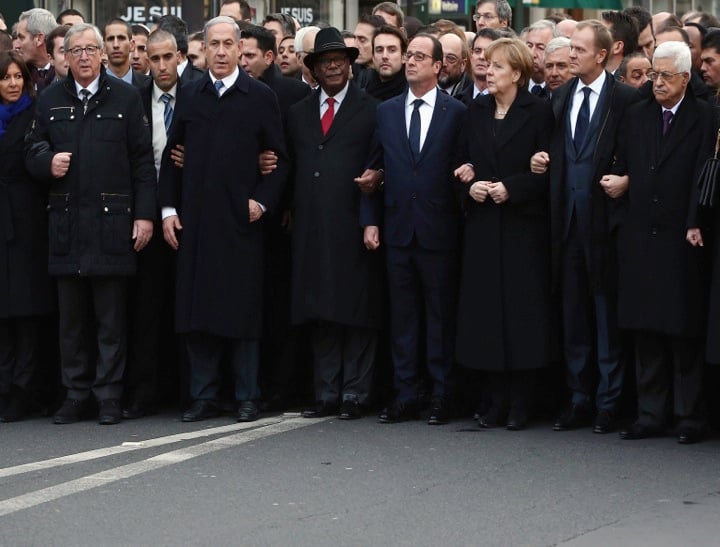 The French President Francois Hollande, the Italian Prime Minister Matteo Renzi, the Spanish Prime Minister Mariano Rajoy, the German chancellor Angela Merkel, the British Prime Minister David Cameron, Turkey's Prime Minister Ahmet Davutoglu as well as Israeli Prime Minister Benjamin Netanyahu and Palestinian President Mahmoud Abbas.
Senate president Stephen Parry was set to attend the march on behalf of Australia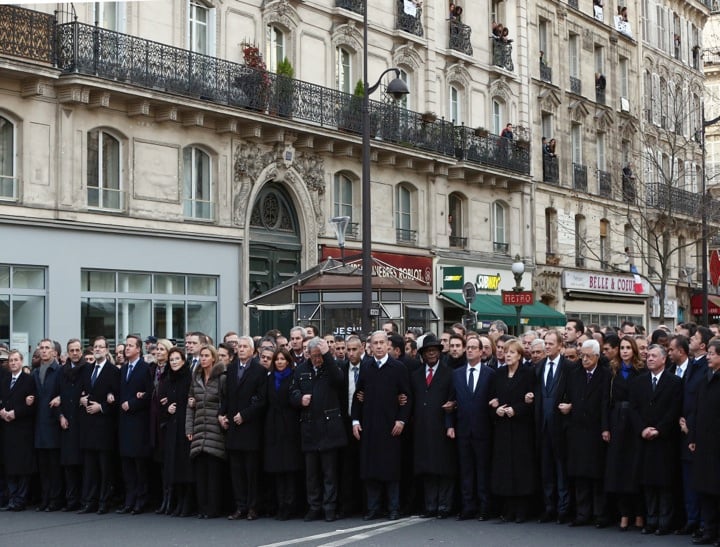 "Paris is the capital of the world today," French leader Francois Hollande said. "The whole country will rise up."
Speaking at the march, David Cameron said extremist violence would remain a threat for many years to come.
"We in Britain face a very similar threat, a threat of fanatical extremism," he said.
"It's a threat that has been with us for many years."
Italian Prime Minister Matteo Renzi vowed that Europe would "win the challenge against terrorism", as he left the French presidents residence in Paris to join the march.
"We are all French today," he said.
Across the world rallies took place in London, Madrid, New Cairo, Sydney, Stockholm and Tokyo.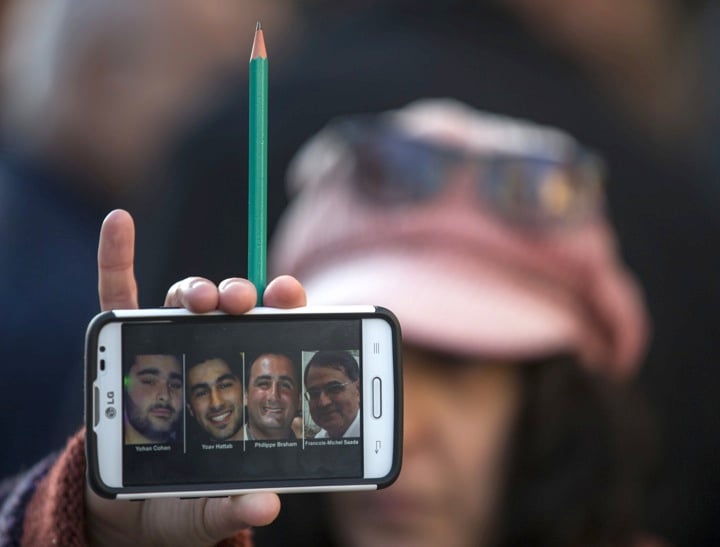 Muslim women gave out white roses to those in the crowd.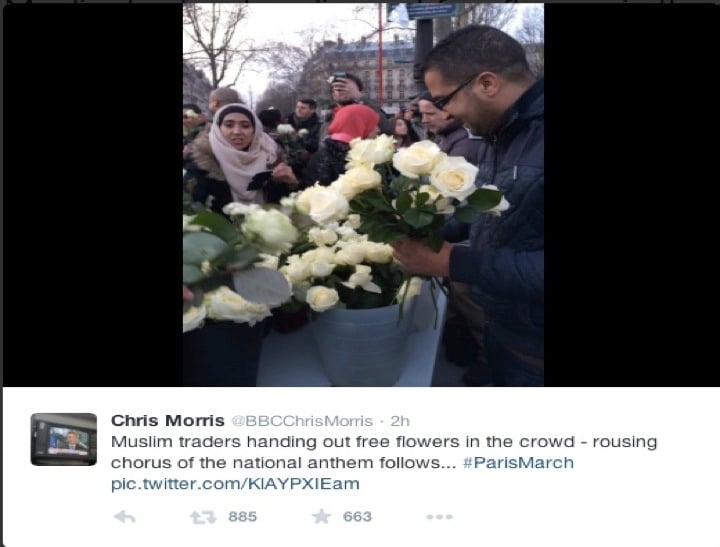 A young Muslim French woman held a sign that said, "I am a Jew."
She told CNN that she was horrified to hear of the killings, and the killers do not live according to the Islamic principles she's been taught.
"Our religion is the religion of love. … Our religion loves Jews … loves Christians. We are not terrorists,"
About 2,000 police officers and 1,350 soldiers – including elite marksmen on rooftops – have been deployed to protect participants.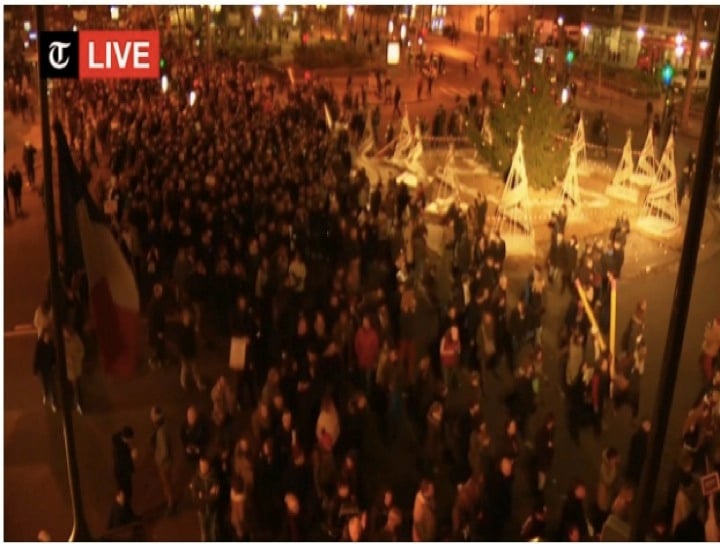 The country is still on high alert after last week's three days of terror.
Brothers Cherif and Said Kouachi who attacked Charlie Hedbo were killed on Friday after the two violent standoffs.
Amedy Coulibaly suspected in the slaying of a police officer, and the shooting of a jogger, was killed by security forces Friday after he shot and killed four hostages during the siege at the kosher market.
His partner, Hayat Boumeddiene, is still wanted by police – although she is thought to have fled France last week. Officials believe she may have entered Turkey en route to Syria.