Peter Anderson road tests and reviews the new Toyota Kluger GX 2WD, with specs, fuel consumption and verdict.
I've got a dirty secret. Well, it's not really dirty, and not that much of a secret, but I have never understood the appeal of the Toyota Kluger. Which is unfair, because until now I hadn't driven the third-generation version, which has been with us since 2014. But after a week kicking around town in the Kluger, it became crystal clear why they're so popular.
It can't be just because it's a Toyota – buyers aren't that lazy. The Kluger has just had a gentle refresh, with little to see on the outside but a worked-over powertrain with more grunt and gears.
Is there anything interesting about its design?
Toyota's third go at the Kluger yielded a sharper design than its predecessor, with slimmer headlights, a bolder grille and some less fussy detailing. The side view is a by the numbers wagon profile, although the rear is recognisably Toyota, even without the badges. The back end looks high because it's meant to, the way the body bulges pushing the visual weight up.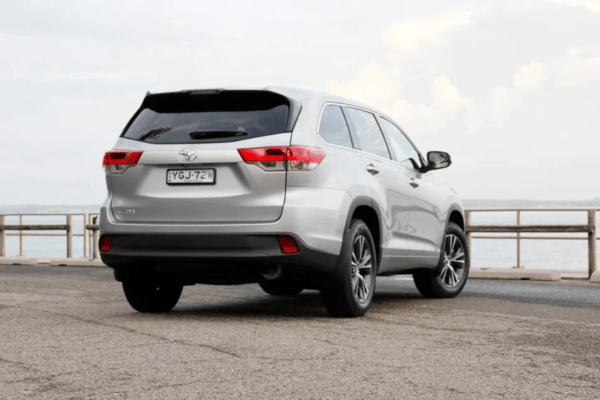 Inside there is nothing startling (apart from the clever storage ideas) and most of the materials are pretty reasonable. The plastics are hard but not scratchy, although the polyurethane steering wheel felt and looked cheap. The controls don't have much weight to them but the doors closed with a good thunk.
How practical is the space inside?
The Kluger's voluminous interior is flexible and contains lots of storage. Between the front passenger seats is a gigantic lidded vessel that appears to be modelled on an Olympic swimming pool, with a handy sliding tray inside, about halfway down its three metre depth (okay, it's not that deep, but 24 litres is huge for console storage).
The dashboard is split horizontally by a handy shelf that is perfectly formed for loose items such as glasses, phones and other keys, receipts, papers... whatever. It's also lined in a soft, rubbery plastic so more precious items aren't scratched. It's extremely useful and is even a different colour to the rest of the dash so you can see it's there.
An abundance of lights means plenty of illumination at night or in dark garages.
All four doors will hold a decent-sized bottle and the rear of the front seats have old-school map pockets. The Kluger also boasts eight cupholders - two up front, two in the centre armrest and two each for the third row passengers, perhaps as consolation for the less than generous accommodation. Lucky for them they do have air conditioning vents and there's even a temperature setting for the rear of the cabin, via controls mounted on the back of the console.
Front and middle row passengers will be most comfortable, with plenty of head and legroom, especially with the back seats slid all the way back. The middle bench can also slide forward in two pieces (it's a 60/40 split) and is comfortable for three. As I've already mentioned, the third row isn't great. Padding on the flip up backrests is modest and there's no real footwell. Your passengers will need to be small.
An abundance of lights means plenty of illumination at night or in dark garages.
Boot space starts at a fairly small 195 litres (a Yaris betters this figure by some margin), but with the third row folded, things improve to 529 litres, and with both rows down you've got 1117 litres. Fill it to the rafters and it's almost 1900 litres.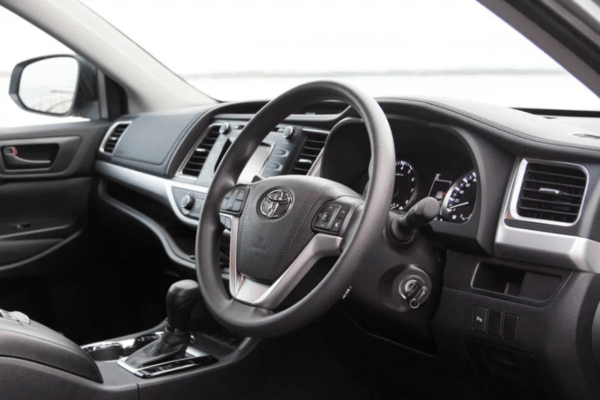 Does it represent good value for the price? What features does it come with?
The Kluger GX 2WD is the first of a range of six. The line-up tops out at $69,906 but starts down at the GX for $43,550.
That wedge gets you 18-inch alloys, a 6.1-inch touchscreen powering a six speaker stereo, front and rear-zone air-conditioning, reversing camera, remote central locking, rear parking sensors, cruise control, fog lamps, auto headlights, cloth trim, power windows and mirrors, a full-size spare and rear privacy glass.
The six speaker stereo won't do much for an audiophile but does the job in a fairly perfunctory fashion. You can plug in your Pandora credentials and bridge to the internet via your mobile for streaming music, but that's as funky as it gets. You can plug in your phone via Bluetooth and USB but it's a limited interface. As always, a simple switch to Android Auto/Apple CarPlay would improve usability and allow people to use their phones as sat navs. You can't even option that in the GX.
In fact, the only factory option is premium paint for $550, but just one colour is no-cost, black. The other eight will cost ya.
What are the key stats for the engine and transmission?
Underneath the bonnet of each and every Kluger is Toyota's (2GR-FKS) 3.5-litre V6 petrol producing a generous 218kW/350Nm, both small but handy increases over the engine that arrived in 2014.
An eight-speed automatic (that's two more ratios than previously) delivers power to the front wheels only. Nerds might like to know the same engine is in a couple of Lexus models, and a relative of this unit can also be found in the Lotus Evora, a car that is arguably the exact opposite of the Kluger.
The Kluger is rated to tow 700kg unbraked and 2000kg braked.
How much fuel does it consume?
Toyota claims 9.1L/100km on the combined cycle but we ended up at 13.1L/100km in a fairly gentle week's motoring around in flowing traffic.
On the upside, it doesn't demand the good stuff, happily swallowing standard unleaded in its 72 litre tank, giving a 550km range based on our figures. The consumption will undoubtedly improve on the open road.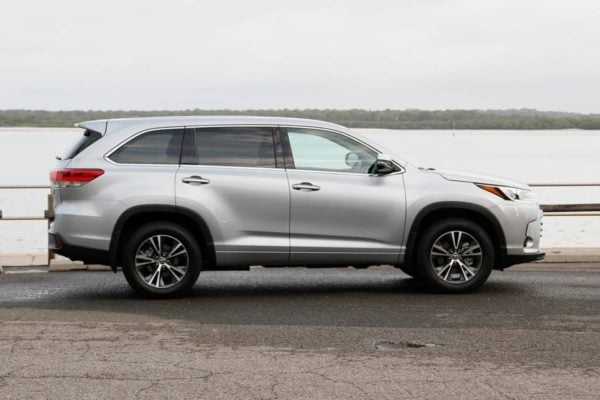 What's it like to drive?
Is the Kluger the handling benchmark in the class? Certainly not. The steering in the 2WD GX is light indeed, the wheel needing very little muscle to flick it back and forth between the lock stops. It certainly makes what could be a very unwieldy car feel very easy to move around and parking is a breeze although the low-res reversing camera doesn't help as much as it might.
Piling into corners is entertaining because the amount of body roll is unusual for the segment and the front tyres squeal hilariously. It's competent nonetheless, but moderation is the order of the day.
Does the V6 engine make it a sleeper dragster? Ah, no. Despite 218kW, shifting 1980kg plus people and things, it's tuned to be a lazy, helpful unit rather than turning the Kluger into an Audi SQ7 rival.
It's possibly the calmest car I've ever driven.
What about the ride? That must be pretty good. Yes. Yes it is. The Kluger's pillowy demeanour over lumps, bumps and tragic potholes is uncanny. A road I often use to test these things required a second pass. I got out to make sure I wasn't in a Bentley. While that might be slightly over-egging the praise (I'm able to recognise these things without melodramatic roadside inspections), this is where it twigged with me - it's a properly comfortable car, with a near-silent engine and just a faint whistle from the wing mirrors at speed (about which I was suspicious, actually... another drive in a Kluger next month will confirm if that's isolated).
It's possibly the calmest car I've ever driven. Riding on 18-inch wheels with 245/60 tyres, it's quiet, composed and almost regal. Except when you floor it and the tyres spin up and the traction control steps in to stop that ziiiiiiip noise. It's not so uncouth it chirps, though.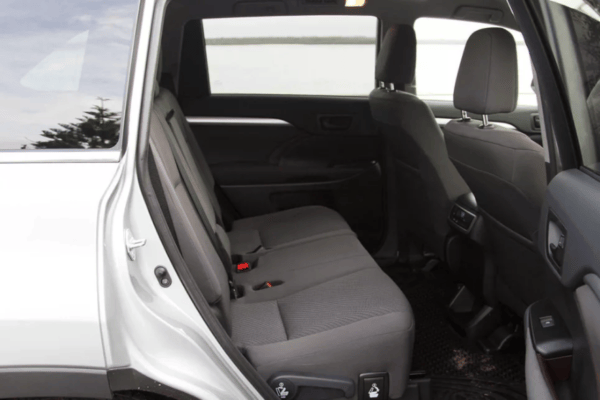 What safety equipment is fitted? What safety rating?
The Kluger arrives from its US factory with seven airbags, ABS, stability and traction controls and brake force distribution. There are three baby seat anchor points in the seatbacks of the middle row, none for the third and ISOFIX is conspicuous by its absence.
The Kluger scored five ANCAP stars, the highest available - in March 2014. At the time, ANCAP noted the Kluger doesn't have seatbelt reminders in the third row but the curtain airbags do reach all the way back. Additional safety features are available further up the range.
What does it cost to own? What warranty is offered?
Like all Toyotas, the Kluger comes with a three year/100,000km warranty and a fixed price servicing plan will set you back $1080 for the six month/10,000km visits, which is pretty cheap. That service interval is shorter than its obvious main rivals, the Mazda CX-9, Hyundai Santa Fe and Kia Sorento.
Roadside assist is extra.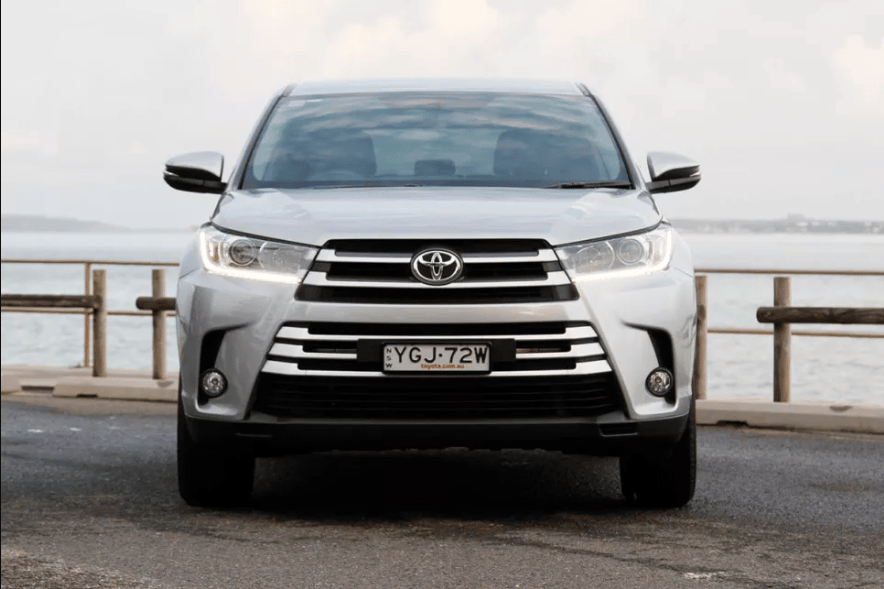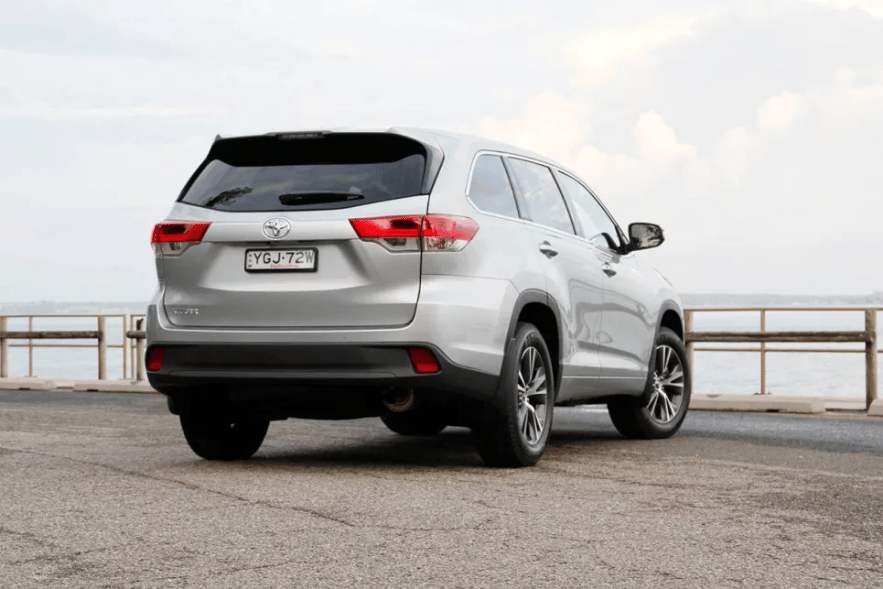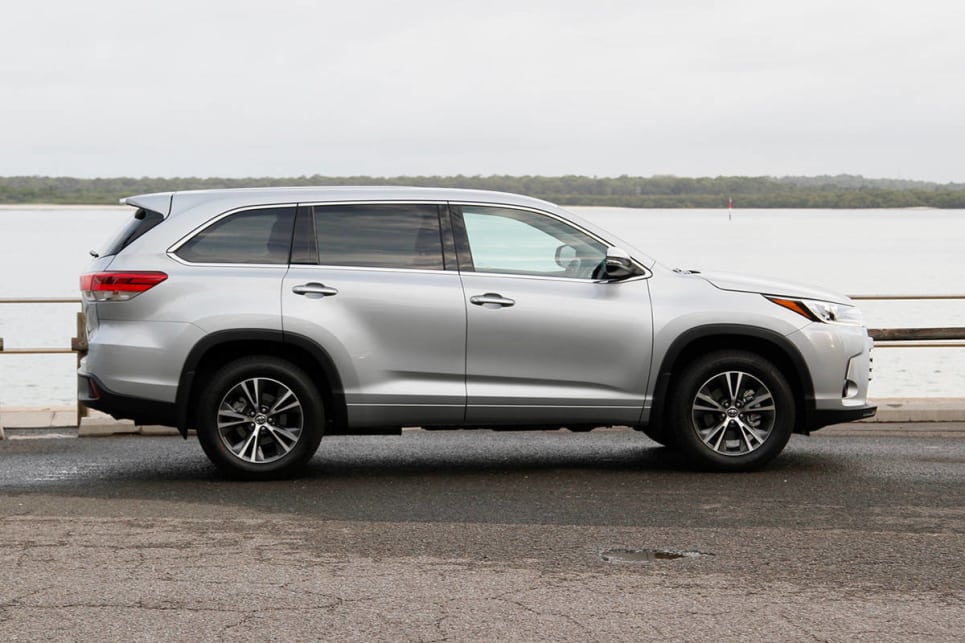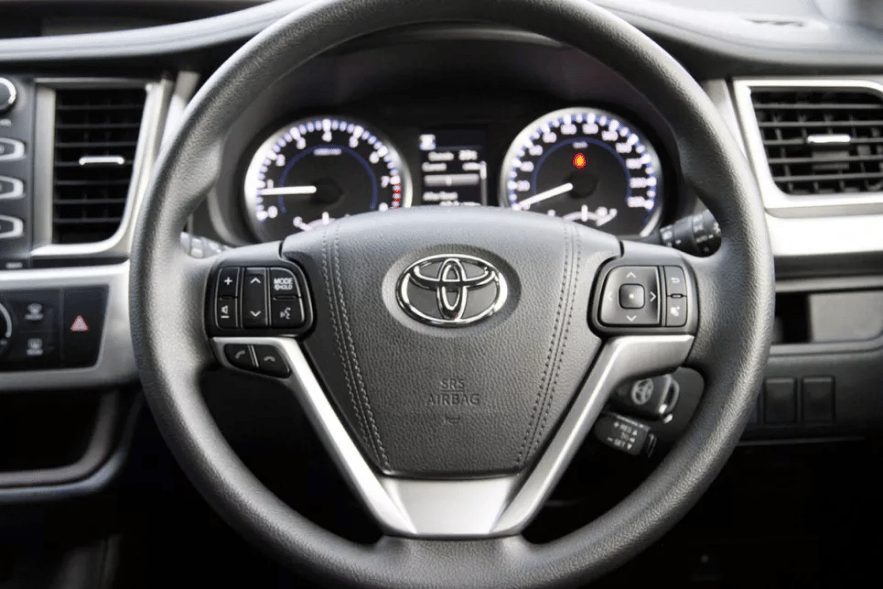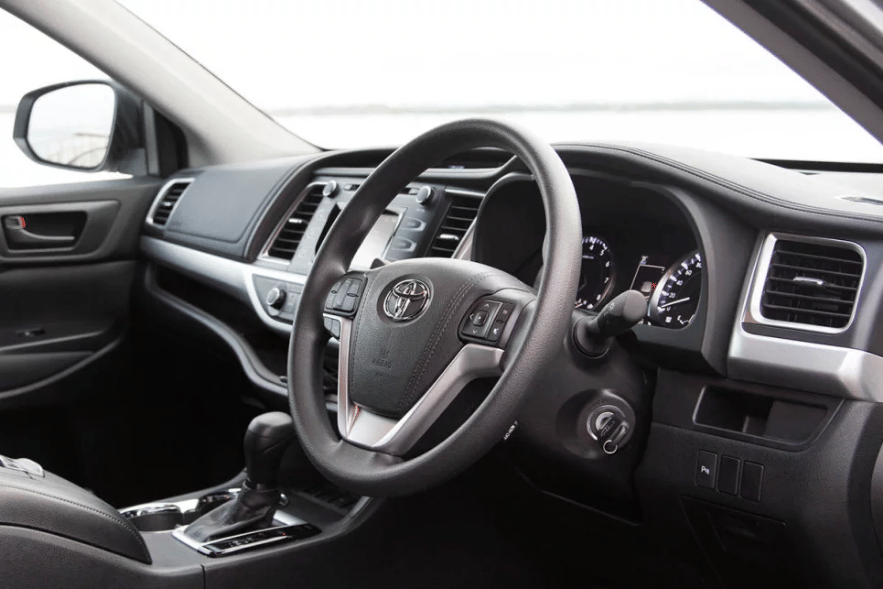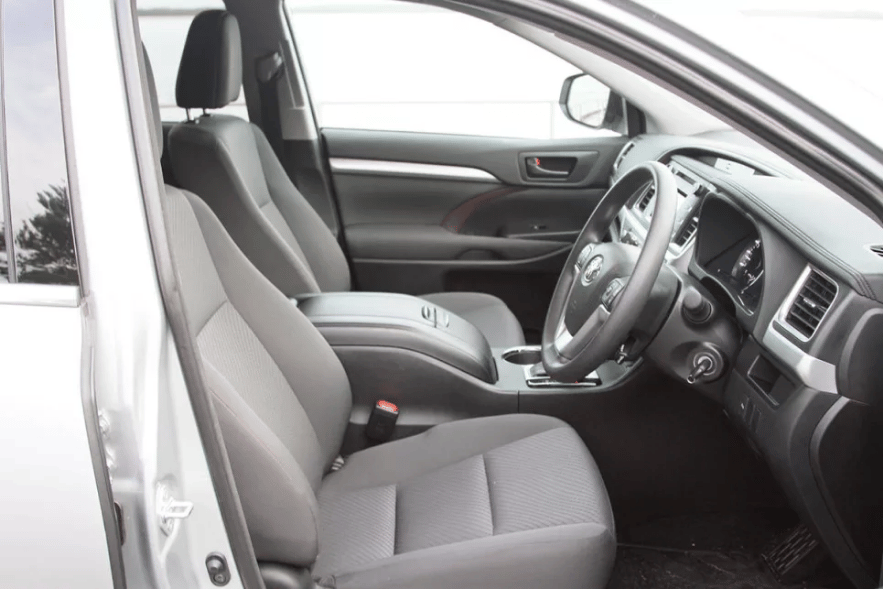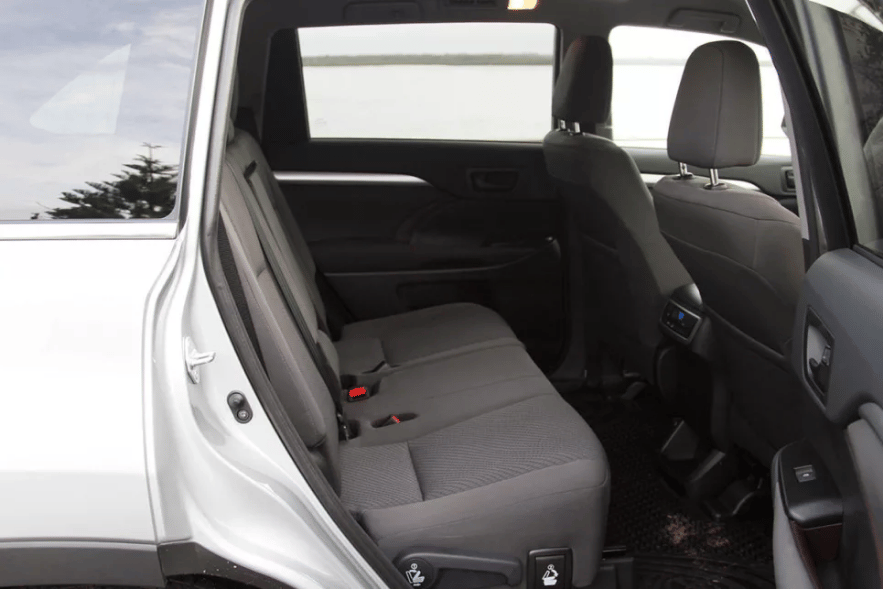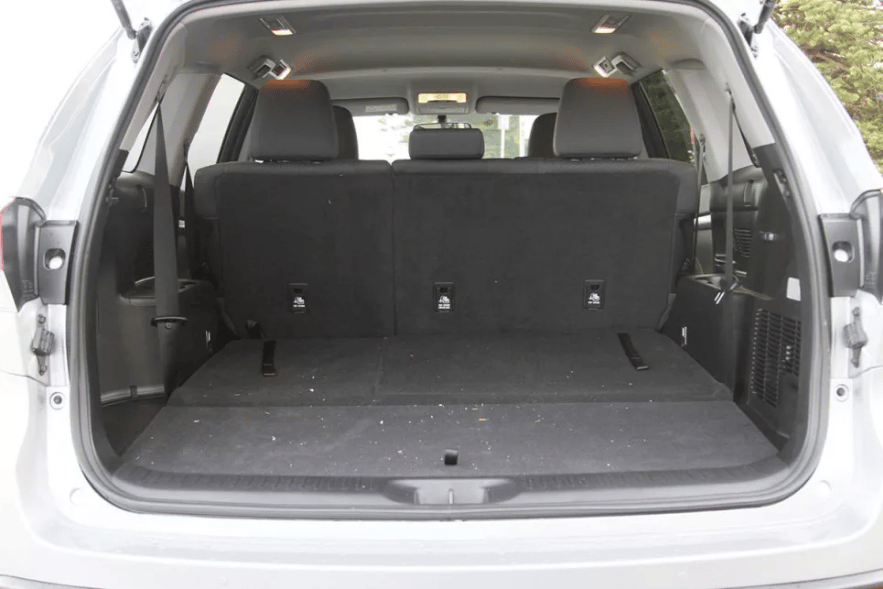 Verdict
Between the Kluger and Prado, Toyota has a stranglehold over the large SUV market, the pair between them selling well over 20,000 units last year, just under half of them the cheaper Kluger.
I'd never really understood the Kluger's appeal, but a serene week at the wheel switched on the light bulb. While there are better-handling, roomier cars in the segment and there are certainly better-equipped and cheaper-to-run machines, none of them are as cruisy as the Kluger.
Is the Kluger a family-friendly winner? Tell us what you think in the comments below.
This story originally appeared on CarsGuide