Tony Abbott's career should have been over years ago. At least, that's what Julia Gillard says.
Prime Minister Tony Abbott has made a number of sexist gaffes over the course of his political career.
There was the time he described the possibility of gender equality as "folly"; the time he described women's virginity as "a gift"; the time he said one of his party's female candidates had "sex appeal", and the time he described his greatest achievement as Minister for Women as the repeal of the carbon tax.
(And let's not forget the infamous on-air wink he gave when a talkback caller said she worked for an adult sex line.)
Related: If this is your best effort as Minister for Women? You need to resign.
But it was on 23 March 2011 that Abbott made the move that should have spelled the end of his political career– at least, that's according to former Prime Minister Julia Gillard.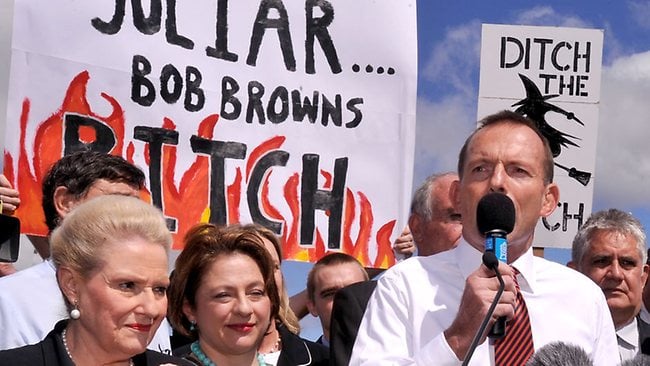 That was the day  Abbott gave a speech in front of two signs with deeply misogynistic undertones. "Ditch the Witch," one of the now-infamous signs read, while another declared: "Ju-liar… Bob Browns [sic] bitch".
Mr Abbott's decision to address the crowd outside Parliament House in Canberra with such signs directly behind him should have spelled his political end, according to Ms Gillard.
Read more: The only TV show anyone's going to be talking about today.
"I really don't know why this wasn't a career-ending moment for Tony Abbott – sexism is no better than racism," Ms Gillard declared in The Killing Season: The Long Shadow documentary, part three of which will be screened tonight.
Related: 8 times Sarah Ferguson totally smashed it out of the park on 7:30.
Ms Gillard also spoke to ABC journalist Sarah Ferguson on the show about her famous "misogyny speech," which made headlines globally when it was delivered in October 2012.
"The Leader of the Opposition says that people who hold sexist views and who are misogynists are not appropriate for high office," she said of Abbott  in the famous speech. "Well I hope the Leader of the Opposition has got a piece of paper and he is writing out his resignation. Because if he wants to know what misogyny looks like in modern Australia, he doesn't need a motion in the House of Representatives, he needs a mirror.
"I say to the leader of the opposition I will not be lectured about sexism and misogyny by this man. I will not," she continued.
Related: How much did Gillard's gender actually have to do with it?
Watch the speech here. Post continues after video:
"I was offended when the leader of the opposition went outside in the front of Parliament and stood next to a sign that said 'ditch the witch'," she continued in the speech, referring to the sexist signs. "I was offended when the leader of the opposition stood next to a sign that described me as a man's bitch."
Related: The 6 game-changing moments of The Killing Season.
The Killing Season, which was both written and presented by ABC veteran Ferguson, is a three-part doco about the Kevin Rudd/Julia Gillard Labor Governments. When Mamamia previously interviewed Ferguson, she wouldn't be drawn on what this series means for the Labor Party, but said she thought it was important for the public to understand how internal politics could affect a party's workings.
"I don't spend any time thinking what this means for Labor – that's not my interest nor my responsibility. I think giving these accounts is important for Labor itself and for the general public to understand how a group of dedicated, well-intentioned, hard-working people allowed their policy agenda to get swamped by politics," Ferguson said.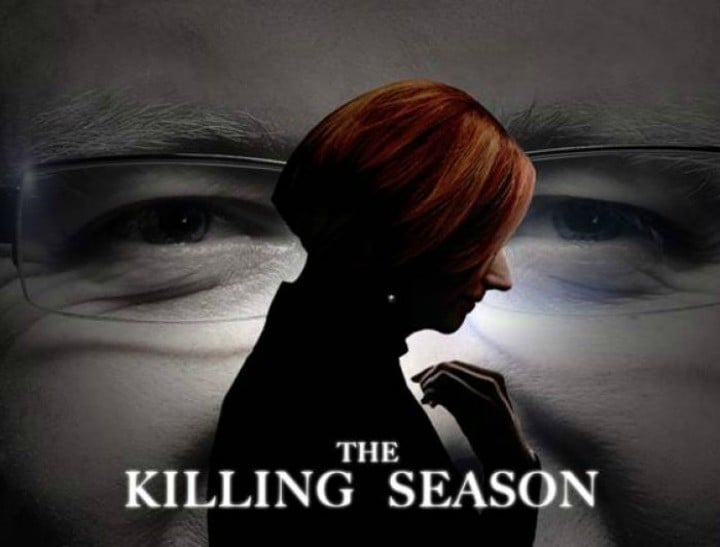 "Explaining to the voters why that happened is crucial. It's not a private matter," Ferguson continued.
"You can't say 'I don't want to talk about the bad times'. Too bad. The bad times happened. You have to explain what it was," she says.
Related: Mamamia's review of The Killing Season, episode 1.
The Killing Season concludes tonight. Catch it on ABC at 8:30 EST.
Related:
Julia Gillard admits to giving Kevin Rudd 'false hope' before ousting him as Prime Minister.
Some of the reasons women miss Julia Gillard.
Julia Gillard on gay marriage: "I got on this tram at a different stop."
Julia Gillard's #throwbackthursday photo is everything you want it to be and more.