Actress Rebecca Gibney was "really disturbed" by criticism Melissa George faced for speaking out about her abusive former partner and has thrown her support behind the mum-of-two.
The 52-year-old revealed in an emotional Instagram post that she too had been affected by family violence while defending her fellow Australian actor.
Posting a black and white "happy snap" of herself with sister Stella as children, Gibney told her followers she was "appalled" by comments the 40-year-old had been met with.
"No one would know that we were being raised in a family of domestic violence," Gibney wrote next to the image.
"As a victim of domestic violence myself – I grew up in a household where violence toward our mother was a common occurrence – I am appalled that anyone can accuse a woman of 'asking' to be beaten."
While admitting that she was in New Zealand and had not seen the Sunday Night interview, Gibney said she was "really disturbed" to learn that George had been the target of online bullies after episode aired.
The Packed to the Rafters star was shocked that the mum-of-two had been told "that somehow she deserved what happened to her".
Listen: Sally Faulkner is another mother in a horrific situation because of her former partner.


"Domestic violence is wrong – violence in any form is wrong," Gibney said.
The veteran actress urged social media users to remember how difficult it was for victims of family violence to speak out.
"Regardless of how you may perceive someone in the public eye please remember they are as human as the rest of us and deserve as much compassion as the next person."
Gibney concluded the plea for kindness by assuring those facing abuse that "there is always someone who will listen", telling them "you can get through it".
"My mother and my family is a testament to that. Just reach out."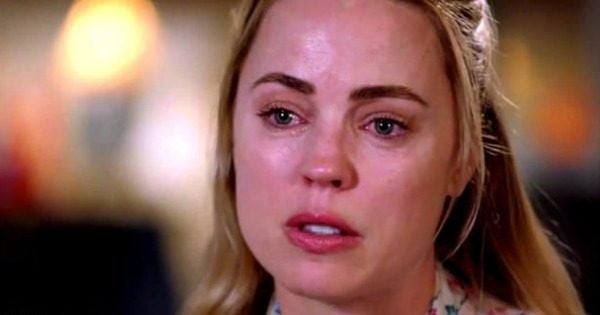 George has faced online criticism after telling Channel Seven's Sunday Night about her battle with former partner Jean-David Blanc over custody of their sons, Raphaël, three, and 16-month-old Solel.
The former Home and Away star told interviewer Steve Pennells that she was attacked by Blanc in their Paris home in September last year.
"He grabbed the back of my head and smashed it on the metal thing where you hang your coats and that's when I scratched him and I tried to fight for my life," she said.
In the months that followed the vicious assault, George has been declining acting jobs in America or Australia claiming Blanc will not allow her to leave France with her children.
If you or a loved one is suffering, Mamamia urges you to contact the national domestic violence helpline 1800RESPECT on 1800 737 732.