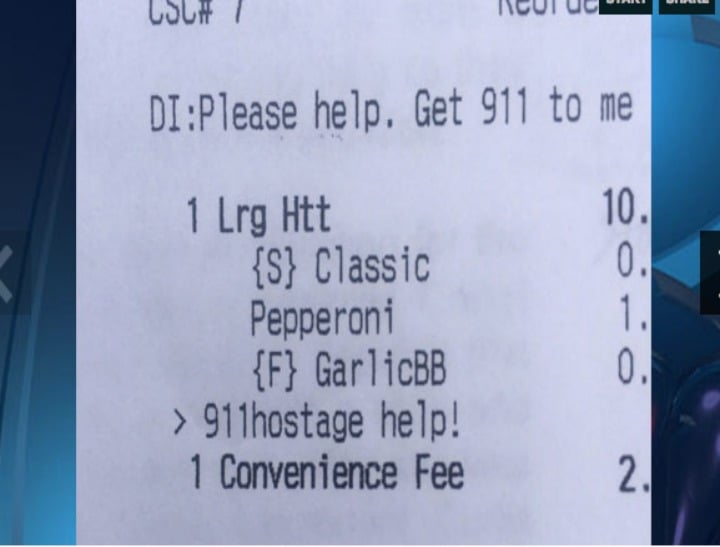 A woman in the US who was being held hostage by her partner has used an online pizza ordering app to call police.
Trigger Warning: This post deals with issues of domestic violence.
For a young mother in the US it was a potentially explosive situation.  She had been held hostage by her violent partner for the majority of the day. He was wielding a knife and possibly high on meth.
She had three children and herself to protect.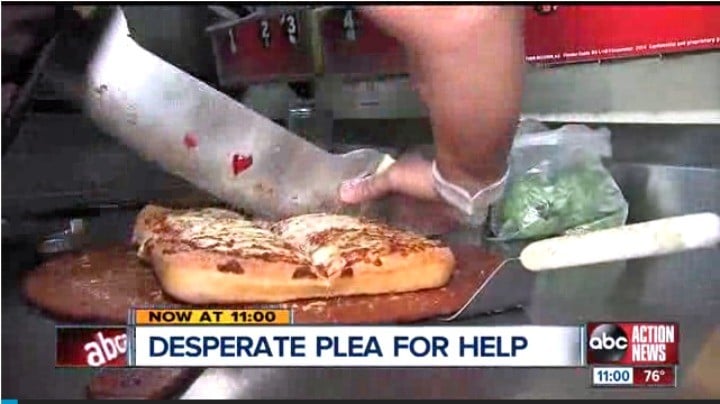 It is a scenario we hear all too often. But this time one which ended safely after the woman used an online pizza-ordering app to alert police.
The situation unfolded in Central Florida in the US on Monday.
The Pizza Hut in Avon Park received an online order that had come through an app on a phone where customers enter their order, then have a space to add any comments.
Chefs at the restaurant were stunned to see the order for a small hand-tossed classic pizza with pepperoni also contained some chilling words.
Pizza Hut employees recognized the order as being from, Cheryl Treadway, a frequent customer.
It read "Please help get 911 to me. Hostage help."
The restaurant's manager, Candy Hamilton told local media
"We've never seen that before. I've been here 28 years and never, never seen nothing like that come through."
She says upon receiving the order she immediately called police.
Sound familiar? A woman once called police pretending to call for pizza in order to summon emergency services to her home when she was being assaulted. Read more.
Police responded to the Pizza Hut and to the delivery location for the order.
WFLA-TV reports that when police arrived at the home, Treadway answered the door and said her boyfriend, Ethan Nickerson had a knife. He had been holding her hostage all day and had taken away her mobile phone.
She fled with a baby but police took 20 minutes to convince Nickerson to give himself up.
Lieutenant Curtis Ludden said, "His first words were, of course, 'I'm not coming out because I know I'm going to jail,'" Ludden said.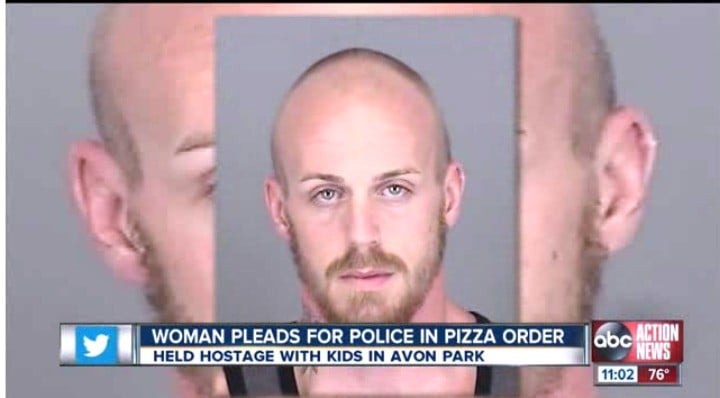 According to the arrest report, the couple had been arguing throughout the day while Nickerson carried a large knife.
At one stage in the early afternoon Treadway convinced Nickerson to let her use her phone to order a pizza.
Ethan Earl Nickerson, 26, was arrested and charged with aggravated assault with a weapon without intent to kill, battery, false imprisonment and obstructing justice by depriving communication to law enforcement.
"I don't know if I ever would have thought of it. I mean it's just something that she did so naturally. The boyfriend never knew about it until he saw us coming around the corner," Ludden said.
The woman and her children are safe.
If you believe you may be an abusive partner, you can receive help via Relationships Australia on 1300 364 277. If you have experienced, or are at risk of domestic violence or sexual assault, you can receive help by calling 1800 RESPECT – 1800 737 732. If you are in immediate danger please call the police on 000.