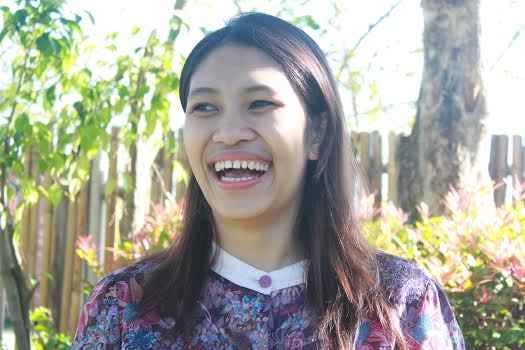 By AMINA MENDEZ
My name is Amina Mendez and I am from a poor province of Nueva Ecija in the Philippines. I was in my second year of high school when my mother, Remy, received a small loan from Opportunity International Australia to help us leave poverty behind.
Growing up, my parents never tried to mask our poverty – I was aware that we were poor from quite a young age. My parents would always tell me and my younger sister, whenever we would point out new toys or dresses, "Wala kasi tayong pera anak, sa susunod na lang" which means "We don't have money right now, we'll try to buy it next time."
When I was young, having food on the table was a daily struggle for my parents. There were days when there was no rice left for dinner and we would have to wait for my father, hoping that he would bring some food home with him.
Despite our poverty, my parents were always dedicated to giving my sister and I an education, and we did what we could to help. At the start of our school year, we would take out the spines in our old books, save the blank pages and sew them together to form new sets of notepads. That way we didn't have to spend money on new books.
Sometimes as a child I didn't understand why my mum and dad couldn't buy us things. I got jealous of my classmates, but then I would go back home and see how hard they were working to send us to school.
My mother's first microfinance loan changed everything. It was just Php.5,000 (A$123) from Opportunity International Australia, and she used it to buy three pigs to start a small piggery.
With a regular income from the business, my parents no longer had to go to farms after the harvesters and pick up scraps and leftovers for us to eat. Instead of having to worry about what my father would be able to bring home that night for dinner, they were able to start thinking about a future and hoping for a better life.
My parents' priority was to use their new income to help me finish high school. I did, and then I was awarded a scholarship to the University of the Philippines. In my third year, two students were given a chance to finish their studies in America and I was selected as one of the two. I ended up graduating at the Ohio Wesleyan University with a degree in mathematics – something I could never have imagined back when my sister and I were sewing old notebooks together.
I now work in microfinance back in my hometown in the Philippines, and I see every day the impact small loans can have on other families living in poverty.
This week, I'm visiting Australia to share my story. I want people to know how much of an impact their $100 or $200 donation can have. By providing families with small loans like the one my mother received from Opportunity International Australia, you can help them break the cycle of poverty for good. By giving families the tools they need to work themselves out of poverty, small loans are a sustainable, long-term solution to poverty. Your giving plants a seed of kindness for a family that will grow and bear fruit. And you can't predict just how far the seeds of that tree can spread – my life is proof of that!
After starting successful businesses, 97% of loans are repaid and recycled to help family after family. For us, the loan was the start of a chain of events, small personal transformations that formed a new hope for our future – a future that was far bigger than what we dared to dream of before. I'm now in a position to help other families leave poverty behind. And it was all thanks to someone like you giving us a hand up.
Opportunity International Australia provides people living in poverty with the opportunity to transform their lives. Offering a hand up rather than a hand-out, they use a sustainable approach to solve poverty – empowering families through community development programs and loans as small as $100 to help them grow their own small business. These services mean that families no longer have to struggle to afford food, water, healthcare and an education for their children. For more information, please visit www.opportunity.org.au