The story of Norma Cook's friendship with her young neighbour captured hearts all over the world when it emerged Chris Salvatore had invited the elderly woman to live with him.
However, this week Chris had the sad task of informing their fans that the 89-year-old had died.
"It's with a heavy heart that I share the news that earlier this morning the world lost a truly inspiring, beautiful woman," Chris told his Facebook followers on Thursday.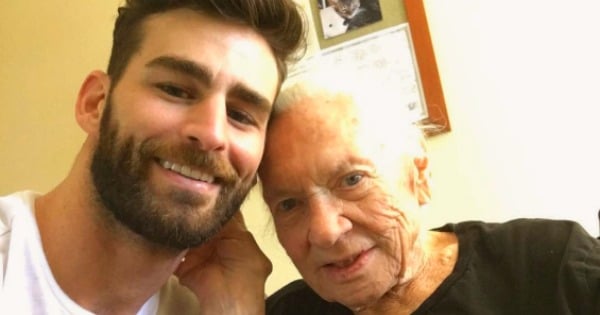 "Norma is now resting peacefully in the eternal and while she may no longer physically be with us, her spirit will continue to fill the hearts of so many people."
The pair came to the world's attention after the Los Angeles actor started a crowdfunding campaign to raise money for his ill neighbour to be cared for at her home.
Norma had been given a diagnosis of just months to live at that time, deciding to discontinue treatment for the leukaemia she had been battling for 10 years.
Listen: Tracy Bevan knows the pain of losing a friend. She talks to Mia Freedman about losing her best friend, Jane McGrath to breast cancer.
When it became apparent Norma could no longer live independently, Chris invited his "best friend" to move in with him, in part to make the funds raised go further.
In January the 31-year-old described Norma as "my adopted grandmother" and himself and as the "grandson she never had".
He explained on GoFundMe that the friendship had began soon after he moved into his LA apartment four years ago and introduced himself to Norma.
"I would help her cook meals, drive her to the doctors, banks, pharmacies and even just recently I got the amazing experience to accompany her to vote," Chris said.
"We had such a blast these past few years filled with so much joy and laughter."
In his recent tribute to Norma, Chris said Norma had reminded him that "we all are created to love and all desire to be loved".
"Perhaps Norma's lasting legacy is that her story helped the world to see the true meaning of love."
"To love another is not about living struggle free or never experiencing hurt or loss, but to fully and deeply open our hearts to one another without fear.
"Each of us is lovable even with all of our differences. Love has no boundaries. May you rest in peace my sweet sweet lady, Norma," he concluded.