March has rolled around once more, and with it the Virgin Australia Melbourne Fashion Festival has come and gone.
As thousands flocked to Melbourne's Exhibition Centre to snatch a peek at how Australian fashion is faring, the clothes managed to hold their own among the bright lights of the runway and the sprinkling of many an-Instagram-celebrity in the front row.
So, are there any upcoming trends, at all, that us normal folk can incorporate into our own wardrobes?
The short answer is yes. We sifted through the clothes — from the wacky, unwearable and ridiculous to the ones that are a little more realistic — to break down the trends you can take into your own wardrobes. Starting today.
Frills, frills and yes, frills
The one trend at VAMFF you absolutely could not escape this year were the frills. Frills, ruffles or whatever their more more technical term may be flooded the catwalk and I, for one, am all about it.
They are brandished on the ends of skirts, on the cuffs of shorts, acting as a more relaxed peplum and zig-zagging down our torsos.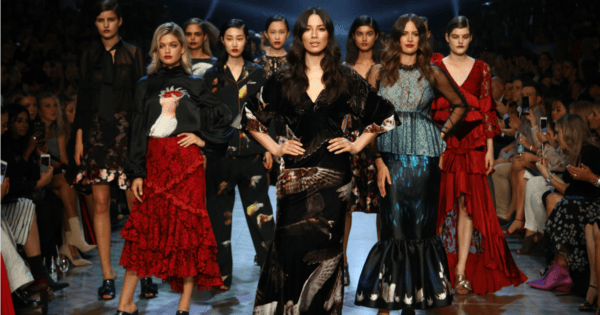 Romance Was Born's current collection (pictured above) is overflowing with the kinds of frills that will make you want to go back and raid your grandmother's wardrobe, and re-create a look that centres on a wonderful concoction of frilly lace.
Meanwhile, Talulah proved they are also well and truly on the frill-train with no stop in sight.
The brand's current collection is a stand-out in delicate pieces, as is macgraw's current range that takes frills to a less-than-subtle place.
Wearing red from head-to-toe
There's little doubt one of the biggest trends to come from this week was red. Red. Red. Red.
Those allergic to colour may struggle with this one, because it absolutely wasn't a subtle red that sashayed down the runway. Perhaps this Autumn/Winter season can encourage you to shy away from the blacks and greys that dominate the cooler months and invest in more bold pieces.
Listen: Vogue reckons boobs are out of fashion. OK then... (Post continues after audio.)
Even more interestingly? So much of the runway was flooded with red from head-to-toe, from shoes to collar. Scanlan Theodore had Jesinta Franklin decked out in their brightest attire.
Though not all of us can pull off the Franklin take on red, we can start with a pop of it here and there.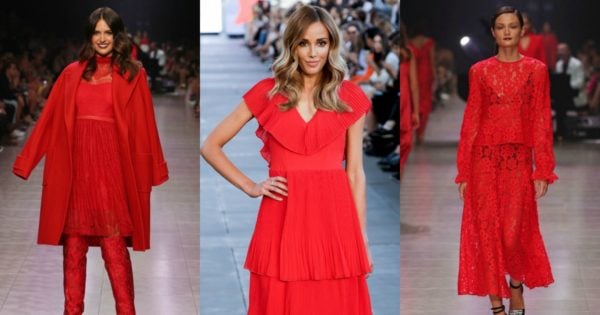 Silk (especially in dresses)
As early as the beginning-to-middle of last year we realised silk was emerging everywhere. Silk dresses were simple, elegant and easy to wear, so naturally, they're still not leaving our wardrobes come Autumn.
Manning Cartell have pioneered the rise of the well-cut silk dress, as has Camilla and Marc. And they're doing it well. Silk may just be the trend for the masses this season.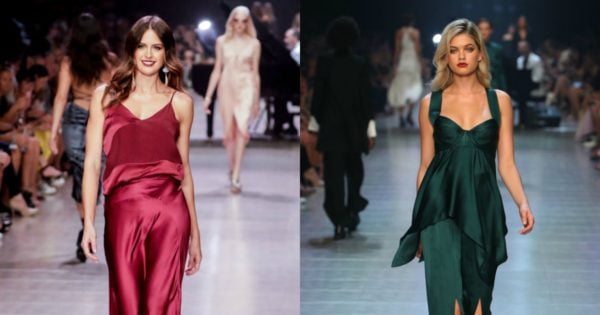 Velvet is well and truly back
Love it or hate it, velvet is back — and it's not here on a fleeting visit.
Isabelle Quinn, Bec & Bridge, Keepsake and KITX from Kit Willow are only a handful of the labels bringing the material back in the shape of slip dresses and bomber jackets.
Corsets (or just big belts) are definitely a thing now
They've dabbled in a lot of major local stores like that of Witchery, but was the modern take on the corset a quick, quirky trend or is it here to stay?
Often the clothes that aren't on the runway can tell us just as much as the clothes that are. This time, our most faithful fashion bloggers are communicating, via their perfectly-styled outfits, that they aren't yet sick of the oversized belt — and that we shouldn't be either.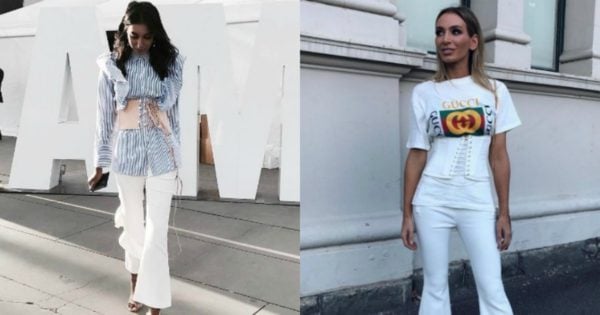 Winter florals
If I got a little too ahead of myself suggesting red was your new black, perhaps winter florals are a more subtle statement to take on board this season.
Often working well with incessant frills on every cornice of the clothing, winter florals will make you feel like spring is much closer than it really is.
A stand out? We Are Kindred were nailing it.
Considering all of these looks are totally, 100 per cent shop-able as we speak, there's never been a better excuse to start building those winter wardrobes.
What's your favourite emerging trend for Autumn?