The Carey camp has launched a diamond encrusted missile at James Packer in a profile in celebrity magazine Vanity Fair and it's probably the best thing that's ever happened to us.
Throughout the profile titled: "James Packer's Long, Strange Ride from Scientology to Mariah Carey",  the pair's close 'friends' have spilled the beans on everything that happened during Carey and Packer's brief but really bloody expensive relationship.
The dollar figures listed in this article are enough to make your bank account weep with jealously, so I'm just going to sum them up really quick for you. Carey and Packer lived in a house which they rented for $250,000 a month.
Packer's fortune is worth $4.4 billion and Carey's is worth half a billion.
The profile also reveals that Packer wanted the pop star to sign a prenup, that would mean he would only pay her a measly $115,385 a week in the event of a divorce. I mean, can you even buy ramen noodles with that?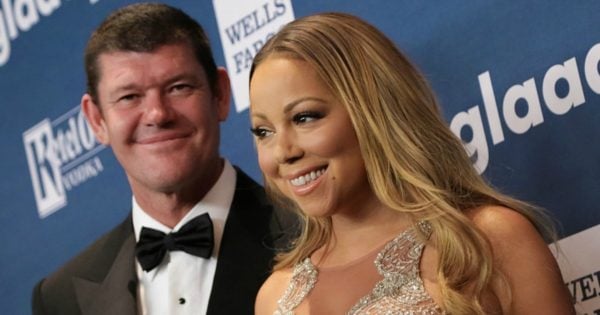 If that didn't make you cry, this will...love might be dead.
Carey's 'friend' revealed that there was no chemistry between the pair and the relationship was based on companionship. (*cough publicity *cough) .
"It was what you call a third act," says Carey's friend. "You know, in your third act you're not necessarily looking for chemistry. You're looking for love and laughter and companionship, someone who is like-minded, who you can spend time with, and you can have conversations and raise your kids together."
Both Packer's and Carey's 'friends' agree that Mariah lifted the Australian billionaire's profile during their brief relationship.
"James got the better of that," said Packer's mate. "It was for him a publicity stunt . . . . It's made him a household name."
Carey's friend added: "Why does anyone in Hollywood care about James, other than the fact that he was engaged to Mariah and he's a partner in RatPac? Nobody knew who he was until Mariah."
But by far the best bit of the whole damn profile was when the friend compared Mimi to Jay Z and Pavarotti.
"No matter what you say, Mariah is still the highest-selling female artist of all time. Her range goes from Jay Z to Pavarotti . . . . [James] gets to stand next to her on the red carpet at the GLAAD awards, alongside other high-profile celebrities. Or she's singing for UNICEF, and he's there on the red carpet. It's a big deal," they added.
Let's be honest, everyone needs a friend like this in their life.
Mimi's pal didn't stop there, they also suggested that Carey should have held out on attending 'political events' with Packer until they were married. "And I was saying to her, 'What are you doing all this shit for? You're not even married. Wait till you're married. You're helping the guy make money. What do you get out of it?' "
And according to Carey's mate with the big mouth, the pop star was angered and hurt by the Packer camp's decision to announce the break up in Woman's Day. "The problem is they launched the first missile when they put 'Dumped Mariah Carey' in Woman's Day Australia, thinking they're going to be cocky and call her a gold digger, an opportunist, or an excessive spender."
But if a celebrity couple breaks up and it's not announced in a tabloid magazine, did it even happen?
The profile also revealed that big chunks of Mariah's World were edited to remove scenes with Packer and replace them with scenes featuring 33-year-old Bryan Tanaka, one of Mariah's back up dancers, and, her, um, back up boyfriend?
"We have no shortage of stories to follow," says Carey's friend. "We have 800 hours of footage and only 8 hours of the special."
We can't wait for Mariah's world on The Binge. 
Last but not least, the profile revealed that Packer had a brief fling with Scientology in the early 2000s.
"I think I became depressed and emotionally exhausted, and my [first] marriage [to model Jodhi Meares] had broken up," Packer said in a teary 2013 television interview. "I felt isolated, I felt like a failure, you know. It was not a great time in my life."
You can read the full profile here.