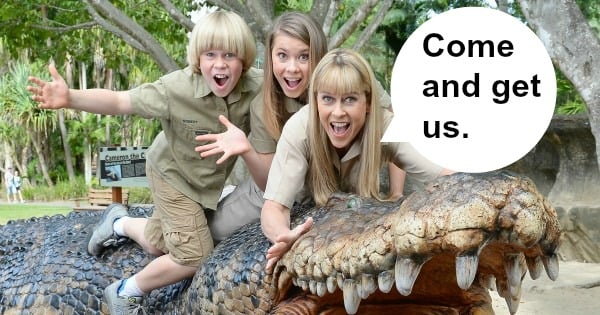 The Irwin family may seem about as innocent and angelic as you can get, but someone ain't happy with the cargo-wearing, crocodile-wresting trio.
So unhappy, in fact, they're taking the world's most inoffensive family to court.
Terri Irwin is being sued for breach of contract, after the family backed out of  filming and commercial arrangements because they needed to "take a break".
Zoo Sky Media, the company that manages the Crocodile Hunter and Irwin family brand, has filed a writ in the Victorian Supreme Court.
The suit has not specified how expensive the case could be, but the writ does explain the company seeking damages after they believe the family allegedly walked away from their joint venture.
The writ alleges that Irwin said she and her family were at a crossroads and wanted to make a change.
"Terri Irwin said to [the company] that she and her children had been reassessing their lives and wanted to take a step back from all the activity associated with filming, they needed to take a break, and they needed to step out of the agreement," the writ says.
How can you possibly sue a family that comes together and sings Adele in their spare time? Watch Bindi's boyfriend and brother go at it. (Post continues after video.)
Interestingly, the company were also not particularly impressed with the family's cameo on I'm a Celebrity…Get Me Out Of Here!, with the directors of the company Adam Schoff an­Michael Whitfort claiming they had no idea the family were to appear on the show.
This, they say, is in direct breach of their contract where Schoff believed he had the sole global rights to develop, market and manage services for Irwin family brand assets. The writ also claims that in not informing the Schoff of their appearance on the show, the family denied the company revenue they were entitled too.
At this stage there has been no word from the Irwin camp commenting on the suit, but we imagine with their unparalleled access to dangerous animals this one could get interesting.
.
.