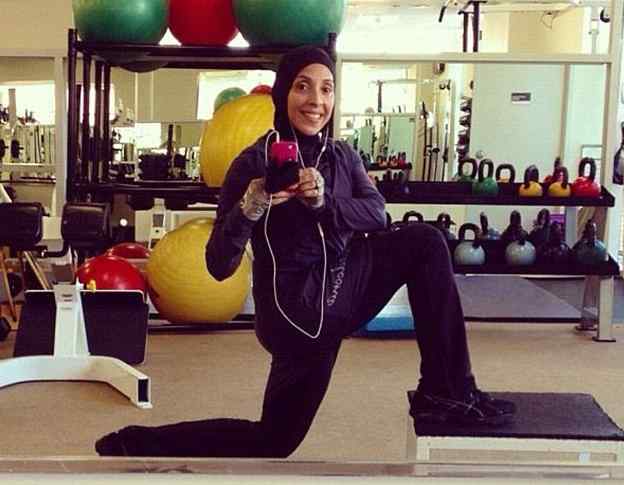 There's an exercise routine for everybody. And there's an exercise video for everybody, too.
Nadine Abu Jubara, a woman from Florida, has created a new fitness DVD called Nadoona Extreme – which is geared towards Muslim women.
The goal of the video: to allow women to get fit while still "fulfilling moral and religious obligations". Devout Muslims often believe that modesty is important, especially for women – and that includes modest dress.
Nadoona Extreme fulfills those criteria. While demonstrating exercises for her audience to follow, the instructor wears a long sleeved top and pants, as well as a hijab – instead of the classic short-shorts and crop-top that are the sartorial choice of most DVD fitness coaches.
Jubara writes that, "long sleeves and flowing tops shouldn't mean flabby arms and love handles."
In creating the DVD, Jubara enlisted the help of her personal trainer, Zainab Ismail, and the pair set out to prove that, "We can be healthy, stay fit, and still fulfill our moral and religious obligations, while making it enjoyable all in one."
Each of the workouts also starts with a prayer that aims to "[reinforce] a core understanding that a healthy body comes from a healthy soul, and vice versa."
In a statement on their website, the business motivation is explained:
In today's mainstream fitness videos, all you see is skin, skin, and more skin. Working out while staring at the body of a half-naked fitness professional only leads to unattainable and unhealthy goals. The Nadoona woman doesn't need to show skin as a reason to have toned arms and a formidable six pack. The best way to be strong is to feel strong, and that means taking care of your health, inside and out.
In an interview with The Telegraph, Jubara explained, "The fitness industry is feeding off superficiality and insecurity. We're trying to say it's not about how you look, it's about how you feel and why you're doing it."
Her interest in fitness began she became unhappy with her weight and unhealthy lifestyle a few years ago. Jubara began fiddling with different diets and "even paid the arm and leg fees of Jenny Craig" – though notes that she "could only afford it for about 2 weeks then quit!"
After trying different fad diets, Jubara realised what she could be doing instead – and for a fraction of the price. Eating healthily and exercising.
But although she had developed a routine for herself, Jubara felt that there weren't any appropriate resources out there for women like her – especially for women who didn't want to exercise in a gym.
"I was struggling to get support," Jubara told The Telegraph. "Our cultures revolve around food and there's no help for anyone trying to better their lifestyle. I'm of Palestinian Arab descent and we love our couscous and biryani."
Jubara and Ismail want to help women – who might feel uncomfortable dressing in standard exercise gear, or even working out at women-only gyms – around the world get fit.
But they also stress that they don't intend for all women to wear long sleeves and a hijab while watching their DVDs. "We're not saying we're inferior or superior [because of hijab]. It's all about the inner."
Do you wish there was a fitness DVD geared more specifically to your needs?