Fancy a gorgeous, Italian gourmet lunch on us with a girlfriend?
Sophia Loren once said: "Everything you see, I owe to spaghetti."
And we couldn't agree more!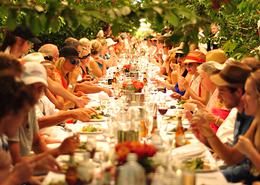 That's why we're excited to invite you to our Mamamia and Latina Feed Yourself Fresh event!
Grab a girlfriend and join us to indulge in an Italian-themed, gourmet lunch and drinks (naturally, on us).
It will be held 15 minutes from Melbourne's CBD and guests will be greeted on arrival with Prosecco and antipasto platters – fancy stuff.
The event will be hosted by Mamamia's Shelly Horton with special guests Emma Sutherland and Jaime Rose Chambers – and we're guessing Sophia Loren would approve.
If you would like to sign up for this free event and bring a girlfriend along, please fill in the form below. It's as simple as that!
Each guest will also receive a giftbag with Latina ™ Fresh Gluten Free Pasta Range to take home and create their own amazingly fresh feasts and review on our Mamamia Opinionators page.
Entries close 4pm Friday 18th September 2015 and there are only 3 spots remaining, so hop to it.  Buon appetite!
FYI – The event will be filmed and hosted on the Mamamia website.
Event details:
Guests: Yourself and 1 Girlfriend
Date: Friday 25th September 2015
Time: 12.30pm – 2.30pm
Location: Shhhhh, it's a secret! We will forward you the details if your entry is a winner!
Sorry, entries are no longer being accepted!