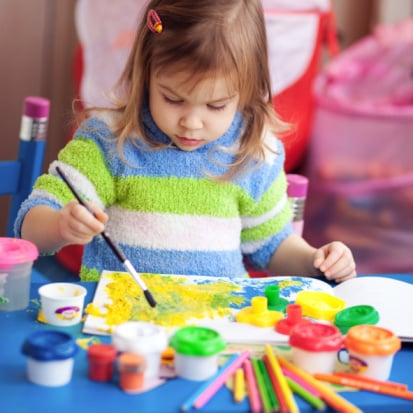 By ANNE YOUNG
The first day I dropped my son off at his childcare centre – conveniently located several streets away I spent the day sitting at the shops waiting for him. I was torn between wanting him to have a wonderful experience with friends and my own uncertainty about wanting to look after my son myself. I rang the centre several times during the day. "He stopped crying about three minutes after you left," they assured me. But please call as often as you like. I found their reassurance really comforting. They genuinely seemed to understand what I might be feeling and wanted to build relationships with me as well as my son.
I made the decision to put my son into care a couple of days a week not because I was scheduled to start work yet but because I wanted to make sure he had more social contact. It was always just him and me at home, shopping, or meeting up with friends… Most of the time it was so much fun but I also wanted him to form his own friendships. I wanted qualified educators to interact with him,to support him to become more independent; for him to be curious and to explore and discover…I wanted him to have a wide range of experiences which would encourage his thinking and creativity.
I visited several centres in my area and just as you know when you meet 'the one', I knew I'd found the right place when I walked into the centre. Everything just seemed so warm and welcoming. The educators acknowledged my son, as well as myself and I knew this made him feel really special. They really listened and engaged with children's ideas and I could see that children were respected in many different ways. There was documentation which showed some of the learning that children were involved in – everyone seemed so relaxed and friendly.
The second day was easier (for me). I called the centre a few times during the day, but I did go home. When, I collected my son that afternoon he was just so excited and keen to share about his day. Over the next few days, I was left wondering why I hadn't considered childcare earlier.
"I wrote my name Mum," he announced proudly when I picked him up at the end of his first week.
He held up a piece of paper which had his first initial written in the middle of the page. That is how children show us they are interested in reading, said his educator, they always start with their first name. I wrote my number too, he said happily. I acknowledged the large numeral 3 written under his initial. I kissed him and told him I was very proud. He talked about his friends and what they ate at snack time; of the songs they learned and the sheer fun that was experienced in a day.
It was a little easier with my second child. I knew what a positive experience it had been for my first child. I also knew the educators by now and trusted them to do their job – supporting my child's learning and wellbeing. My second boy was also happier to go because he wanted to be like his big brother. He too had a marvellous experience and made many friends.
I don't feel any hesitation with my daughter. She already has a bag she calls her 'school bag', a drink bottle and shoes she is saving for play. Her brothers tell her how lucky she is to be going to their centre and remind her of the toys they played with and the songs and stories she will hear.
The early learning they gained really supported them as they moved into the school environment…. supported them for life really. They were familiar with sharing their ideas, co- operating and listening to their friends; they understood the give and take of social groups and experienced routines; they learned to persist with challenges and most of all came to see themselves as confident learners. My children have benefitted greatly from their time at the centre and I believe the relationships I formed with my son's educator also supported me to grow in confidence.
I realised that as a parent, we don't have to do this task of parenting on our own. There are early learning professionals in child care centres who are keen to help us in this role. High quality childcare is a godsend, to both children and parents.
Goodstart Early Learning is Australia's largest early learning and care provider with more than 650 centres across Australia. The Goodstart team of 15,000 staff educates and cares for more than 73,000 children from 61,000 families nation-wide.
Our mission is to provide high quality, accessible, affordable and community-connected early learning in our centres and partner and openly collaborate with the sector to drive change for the benefit of all children. We're for children, not-for-profit and believe the first five years matter and last a lifetime.
This post is sponsored by Goodstart Early Learning. Comments on this post are just for this post. If you want to talk about the IDEA of sponsored posts or the choice of advertisers please click here. We will be reading all those comments too for feedback.
Have you got kids in childcare? What do you look for in a childcare centre?