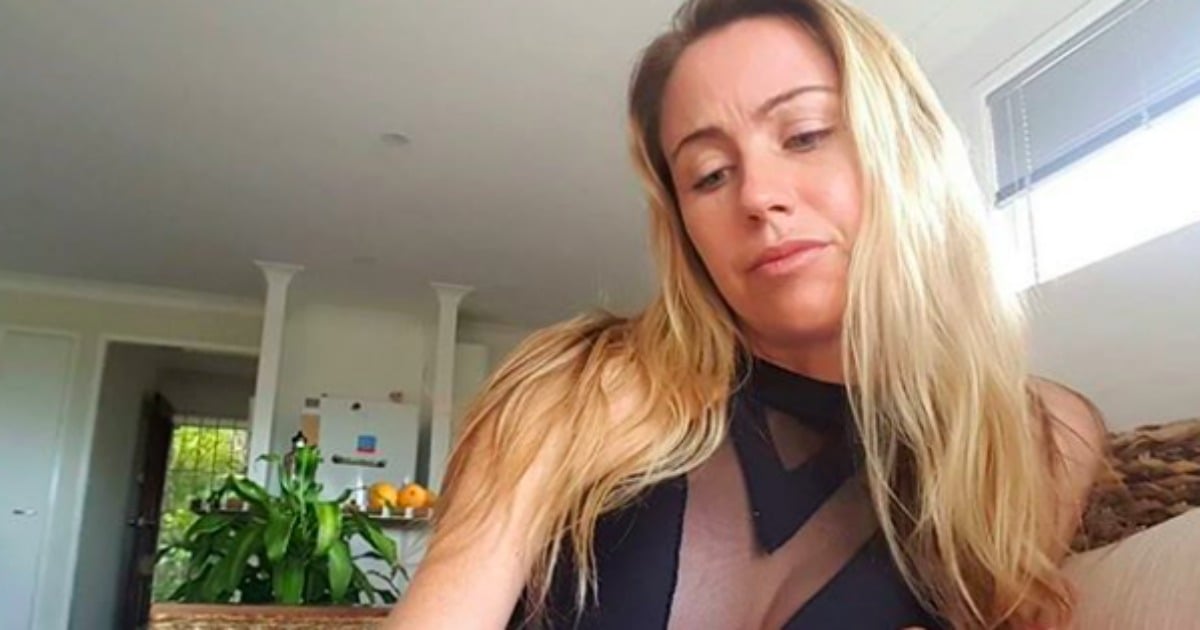 Leanne Ratcliffe, better known online as Freelee the Banana Girl, is a YouTube raw vegan vlogger with over half a million followers. She claims to eat up to 50 bananas a day and follows a 'raw til 4' diet plan comprising of low-processed, low-fat, high-carb foods.
So, fruit.
Ratcliffe is no stranger to criticism, even from within the vegan vlogging community (yes, there is a vegan vlogging community) and her latest video posts are providing even more fodder for her critics.
Ratcliffe, 36, posted a confessional video on Christmas Day on her popular YouTube channel Freelee the Banana Girl confessing to having undergone breast surgery when she was 21. "I've been wanting to talk about the girls for a long time but I've had a lot of conflicting thoughts." She said her surgery was "honestly the best thing I did at the time", adding, "It was really really helpful to my self-esteem."
Freelee the Banana Girl posted a confessional YouTube on Christmas Day confessing to past breast augmentation.
Ratcliffe explained that her sternum comes out to a point on her chest and was more obvious when she was flat-chested. She decided to go up to a C cup. "I think it's a good size, it's in a good proportion to my body."
The vegan blogger stressed that her video wasn't a promotion for breast surgery, more an explainer of her experience and she ended by saying, ""Really think about it – it is a big deal, you are being opened up on the operating table so don't take it lightly."
Ratcliffe also chose to come clean about a porn addiction, leaving her followers wondering what she'll confess to next.
Freelee the Banana Girl has earned a world-wide following for her extreme vegan lifestyle which involves excessive fruit consumption, the blending of many smoothies and a refusal to use toilet paper. She shares her lifestyle and many bikini pics via social media and has an e-book of recipes, tips and tricks.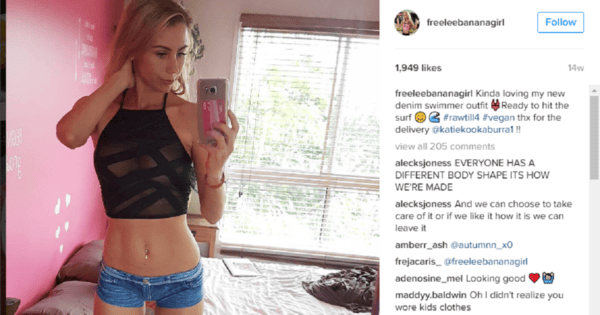 Freelee the Banana Girl shares regular selfies on social media. Image: Instagram, @freeleebananagirl[/img_caption]
The vegan YouTube community - once again, it is real - have spoken out against her extreme diet which they feel promotes eating disorders. Ratcliffe attributes her vegan lifestyle for losing 18 kilos and overcoming candidia, Irritable Bowel Syndrome, chronic fatigue, low thyroid function, acne on her face and body, anorexia, bulimia and depression.
"So for sure I am leaner but most importantly I'm MUCH fitter and healthier and I no longer kill innocent animals at meal times," she posted on Instagram. "NOW I can actually call myself a REAL animal lover!! MOST AMAZING LIFESTYLE ON THE PLANET."
So animals are safe, but sorry bananas. You're on your own!
While I love a good banana, on its own, sliced on top of peanut butter toast or in our own version of a healthy smoothie, 51 in a day sounds like a recipe for constipation.
Not that I'm an expert. Nor is she, with the Australian Institute of Fitness denying her claim she received a certificate with the AIF.
"I can confirm that she has definitely not studied with The Institute," an AIF spokesperson told Fairfax Media.
Freelee the Banana Girl was taken to court in 2015 by fellow blogger Kayla Itsines who claimed Ratcliffe was spreading lies about her. The case was eventually settled out of court. She's also made the claim that "chemo is killing us" and has defended herself against claims she suffers for orthorexia, a term used to describe obsessive behaviours to pursue a healthy diet.
When she and her long-term boyfriend Harley Johnstone split in September, he posted a video claiming Ratcliffe had become obsessed with her appearance, had started using Botox (which is definitely not vegan) and had become physically abusive towards him - claims she vehemently denied. She said she uses a plant-based alternative to Botox.
Let's hope that the many young girls who watch her YouTube videos and follow her on social media figure out what lifestyle is healthiest for them, and avoid copying what is at the very least, a difficult diet to follow.
At least now she is being more honest about what it takes to achieve her body shape.
If you or someone you know suffers from an eating disorder or body image issues contact the Butterfly Foundation on 1800 33 4673.