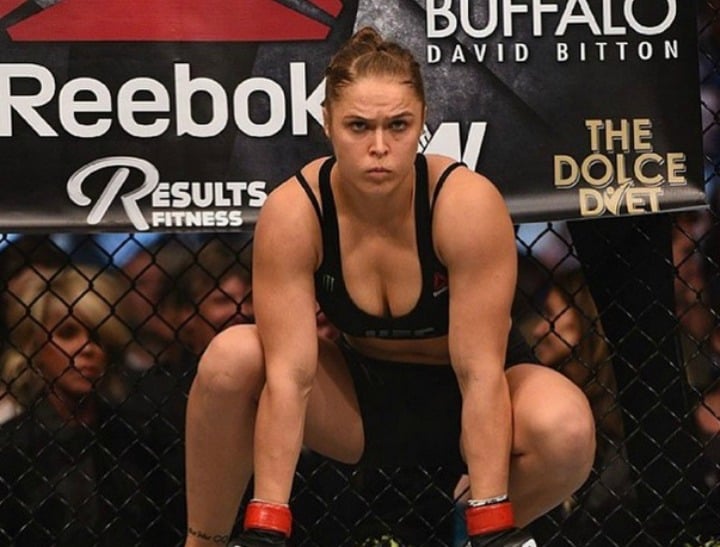 She's proving that women in this sport can be as profitable as men.
Fourteen seconds.
That's all it would take for Ronda Rousey to successfully defend her UFC women's bantamweight championship against Cat Zingano in the main event of UFC 184.
Her last three fights (against Zingano, Alexis Davis and Sara McMann), have gone for a combined 1 minute and 36 seconds.
She is undefeated – the first and only UFC women's bantamweight champion boasting an 11-0 record. Some have called her the "Mike Tyson of Mixed Martial Arts."
UFC President Dana White believes it himself, telling the media:
"She is – without a doubt – that female version of him…there's very few situations where a fight goes 14 seconds and the crowd is cheering and going crazy, looking at each other with their mouths open," he told mmafighting.com.
Ronda is a box office attraction and guaranteed money earner for female fight promotion. According to Mixed Martial Arts journalist Ariel Helwani, Ronda's recent event bought in $3 million from the gate alone.
The 28-year-old sells out arenas and sells pay-per-views, and has even earned herself movie roles in Hollywood, featuring in The Expendables 3. She will also feature in the upcoming Entourage and Fast 7 movies.
  Read more:  The deepest insecurities of Hollywood's most famous women.
The young American isn't afraid to have an edge or to be controversial. Her snubbing the outstretched hand of rival Miesha Tate after their long-awaited fight at UFC 168 drew boos from the crowd, which Ronda had little problem with. Her success has also proven the notion that 'women don't rate' and are 'commercially unviable' to be wrong.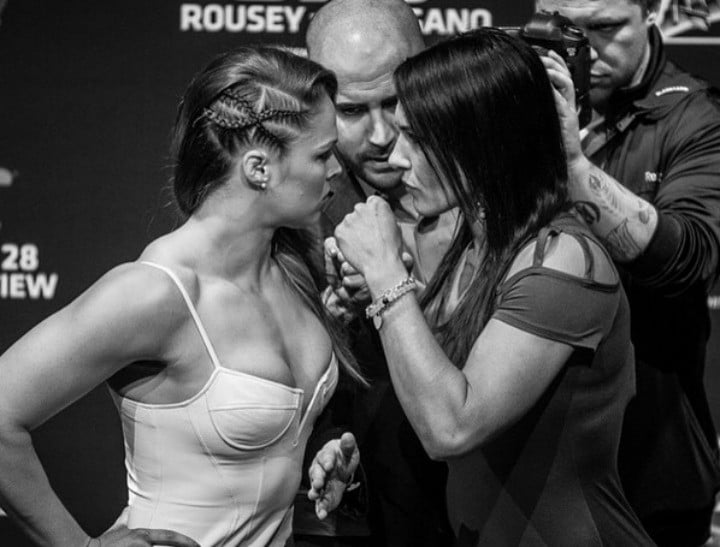 Ronda has proven that women in sport can be profitable. She has proven that with the right promotion and presentation of women's Mixed Martial Arts, women's sport can be viable commercially.
 Read more:  More devastating news for women in sport.
Nailing the point perfectly, Dana said recently at a sponsor event: "Ronda is showing little girls everywhere that they can play anywhere they want to."
Dana was part of the first women's fight in UFC history on February 23, 2013. It was a fight between Ronda and Liz Carmouche. While the doubters believed nobody would pay for a female main event, the event was judged a success with 457,000 sales, comparing very favourably to other all male events.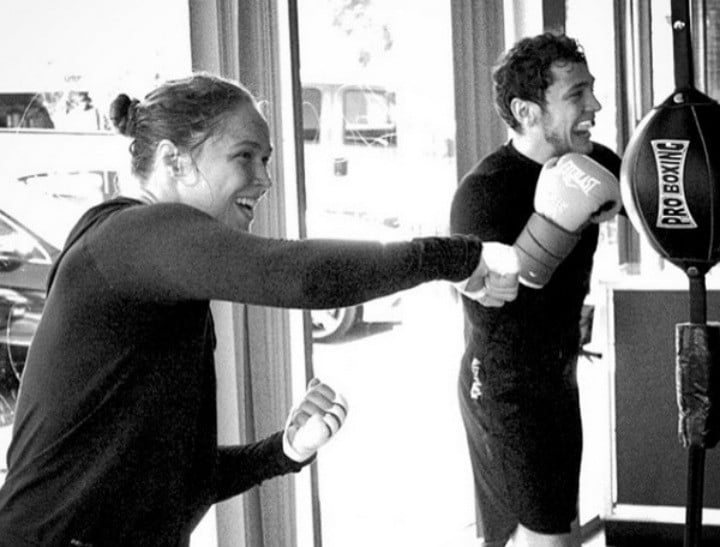 Initially Dana was against women taking part in the Mixed Martial Arts, but meeting Ronda changed his mind. Ronda has changed the past misconceptions and stereotypes around women in sport. She is a dominant athlete, she exudes toughness and people want to see her fight. She was an established athlete pre-UFC, competing in Judo at the Athens Olympics in 2004, Beijing in 2008 and competing in another Mixed Martial Arts promotion, Strikeforce.
 Read more:  Nine Australian women sports stars have some advice for the next generation.
And it isn't just Ronda putting female UFC fighters on the national stage. 856,000 viewers tuned in for Gina Carano's Mixed Martial Arts fight against Cristiane Santos at a Strikeforce event in 2009. It was the main feature of the night.
So who will be the person, or sporting governing body, to do the same as Dana White has done and actively promote women's sport here in Australia?
We've seen many female athletes and sporting teams do incredible things in the past but not get the coverage they deserve. Hopefully Ronda's success can serve as a blueprint for women's sport to take a greater significance in the Australian sporting landscape.
In other sporting news this week…
– The Matildas have had a great start to the Cyprus Cup, beating the Netherlands in their opening game this week. During the game Larissa Crummer had her first international goal, which gave the Matildas their close 1-0 victory. Well done, team – we'll keep cheering you on.
– The WNBL grand final will take place this weekend. The match will be between Townsville and Bendigo in Townsville on Sunday. It's the third year in a row that the two teams have come up against each other to fight for the title. The game will be at 2pm. Good luck to both teams.
– The World Surf League season opening event on the Gold Coast has finally restarted. The event had been pushed back since Tuesday because of bad conditions at Snapper Rocks. But finally the swell is improving, which has allowed the competition to resume. Sally Fitzgibbons will be the first in as she goes up against an American pair, Malia Manual and Tatiana Weston-Webb fighting for a place in the quarter-finals. The other three heats will also have Australians in them when Stephanie Gilmore goes up against Dimity Stoyle (Aus vs Aus) in heat 2. Good luck to all the girls.
Which sport are you playing or watching this week?