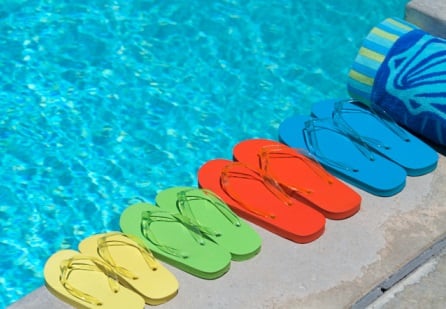 By MAMAMIA TEAM
Although we're sure we complained ungratefully at the time, the long and lazy weeks spent at the beach with our parents during summer family holidays gone by – swimming twice a day, snorkelling in rock pools, lazing in the sun with dried salt visible on our skin – are some of the fondest memories we have.
Just as an FYI, you should know that this post is sponsored by Novotel. But all opinions expressed by the author are 100% authentic and written in their own words.
In Mamamia's recent travel survey, we asked 2500 of you about what you were looking for in your next family holiday. The answers were as varied and diverse as well, you all. But there were a few key tidbits of information that stood out.
From this information, we have created the 9 family holiday commandments (we're still looking for the 10th commandment, so we invite your suggestions in the comments below). Follow these pieces of collective wisdom, and we guarantee that throughout the coming year you'll manage to unwind, de-stress and have a holiday worth remembering.
1. Thou shalt make time for a family holiday this year.
Our survey revealed that 8 out of 10 families are planning a trip this year – but that still leaves 2 out of 10 who aren't. Holidays are easy to put off, despite how much we all want them. We often want to wait until we have more time to organise a trip, or until we have more money, or until we're less busy at work. But holidays don't have to be expensive, or time consuming, or hard to organise. 6 out of 10   travel to spend quality time with their family – which is something it's worth making the time for. Our advice: just go. Relax, enjoy yourself, and have fun with your family.
2. Thou shalt not holiday with the in-laws.
6 out of 10 of you aren't keen on holidaying with the in-laws (the other 4 out of 10, as you were). Obviously there are some family gatherings throughout the year when getting the whole family together is unavoidable – and, let's face it, probably turns out to be a lot of fun – but if you want to take a mini-break just with your nearest and dearest… Then go for it. Don't feel obligated to turn every holiday into the equivalent of 1000 Greek ships sailing to Troy (i.e. just a little bit too dramatic).
3. Thou shalt let Mum call the shots (but step in if she needs some help).
When it comes down to just one adult in the family making the family holiday decisions, there's a 15-1 chance it's mum. And, given the seemingly unending work that mums do every day, it seems fair to let the mums pick the kind of holiday they want to have. That said, sisters, brothers, children and dads: do step in if it looks like mums needs some help. Everyone is supposed to be having a bit of a holiday, after all.
4. Thou shalt take a holiday with the girls.
One in three of you like the idea of a holiday where you get to leave your romantic partner and children behind– and it's a holiday that I definitely recommend. There's nothing quite like a holiday with your closest friends, or sister, or mother where you can unashamedly do 'girl things'. Gossip. Do DIY facials. Get massages. Paint toenails. Laze by the pool. Watch terrible rom-coms, if that's your cup of tea. A weekend away with the women in your life, in a fancy schmancy hotel, can be deeply relaxing – and is a great way to make sure you get some quality bonding time.
5. Thou shalt pick a hotel with a breakfast buffet.
50 per cent of you will let a free buffet breakfast sway your decision-making when it comes to picking out a hotel. And with good reason. A free buffet breakfast can easily turn into the equivalent of a brunch, and then you've got two of the three square meals a day sorted. Which leaves more time for sightseeing, exploring and holidaymaking. Family holiday efficiency at its best.
6. Thou shalt have an afternoon nap in your hotel room.
Why? Because more than half of you said in our survey you had been away for a weekend with your partner… and ended up too tired to have sex. Work in a sneaky afternoon snooze (in the hotel bed that you don't even have to make yourself – win) before your most likely decadent dinner and multiple wines – and problem solved.
7. Thou shalt not let anyone in your family mock the fact that you over pack.
Because 55 per cent of us do it. And you never know, those three pairs of heels might come in handy, after all. Maybe.
8. Thou shalt realise that a family holiday doesn't have to be hard.
7 out of 10 of you prefer to holiday locally, sticking within your home state. Being able to enjoy holidaying within your home state – and not feeling pressure to go on a bigger, perhaps more difficult trip – is a good lesson to learn. There's just as much to do and see – and usually less driving. 'Staycations' – a short break or overnight stay  in a hotel or resort in your own city – are also a popular option. You can get the feeling of having a holiday away from home, without having to travel very far at all and with all the trimmings – room service, movies and restaurants with buffet breakfasts!. Holidays with your family don't have to be hard.
9. Thou shalt leave a suggestion in the suggestion box when leaving a hotel…
… Asking for phone chargers, sunscreen, and pool toys to be available to you during your stay. Overwhelmingly, these three objects were the things Mamamia readers would prefer not to pack and be provided to you on arrival at a hotel. So let's make this happen, people.
What would you add to complete our list of 10 commandments? 
At Novotel your kids are treated as guests in their own right.

They are personally welcomed with a gift on arrival, stay and eat free ( under the age of 16) and the family can all enjoy a sleep in on Sundays with a late check-out of 5:00 pm.

Our rooms are designed to enjoy quality family time and can comfortably accommodate 2 adults and 2 children or if you need more space you can book a second room for your children at 50% off. 

Save 30% when you stay 2 nights with Novotel this Summer. From only $104 per night choose from over 20 locations around Australia. Book now