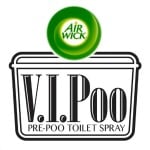 Thanks to our brand partner,
V.I.Poo
If you enter one giveaway this year, this is it.
Seriously, this could be the beginning of a beautiful new relationship between you and your toilet. Let us explain.
There's a new solution for trapping the most full-on bathroom odours as they strike. Drumroll please…introducing V.I.Poo!
Yep, this very important pre-poo toilet spray is all about keeping the not-so-nice smells in the bowl. Generously spray and V.I.Poo will form a protective layer so you don't have to suffer the embarrassment of leaving an un-rosy aftermath for someone else. Take it on-the-go or use it at home (and you're winning at life).
We're giving away 100 free samples of V.I.Poo. Take your pick from the Fruity Pin-Up and Lemon Idol fragrance sprays.
Enter your details below and we'll send you your sample. If you love it, come back and leave a review below. Happy spraying!

Sorry. This form is no longer available.
Terms and Conditions
Only one entry per household is permitted. This promotion will close when 100 individuals have successfully registered their details at this page. Alternately, if 100 entries have not been received by 11:45pm Thursday 31st August, the form and promotion will close. Successful sign-ups will receive one sample of the V.I.Poo Toilet Spray in the fragrance of their choice, at the mailing address provided in the registration process, per successful entry submitted. Entries open to residents of Australia. Entrants must be 18 years or older. The sample will be sent via standard mail and is sent at the risk and responsibility of the Prize Winner. Mamamia is the Promoter of the competition. The sample is provided by Reckitt Benckiser. Click here to read the full terms and conditions.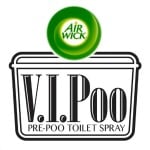 The time has come to change the way we face embarrassing bathroom odours! Keep nasty smells in the bowl with new V.I.Poo pre-poo toilet spray. Simply spray, trap and breathe easy with Air Wick's collection of scents (Lavender, Lemon, Rose and Fruity Pin-Up) trap nasty smells in the bowl and release a SPECTACULAR fragrance that leaves the bathroom smelling better than before you used it.