Sickening.
22 live parrots — most of them critically endangered — have been found jammed in bottles in Indonesia.
A 37-year-old suspected wildlife smuggler has been arrested after officials at at the Tanjung Perak port found the creatures inside the man's baggage.
"We found 21 yellow-crested cockatoos and one green parrot," criminal investigation unit head, Aldy Sulaiman, said.
"All the birds were found inside water bottles, which were packed in a crate."
The bottoms of the bottles had been cut off to squeeze the birds inside, ABC News reports.
The birds were mostly yellow-crested cockatoos — which are native to Indonesia and East Timor, and are different to the more common sulphur-crested cockatoo found in Australia.
The suspected wildlife smuggler had admitted to carrying two birds for a friend, Mr Sulaiman said. The man reportedly claimed to know nothing about the other animals, however.
If found guilty of smuggling, the man could face up to five years in prison, ABC News reports.
The rescued birds have since been sent to Indonesia's natural resources conservation office.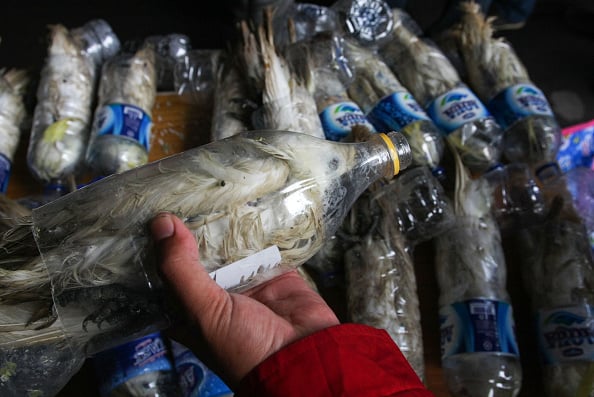 Yellow-crested cockatoos are critically endangered, according to the International Union for Conservation of Nature.
Their numbers are at a critical low due to deforestation and poaching.  Recent studies suggest there may be less than 7,000 individuals remaining, Daily Mail reports.
More animal conservation: Japan has been banned from whaling.
While Indonesia has laws to control wildlife hunting and trade, enforcement is weak, the Wildlife Conservation Society reports.
More than 10,000 parrots, including cockatoos, are captured from the wild in North Halmahera, Indonesia, each year to supply the illegal wildlife trade, according to ProFauna Indonesia.
Do you have a story to share? Email [email protected]
[post_snippet id=324408]