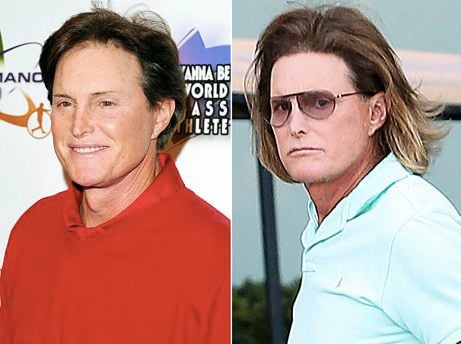 I think we need to talk about Bruce Jenner.
And by 'talk' I mean 'wade through the quagmire of bullshit that's being reported about him becoming a woman'.
Professional gossips like TMZ, Hollywood Life, The National Enquirer, and Perez Hilton are speculating that the Kardashians' step-dad is in the process of becoming a woman. Based on a couple of paparazzi shots and some quotes they definitely made up, the world's trash-media has declared that Bruce Jenner no longer wants to live as a male. They predict, without consulting him or his family properly, that he's basically a few days away from having a vagina.
Headlines include: Bruce Jenner Wants To Be A Woman, Check Out Bruce Jenner's Freaky Evolution, Bruce Jenner Considers Living Life As A Man A Nightmare, Bruce Jenner Talks To The Doctor About Having His Penis Removed Next.
Kanye West, prophet for the modern age, rebutted helpfully: "Bruce is an Olympic icon who can still get women at 64. He wants to bang women, not become one."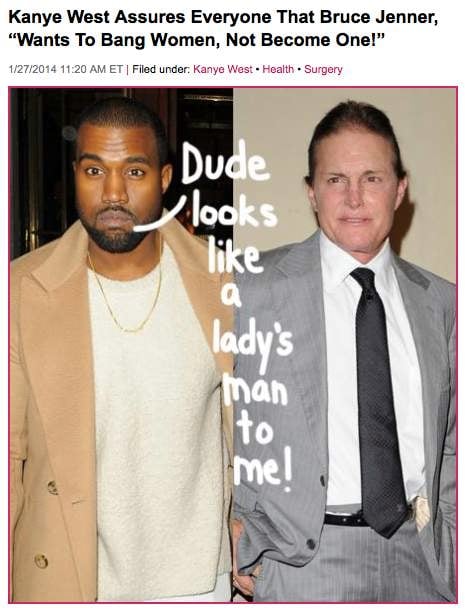 Kanye's right about the Olympic icon thing, at least. Bruce Jenner won gold in the Decathlon at the 1976 Montreal Olympics before becoming a television personality and motivational speaker. He also happens to be a passionate plastic surgery enthusiast (but in his universe, who isn't?).
He married the world's pushiest matriarch, Kris Jenner (nee née Houghton, previously Kardashian) in 1991, which makes him stepfather to Khloe, Kourtney, Rob and Kim Kardashian (so Kanye West is his step-son-in-law and North West is his step-grand-daughter). He's the biological father of Burt, Casey, Brandon, Brody, Kendall, and Kylie Jenner. Yes, Kendall of the Bared Fashion Nipples.
And, at 64 years of age, Bruce Jenner is changing his appearance. Drastically.
Jenner recently had surgery to have his Adam's Apple shaved down. He's taken to wearing sleek coloured leisure suits, aviators, and lip gloss. He's sporting a shoulder-length bob of hair. You could even go as far as to describe the colour of his new hairdo as "ombre."
Quite frankly, it's fabulous.
But this is about a lot more than just luscious new hair.
The tabloid freak-out about Bruce Jenner's body has become a global discussion about gender identity, reassignment surgery, and what it means to be trans. Which is exactly what happens when a celebrity tries to make a deeply personal decision in public; the press go delirious with speculation and everyone scrambles for controversy over truth. The way this story's been covered so far (tactlessly, sensationally) says a lot about the way we conceive of masculinity and femininity.
Take, for example, this stunning example of 'logic'. Tabloid website TMZ reports that because Bruce Jenner enjoys a round of golf, he is most definitely not becoming a lady. I can't resist republishing their whole 'scoop' here:
Bruce Jenner may be changing his look in an arguably radical way but day-to-day Bruce is a man's man.

At the time of this post, Bruce is having lunch in the men's only dining room at the Sherwood Country Club in Thousand Oaks. He's a fixture at the club, golfing almost every day — typically wearing khakis and golf shirts.

People at the club tell us …Bruce — who is one of the best golfers there — talks about sports all the time. He regularly recounts his glory days at the '76 Olympics.  And he loves talking about helicopters.Bruce is very outgoing, helping people out — especially kids —  giving them pointers.

It's a pretty sharp contrast — Bruce's physical appearance and his masculine personality. By the way … as for his golfing skills … they're phenomenal. He has a 5 handicap, according to the Southern California Golf Ass'n.
So in summary: "Bruce Is Man. Man Like Sport." That's really just a deeply unhelpful stereotype to regurgitate as a story.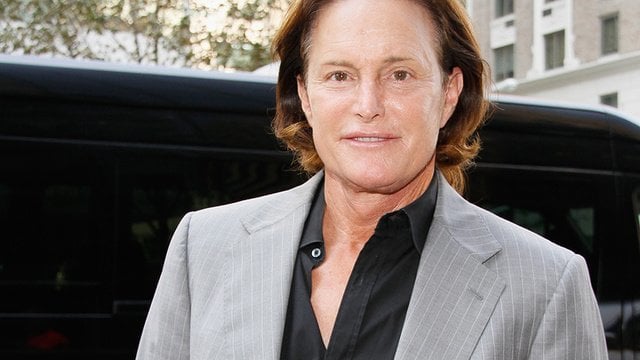 In reality, gender is so much more complex – and that's what troubles me about the way Bruce Jenner's physical "TRANSformation" has been reported (celebrity gossip extraordinaire Perez Hilton's words, not mine).
Surely it takes basic empathy to know what a difficult, painful experience it would be to change genders. Trivializing that experience headline after stupid headline seems woefully insensitive – not just to Bruce Jenner, but to anyone who lives a transgender life.
Which brings me to someone who does know what she's talking about. This is what Kat Callahan, who is a transwoman herself, wrote about the situation for Jezebel:
"The truth about transition is that it varies for everyone. There is no first step for everyone (beyond maybe the recognition that one is trans) … It's absolutely ridiculous that any of these 'sources' (or the writers of such pieces) could ever pretend to plot Jenner's transition (if such a thing even existed, and it probably doesn't) so easily by looking at these supposed road signs."
To be honest, I don't know exactly what the right thing to do is here. I'm confused and uncomfortable talking about it, but I know it's important. Reporting ethically on transgender experiences is difficult and obviously nobody's sure how to do it. But we need to reach a place where the idea of a reality TV star becoming a woman isn't such an appalling thought.
Here's a photographic journey through Bruce Jenner's looks.
[nggallery id=2110 template=carousel images=0]