A seven-year-old boy who had been selling home-made lemonade to save up for a pony was brought to tears when his dream came true on Tuesday.
A heart-warming video captures the moment Sabastian Lucas walks into his family's shed to find a pony on Tuesday.
For two years the Queensland boy had been making and selling his own lemonade outside his home – saving every cent in the hopes of raising enough to buy the pony, the Daily Mail reported.
The lemonade and other flavoured drinks were sold for a bargain price of 20 cents a bottle and beautifully packaged.
Through Sebastian's hard work – which included saving instead of spending money he received as presents – he had raised $3000.
Recognising his efforts, but that he had a long way to go at this rate, his parents decided to reward him with a Welsh mountain pony called Tom Boy on Tuesday.
Sabastian's mum Juliana Lucas told the Daily Mail his reaction was overwhelming to watch.
"I don't think there is a better feeling than your child's raw emotion," she said. "How do you put a price on that?"
"He was completely beside himself, he literally just couldn't believe it, he was shaking."
"He kept saying 'it looks like a unicorn, it looks like a unicorn'."
Juliana said Sebastian had dreamed about the moment for a long time and even tried to win him through magic.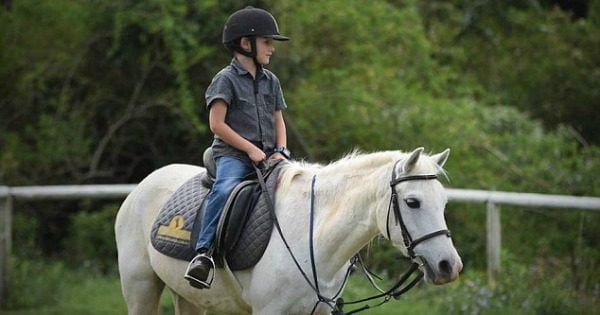 'The night before Tom arrived we were out in the garden doing a magical pony dance,' she said.
The little boy immediately understood the responsibility, his mum said.
'He said to me 'I've got so much responsibility now mum, I've got stables to clean and horses to feed',' Juliana said.
"And he got up the first morning at 4.30am to do just that."
As for the lemonade stand? Sebastian's going to keep it running.
'He's still going, he's saving for all the gear now,' Juliana said.
'He's very determined to do it, and he's worked really hard.
'That's the sort of kid he is, I'm very proud of him.'
And in news that won't come as a shock to any first-born child, Sebastian's little brother Canturbury was given a pony on Thursday.
"The truck came in and he said 'is there a pony on that for me?" Juliana said, adding the four-year-old's pony was named Missy Moo.
"And he just sat on it for hours today with a big smile on his face."