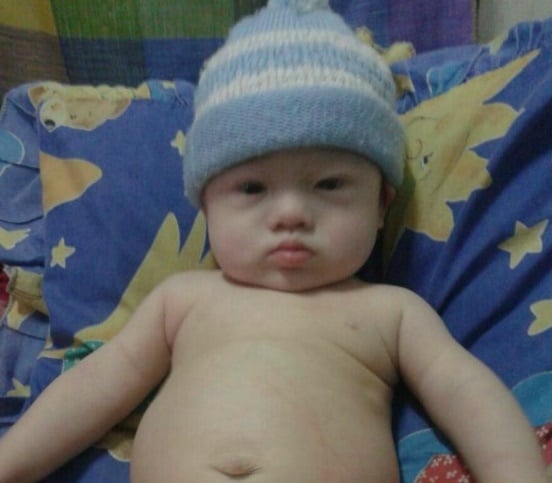 Update 02/08:
Abandoned baby Gammy has been rushed to hospital with a lung infection.
Fairfax Media reports that six-month-old Gammy is in a serious condition in hospital, and his 21-year-old Thai surrogate mother Pattharamon Janbua fears that his life will end quickly if he doesn't receive surgery for a congenital heart condition.
Mamamia previously reported:
It's a story you'll find hard to get your head – and your heart – around.
In 2013, an Australian couple entered into a surrogacy agreement with a young Thai woman who agreed to carry their twins.
When one of the twins was born with Down Syndrome in Thailand six months ago, the couple didn't want him, only his sister. So they returned to Australia with the baby girl, abandoning their son who not only has Down Syndrome but is also critically ill with a congenital heart condition.
The 21-year-old surrogate mother (who has named the little boy Gammy) has no genetic link to the child. She was implanted via IVF with embryos created from the Australian woman's fertilised eggs.
Now, Gammy's young surrogate mother, Ms Pattharamon Janbua, is desperately trying to scrape together money to fund his medical treatment — and given that poverty drove her to surrogacy to begin with, she fears she now can't afford to save the boy's life.
According to media reports, the anonymous Australian couple, who had struggled to conceive naturally, paid Ms Janbua $11,700 to bear their baby.

Ms Janbua family were struggling to pay off debts at the time, and the young woman told Fairfax Media she was 'an innocent young girl' who didn't know what IVF involved at the time.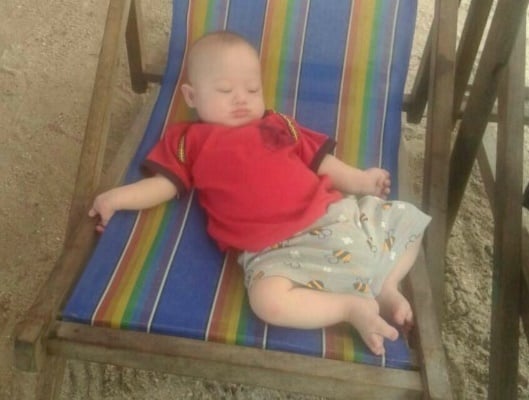 "My husband agreed because we didn't have money to pay our debt and I didn't need to have sex with another man," she said.
Three months after she became pregnant through IVF, the woman learned she was expecting twins. Ms Janbua was offered an extra sum to give birth to the second child.
But when they found out four months into the pregnancy that one of the babies had Down Sydnrome, the couple reportedly requested Ms Janbua have an abortion.
Ms Janbua is a Buddhist, and the Sydney Morning Herald reports she doesn't believe in abortion because she's 'afraid of sin.'
She gave birth to one boy and one girl in a Bangkok hospital earlier this year– and the surrogate family only took the girl home to Australia.
Gammy will now never know his sister, the Sydney Morning Herald reports.
As Ms Janbua struggles to pay for her little son's health, a fundraising page called Hope for Gammy has been formed to crowdsource $250,000 to support the pair. All funds raised will be kept in trust to 'only be used for the care and wellbeing of Gammy,' the website says.
The page has raised $9000 so far, and has been inundated with messages of hope and support from commenters.
"I have a surrogate daughter and appalled that this could be allowed to happen," one commenter said.
Another wrote: "This page is now being shared through the adoption community in Australia who will hopefully open their pockets as much as their hearts."
"So many families here would have welcomed Gammy into their families," she wrote.
It is illegal for people living in QLD, NSW and the ACT to undertake commercial surrogacy in Thailand, but the Sydney Morning Herald reports that commercial surrogacy has been largely unregulated in the southeast Asian country.
You can support the Hope for Gammy campaign here.