This doesn't make actresses victims. It makes them rich.
If you've ever channel-surfed through the red carpet segment of an awards show, you're probably aware: female actors have to answer a lot of stupid questions.
And if you've ever opened a magazine you're probably aware: we care a lot more about what women wear on the red carpet than we do about their perma-tuxed, XY-chromosome'd co-stars.
Which, when you put it together seems a little lot… sexist.
That's why last year, entertainment journalists during awards season were encouraged to #askhermore – to question female actors about their work, not just what they're wearing. To shelve questions they'd never dream of asking male actors, like 'How do you balance work and parenting'.
In 2015, #askhermore has become a full-blown, certified movement. Some are taking an "if you see sexism, laugh at it approach", like ELLE Magazine, who've decided to gender flip the red carpet by asking actors inane grooming questions.
Which is brilliant. It never occurred to me quite how invasive it is to ask an actress "What's in your purse?" until I read an actor flatly refuse to answer the question "What's in your pockets?" .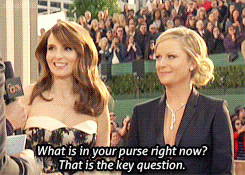 Meanwhile, Golden Globes host Amy Poehler has been pushing the hashtag hard through her @SmrtGirls platform, and at the SAG awards last night, Smrt Girls put it to the test, with pretty excellent results:
Meanwhile, the actors themselves are rebelling. At the SAGs on Sunday, Parks and Recreation's Rashida Jones shut down a journalist who asked her about her tan with a blasé "I'm ethnic" and Sarah Hyland of Modern Family gave the world's most intense "WTF" face when asked what she'd buy for her co-star Sofia Vergara's wedding.
But perhaps the most noted red carpet refusal of the SAGs has been Julianne Moore, Reese Witherspoon and Jennifer Anniston (a Triple-A list crew, if ever there was one) all snubbing E News' now notorious 'Mani Cam'. "I'm not doing that," Julianne Moore said flatly, when asked if she'd parade her hands for E's mini media wall.
Jennifer Aniston and Julianne Moore refuse to take part in red carpet tradition.
"No, no, no," said Anniston, before cracking an invisible whip.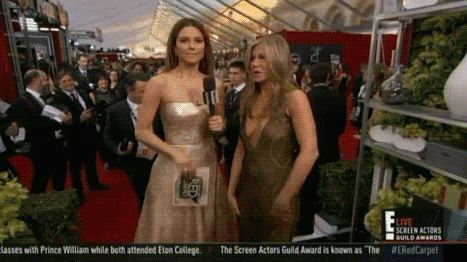 The Internet lit up with the news. Vogue's Beauty Director tweeted:
How powerful you are in Hollywood is officially directly correlated to your comfort level with refusing the mani cam.

— Catherine Piercy (@CatherinePVogue) January 26, 2015
At face value, this seems like a big step forward. There's no denying that the mani-cam is creepy and invasive. There's no denying that no man would be asked to walk his digits down a little red carpet.
But there's more going on here than just saying no to a ridiculous red carpet ritual. And there's a lot of money involved.
You see, no matter how creepy the Mani Cam is, it's also a lot of fun. It's a magnifying glass that helps us in our collective hobby of dissecting every stitch actresses wear, every ring on their finger, every particle of coloured powder on their faces, and every pin in their hair.
Why is this a collective hobby? Because it's fun. It fuses escapism ("She's so pretty; I could look at her for days") with inspiration ("Maybe I'd look good in that colour too; her skin is the same sort of tone as mine").
Actors know this. They know the rest of the world finds checking out their red carpet outfits fun. And because they know this, they make a lot of money from it.
There's a reason Julia Roberts was wearing a Givenchy suit to the SAGs – she's the face of the brand's latest campaign. Naomi Watts wears a lot of Bulgari jewellery because she's a brand ambassador.  And when Lupita Nyong'o puts her hands in that Mani Cam? It's a pretty safe bet her nail polish is from Lancome's Le Vernis range.
Awards shows are, more than anything else, a platform for promotion. They exist to promote films (note how even actors that aren't nominated turn up when they've got a movie out?); to promote the actors themselves; and, subtly but surely, to promote brands.
The Mani Cam is a devise that simply allows actors, and the E! Network, to get more granular with its brand promotion.  The fact that several leading ladies are refusing to engage with it doesn't necessarily mean they're starting a dialogue that's attempting to take some of the emphasis away from the way they look.
It might simply mean they're not aligned with a relevant brand this year.
Reese Witherspoon and Jennifer Aniston  have both sued jewellery companies for using their faces and names without permission, so it's no surprise they're not willing to give a big, free plug to whichever brand of nail varnish or bauble they happen to be wearing that night.
If the Mani Cam were around when Julianne Moore was the face of Bulgari in 2009, she may have had a very different answer for E! host Maria Menounos.
While #AskHerMore is a very valuable campaign, it ignores one key fact.
Those inane questions "Who are you wearing tonight?" "How did you get ready?" are some of the most potentially profitable enquiries an actor can answer.
A red carpet appearance isn't just about meeting contractual obligation to a label you're already aligned with, either. Name checking a brand on the red carpet can be a great way to catch the attention of a company with which you'd love to establish a commercial relationship. And you can't do that if you're not asked.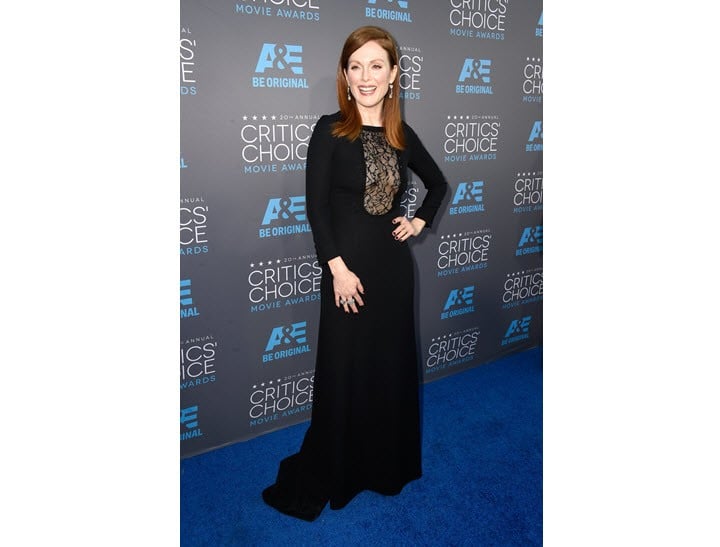 A three day photo shoot and a few key appearances for a brand might earn an actor the same amount of money as a three month stint on a film set. Given female actors are routinely paid half what their male colleagues earn, you can't blame them for chasing additional income from the fashion and beauty industries.
Sure, you can celebrate it when actors reject the Mani Cam. But it's worth acknowledging that actors aren't passive victims of a global obsession with image. They're savvy media manipulators who leverage that obsession with image for a great deal of personal financial gain.
We might associate schilling products for profit with B-listers like the Kardashians, but one look at George Clooney's Nespresso paycheck will show you that not even Cecil B Demille Award winners are immune.
What I suspect we'll see more and more of in the next few years is female actors refusing to play the "What shade of lipstick? Which brand of diamonds?" game unless they're being paid. Just as male actors now tend to make a point of what they're wearing only when they're on that brand's books.
In 2015, actors are fully aware of the power of endorsement. As a result, they're probably less willing to hand out freebies. Sure, not every actor gets paid for what she wears, and sometimes a dress can help and actor just as much as she helps it. But increasingly we're moving towards a world where actors are walking billboards, and the red carpet is their highway.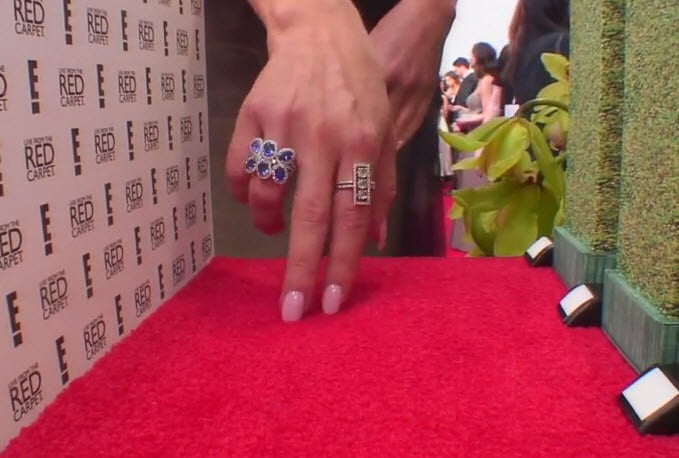 Which could be a good thing. It could be a step towards more equal compensation in Hollywood. What we're seeing when stars say "No" to the Mani Cam isn't just that the Mani Cam is sexist.
While I'm sure it's frustrating to be asked lots and lots of questions about how you look, and none about your working process, let's not forget that – unlike the rest of us – actors also make lots and lots of money from their appearance, including what they wear.
We're also seeing that the mani-cam is hard work. And actors won't work unless they're getting paid. Not that anyone seems prepared to #askhermore about those particular financial arrangements.