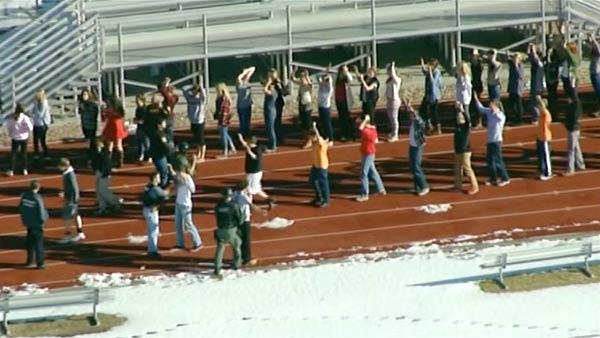 Student opens fire at US school
Two teens have been injured at Arapahoe High School in Colorado this morning after a fellow student opened fire on them at the high school.
Arapahoe County Sheriff Grayson Robinson told reporters that "the suspect has been found inside the school and he has deceased as a result of what appears to be a self-inflicted gunshot wound".
"The student identified a specific teacher at the high school that he was interested in confronting, and that teacher was informed of the situation and exited the school quickly," he said.
According to reports the shootings took place in the cafeteria where the gunmen shot a 15-16 year old student in the head, and injured another student.
The high school is located near Columbine High School, where the 1999 'Columbine Massacre' took place.
SWAT team members patting down students as they evacuate Arapahoe High School. http://t.co/D0EdLoySan via @KDVR pic.twitter.com/8ykH93GzKi

— Livestream (@Livestream) December 13, 2013
Prince Harry and Wounded Soldiers complete race
Prince Harry and twelve wounded soldiers have completed the highly anticipated 'Walking with the Wounded' charity race in the South Pole today, including two Australian soldiers. Intended as a 350km race between the UK, America and the Commonwealth, the route was shortened due to unfavourable weather.
John Bale, CEO of Soldier On, the Australian charity partner for the expedition, said: "It's after more than a year of preparation, months of training, a farewell with the Prime Minister in Sydney and two weeks of trekking that they have finally reached their goal".
Snow in Cairo
Snow has fallen in the Egyptian Capital of Cairo for the first time in 112 years. According to Meteorologists a powerful snowstorm is affecting most of the Middle East, with the holy city of Jerusalem recording its worst snow storm since 1953.
Second Sydney Airport "all but confirmed"
Prime Minister Tony Abbott has confirmed this morning that a he would fast-track a decision a final decision for a second Sydney airport likely to be located at Badgerys Creek.
The Prime Minister told News Limited: "I have encouraged people to think that if Badgerys Creek were the choice it wouldn't just be an airport it would be an airport with a package of infrastructure, job and economic opportunities."
The final decision is likely to be made early next year before the May budget is released.
Alcohol fuelled violence spreads to Bondi Beach
A twenty-three year old Sydney man is fighting for his life after his head was stomped on during a night out in Bondi Beach. The man was taken to St Vincents hospital and placed in an induced coma where he is said to be in a critical condition.