Straya. Land of sweeping plains. Also, sweeping Mondayitis.
Bosses, be prepared.
It's the first ANZAC day to fall on a Saturday in five years and thousands of your staff will be chucking sickies en masse on Monday.
When ANZAC Day falls on a Sunday, everyone gets a public holiday on Monday. But when it falls on a Saturday? No suck luck. (Unless you live in Western Australia.)
And for that reason, business groups are putting staff on notice. Fake a sick day and risk losing your job.
Despite ANZAC day being all about sacrifice, Direct Health Solutions boss Paul Dundon told the Courier Mail many workers would feel they were ripped off from taking a day off.
MORE: Is this guy the world's best boss?
"Employees will feel aggrieved by not having a day off, Australians have an entitlement mentality," he said.
"They're missing out and people want their fair share."
He said employers can expect a 20 to 25 per cent spike in bludgers absenteeism.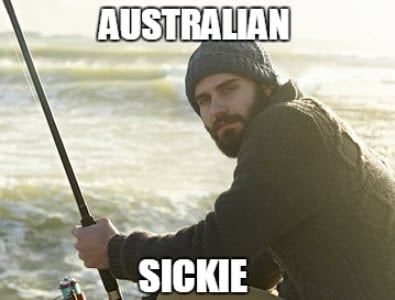 Mr Dundon said employers could try to battle expected absenteeism on Monday by communicating their medical and absentee policy, as well as wishing them a "wonderful Anzac Day and we look forward to seeing you on Monday".